Nextbase 32GB U3 Micro SD Card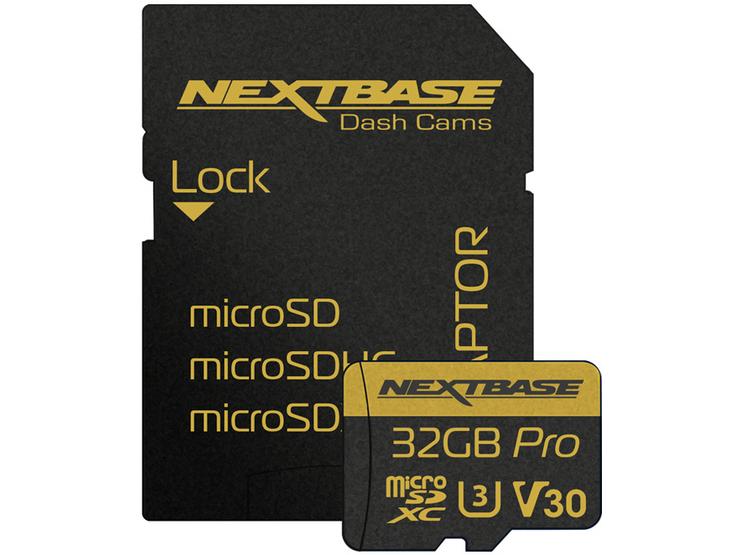 10 people are viewing now
5 purchases during last 48 hours
Nextbase 32GB U3 Micro SD Card
Suitable For Dash Cams : Yes
Nextbase 32GB U3 Micro SD Card
The Nextbase 32GB U3 Micro SD Card is the perfect partner for your Nextbase Series 2 Dash Cam to capture footage in full HD quality. With a read speed of 100MB/s and write speed of 60MB/s it is a U3 ultra high speed card, which is required for 4K recordings and Dash Cams with rear camera modules attached. It will record approximately 4 hours of HD footage before the Dash Cam loops over and overwrites previous recordings, or 2 hours if using a rear camera module. An SD card adapter is also included, allowing you to easily transfer footage onto your PC/Mac.
Nextbase 32GB U3 Micro SD Card Extra Info
Compatible with all Nextbase Dash Cams
Read speed of 100MB/s
Write speed of 60MB/s
How many minutes of footage will be stored on this 32GB U3 SD card?
The amount of footage that can be stored on an SD card depends on several factors, such as resolution, the Dual Files setting and if you have a rear camera attached.
The following are approximate storage durations for the below resolutions (without a rear camera):
1080p at 30fps: 285 minutes
1440p: 135 minutes
4K: 80 minutes
How do I format this SD card?
You can format the SD card using the camera itself or using a computer. To do this via the dash cam, follow these steps:
Turn on the dash cam
Stop it recording
Open Settings
Go into Setup
Click 'Format'
Follow the instructions
Please be aware that formatting the SD card will delete all the data on the card, so if you wish to keep any footage, make sure that you copy this across to a computer before you start the formatting process.
How often do I need to format this SD card?
As a dash cam is very write-intensive, it's essential that the SD card is formatted every 2-3 weeks. Without this regular formatting, the card could fail. For more information about formatting, please see the 'How do I format this SD card?' FAQ or your camera's manual.
Why do I need to format this SD card?
If your SD card isn't regularly formatted, it will fail.
Symptoms of SD card failure are an audible 'alarm' tone, non-functional buttons, freezing, corrupted files on playback, images missing from files, lack of file recording and more. To avoid these, please use a compatible SD card and format it every 2-3 weeks.