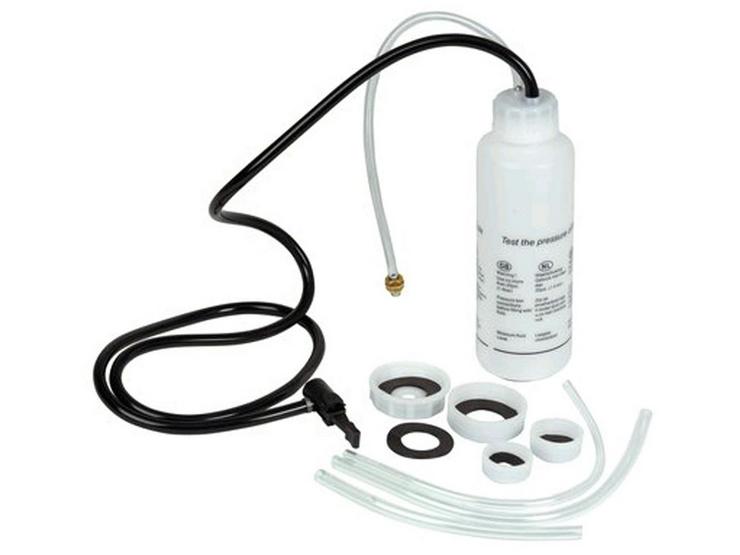 10 people are viewing now
5 purchases during last 48 hours
Gunson Eezibleed
This system sets the standard for affordable brake and clutch bleeding systems. By using the air pressure from the spare wheel, the Gunson Eezibleed will effortlessly bleed any hydraulic system. There are several adaptors available to fit most vehicles with screw cap reservoirs, and comprehensive instructions are included.
Bleeding the brakes by pumping the brake pedal frequently has one big drawback: the piston inside the master cylinder can travel past the slight lip on the bore that has formed with normal usage, possibly damaging the seal. This does not happen with a pressure system such as the Gunson Eezibleed as the master cylinder piston will not be moving. If new components have been fitted, or the fluid is contaminated, the system must be bled.
The one-man brake bleeding system — connects to your car's reservoir with one of the selections of caps provided in this kit. The new brake fluid is pressurised by attaching the Eezibleed tube to the spare tyre. Then release the brake bleed valves in turn and let the air bubbles and old fluid flush out through the drain tube. Pressure bleeding of brake and clutch hydraulic systems is recommended by most manufacturers.
Features & Benefits:
Bottle
5 x rubber seals
Cap assembly with tyre connector
4 x plastic caps: 25, 27, 44/45, 46mm
3 x hoses: 3.5mm inner diameter x 303mm, 5.4mm inner diameter x 303mm, 5.4mm inner diameter x 183mm
Suitable for one-man operation
The Eezibleed kits contains a special pressure vessel to hold the new fluid, spare bottle seal part number G4062/80
Can be used successfully on the following systems: Tandem master cylinders without sensors Tandem reservoirs, Slave servos, Vacuum Servos
Easy to follow instructions