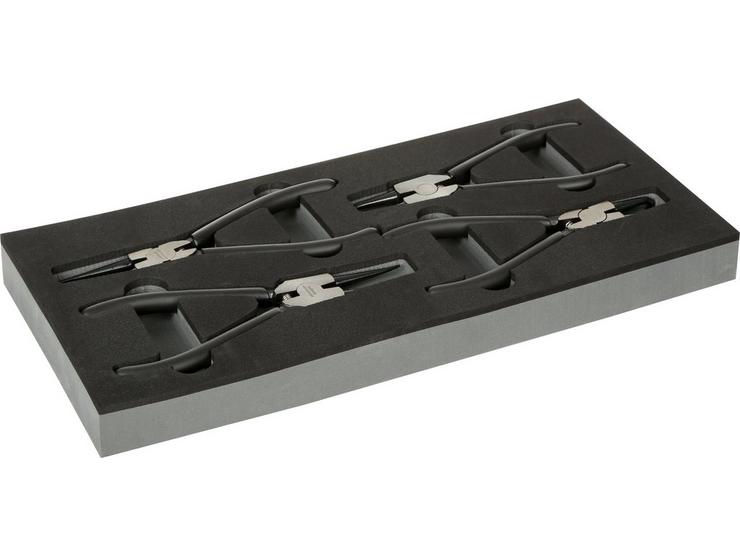 10 people are viewing now
5 purchases during last 48 hours
Build your own tool set, designed to fit in tools chests and cabinets
Includes: Internal and Exernal Straight and Bent Nose Pliers
Guarantee: Lifetime
Halfords Advanced 4-Piece Circlip Pliers Set Modular Tray
• 175mm bent and straight nose circlip pliers
• Lifetime Guarantee on all Halfords Advanced tools
• Modular tray dimensions: L 375 x W 180 x D 45mm

This Halfords Advanced tool set comes with four 175mm bent and straight nose circlip pliers for internal and external circlips. They're spring loaded, with non-slip coating on the handles. The tips are positioned to make it difficult for the circlip rings to fly off.

Halfords Advanced modular trays are designed to help you build your own ideal tool kit. Choose the tools that you need for the job and then choose the storage that you need. Our Halfords Advanced modular tray storage case will hold up to three trays for a portable tool kit, or build the complete tool storage solution using Halfords tool chests and cabinets.

What's in the box:
• 1 x straight external plier: 175mm
• 1 x bent nose external plier: 175mm
• 1 x straight internal plier: 175mm
• 1 x bent nose internal plier: 175mm

Halfords Advanced Lifetime Guarantee
Halfords Advanced hand tools come with a Lifetime Guarantee. Should a Halfords Advanced hand tool fail while being used for the purpose and in the manner for which it was designed, it will be inspected and replaced.

Simply return the product to your nearest Halfords store and a store colleague will either order you a replacement, or provide one on the spot. Discontinued items will be replaced with an equivalent product in terms of use and quality.

• We replace over 99% of tools that are returned under warranty
• We will replace any tool that is broken, snapped, bent or cracked
• We will only not replace a tool if it has been rusted, burnt, modified or mechanically ground down
• This guarantee does not affect your statutory rights
• EVA foam inserts, plastic inserts, tool cases and other packaging is excluded from the Lifetime Guarantee