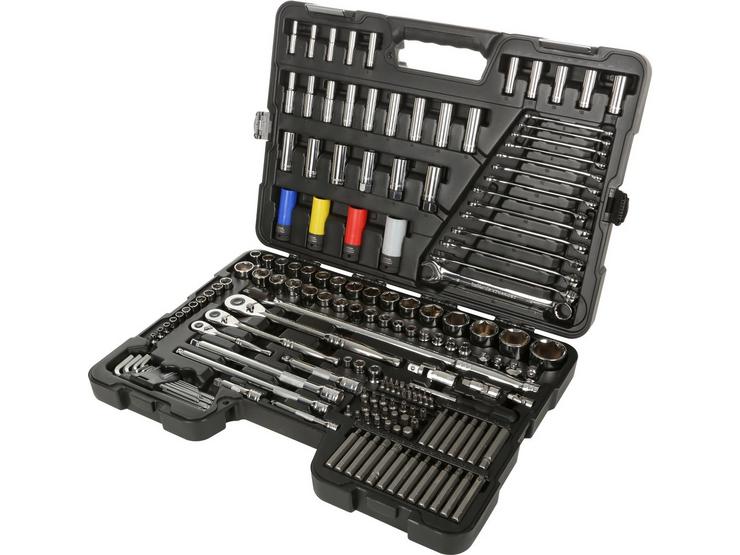 10 people are viewing now
5 purchases during last 48 hours
+ Extra 10% off*
Use code PAYDAY10 in basket
*Terms & conditions apply. Discount applied in basket
Designed for automotive jobs
Advanced chrome alloy steel for maximum durability
Guarantee: Lifetime
Halfords Advanced 175 Pc Socket & Spanner Set
Designed By Professionals For Professionals
The Halfords Advanced 175 Piece Socket and Spanner Set has been designed by professionals to meet your everyday needs around your workshop or garage.
It's the essential tool set for any professional and includes sockets, ratchets, spanners and more. It's all the tools you would need, in one socket set.
Advanced Technology
These high-quality tools come with the latest advancements in technology including the Halfords Advanced 100-tooth ratchets, which provide a lower swing arc that means you need just 3.6 degrees of movement before the next tooth is engaged.
Combined with the low-profile head design, this makes them the perfect choice for working in confined spaces.
A set of combination spanners from 6 to 19mm is also included, featuring Surface Drive Plus to deliver up to 28% more torque before rounding.
Features & Benefits:
100T Ratchets for as little as 3.6 degrees of movement for working in tight spaces
Full range of standard 6 point sockets, for all jobs from precision work to hub nuts
Combination Spanners with Surface Drive Plus for up to 28% more torque before rounding
Standard Universal Joints
18 inch breaker bar
Nylon Coated Alloy Wheel Nut sockets included
Full range of long and short reach bits, in hex, torx and spline
Lifetime Guarantee
Reinforced plastic case with metal pin hinges for durability
Warranty:
Lifetime Guarantee
We're so confident in the quality of our Halfords Advanced hand tools that they all come with a Lifetime Guarantee.
If a Halfords Advanced hand tool fails while its being using for the purpose and in the manner for which it was designed, simply return the product to your nearest Halfords store and a store colleague will either order a replacement or provide one on the spot.
Halfords Advanced hand tools come with a Lifetime Guarantee. Should a Halfords Advanced hand tool fail while being used for the purpose and in the manner for which it was designed, it will be inspected and replaced. Simply return the product to your nearest Halfords store and a store colleague will either order you a replacement, or provide one on the spot.
Discontinued items will be replaced with an equivalent product in terms of use and quality.
We replace over 99% of tools that are returned under warranty
We will replace any tool that is broken, snapped, bent or cracked
We will only fail to replace a tool if it has been rusted, burnt, modified or mechanically ground down
This guarantee does not affect your statutory rights EVA foam inserts, plastic inserts, tool cases and other packaging is excluded from the Lifetime Guarantee
Additional Note:
What's in the Box:
1/4" drive
1 x 1/4" drive 100-tooth ratchet handle
11 x 6-point sockets: 4, 5, 6, 7, 8, 9, 10, 11, 12, 13 and 14mm
10 x 6-point deep sockets: 5, 6, 7, 8, 9, 10, 11, 12, 13 and 14mm
1 x universal joint
1 x spinner handle
1 x bit adaptor
1 x wobble extension bar: 100mm
3/8" drive
1 x 3/8" drive 100-tooth ratchet handle
16 x 6-point sockets: 8, 9, 10, 11, 12, 13, 14, 15, 16, 17, 18, 19, 20, 21, 22 and 24mm
12 x 6-point deep sockets: 8, 9, 10, 11, 12, 13, 14, 15, 16, 17, 18 and 19mm
1 x universal joint
3 x spark plug sockets: 10, 12 and 14mm
2 x wobble extension bars: 75 and 250mm
1/2" drive
1 x 1/2" drive 100-tooth ratchet handle
16 x 6-point sockets: 13, 14, 15, 16, 17, 18, 19, 20, 21, 22, 24, 27, 30, 32, 34 and 36mm
1 x universal joint
1 x breaker bar: 18"
2 x wobble extension bars: 125 and 250mm
1 x 1/4"F x 3/8"M adaptor
1 x 3/8"F x 1/4"M adaptor
1 x 3/8"F x 1/2"M adaptor
1 x 1/2"F x 3/8"M adaptor
4 x 1/2" drive wheel nut impact sockets: 17, 19, 21 and 23mm
14 x combination spanners with Surface Drive Plus: 6, 7, 8, 9, 10, 11, 12, 13, 14, 15, 16, 17, 18 and 19mm
10 x ball end hex key set: 1.5, 2, 2.5, 3, 4, 5, 6, 7, 8 and 10mm
19 x 1/4 shank bits: #000, #00, #0, #1, #2 and #3 (Phillips); 1.5, 2, 2.5, 3, 4 and 5.5mm (slotted), #1, #2 and #3 (Pozi); T8, T9, T10 and T15 (security torx)
1 x 3/8" drive bit adaptor for 10mm shank bits
1 x 1/2" drive bit adaptor for 10mm shank bits
20 x 10mm shank bit 30mm long: 4, 5, 6, 7, 8, 10 and 12mm (hex); M5, M6, M8, M10 and M12 (spline); T20, T25, T27, T30, T40, T45, T50 and T55 (security torx)
20 x 10mm shank bit 75mm long: 4, 5, 6, 7, 8, 10 and 12mm (hex); M5, M6, M8, M10 and M12 (spline); T20, T25, T27, T30, T40, T45, T50 and T55 (security torx)