Halfords Advanced Torque Wrench Model 60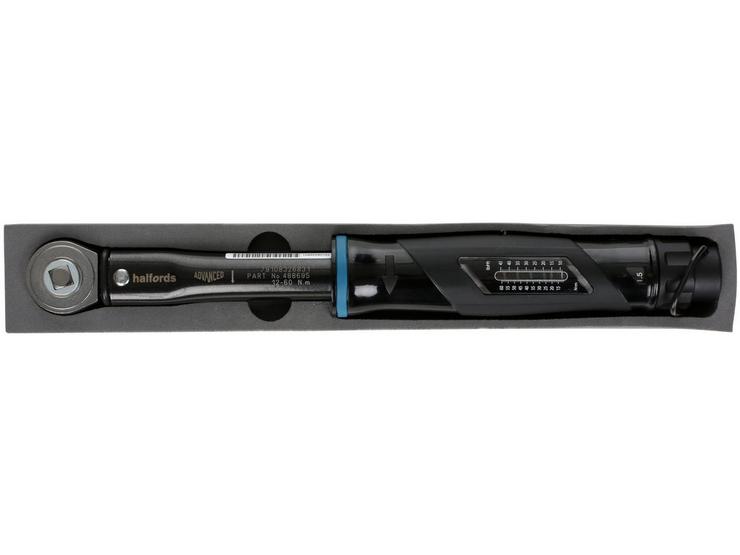 10 people are viewing now
5 purchases during last 48 hours
Halfords Advanced Torque Wrench Model 60
Drive : 3/8" Square
Range : 12 - 60Nm
Guarantee : Lifetime Guarantee
Halfords Advanced Torque Wrench Model 60
Features & Benefits:
3/8" square drive
12–60Nm torque range
Clockwise and anticlockwise torque control
Lifetime Guarantee on all Halfords Advanced tools
Declaration of Conformance
Foam insert and storage box
The Halfords Advanced Torque Wrench Model 60 is a professional quality torque wrench, accurate to +/-3% of reading, which meets the requirements of ISO 6789-1:2017.
It has a 3/8" square drive and a torque range of 12–60Nm (10–45 lbf.ft), with a dual scale design that displays both the Nm and lbf.ft values. Rapid adjustment means that it takes just eight turns to cover the entire scale, while the industrial quality 'push through' ratchet allows both clockwise and anticlockwise torque control. It's also supplied with a Declaration of Conformance.
Additional Note:
Halfords Advanced Lifetime Guarantee
Halfords Advanced hand tools come with a Lifetime Guarantee. Should a Halfords Advanced hand tool fail while being used for the purpose and in the manner for which it was designed, it will be inspected and replaced.
Simply return the product to your nearest Halfords store and a store colleague will either order you a replacement, or provide one on the spot. Discontinued items will be replaced with an equivalent product in terms of use and quality.
We replace over 99% of tools that are returned under warranty
We will replace any tool that is broken, snapped, bent or cracked
We will only not replace a tool if it has been rusted, burnt, modified or mechanically ground down
This guarantee does not affect your statutory rights
EVA foam inserts, plastic inserts, tool cases and other packaging is excluded from the Lifetime Guarantee
Halfords Advanced Lifetime Guarantee for Torque Wrenches
The Lifetime Guarantee for our Halfords Advanced torque wrenches is conditional on you being able to produce a valid Declaration of Conformance (previously known as a 'calibration certificate') when you request a replacement. For the purpose of this guarantee, certificates are valid for 18 months from the date of purchase or re-calibration (whichever is most recent).
Torque wrenches can be re-calibrated at the customer's cost from any recognised re-calibration service including our recommended service, Norbar.