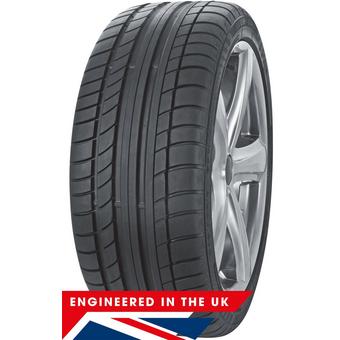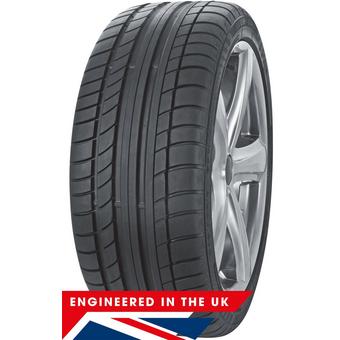 Price includes valve*, balance and environmental disposal of your old tyres - no hidden extras! *Specialist valves will incur an additional charge. Please enquire in centre.
Engineered in the UK
Excellent wet and dry sporty grip
Rim flange protector for alloys
summer
The ZZ5 is a ultra-high performance tyre for driving enthusiasts and high end sports cars.
Other tyres in this range
Tyre Variation
Features
Availability
Price
Avon ZZ5 (255/45 R18 99Y) 70EA
summer
Out of Stock
£155.99
Avon ZZ5 (275/30 R20 97Y) XL 71EA
summer
Out of Stock
£181.99
Avon ZZ5 (275/35 R19 100Y) XL 71EA
summer
Low Stock
£187.99
Avon ZZ5 (235/40 R18 91Y)
summer
Out of Stock
£130.99
Avon ZZ5 (295/30 R19 100Y) XL
summer
Low Stock
£187.99
Avon ZZ5 (235/40 R18 91Y) 2014
summer
Out of Stock
£130.99
Avon ZZ5 XL (205/40 R17 84W)
summer
Out of Stock
£70.99
Avon ZZ5 (245/35 R20 95Y) XL 70EA
summer
Out of Stock
£166.99
Avon ZZ5 XL (205/40 R17 84W) 2014
summer
Out of Stock
£94.99
Avon ZZ5 XL (225/45 R18 95Y) 2014
summer
Out of Stock
£120.99
Avon ZZ5 (245/40 R18 93Y)
summer
Out of Stock
£114.99
Avon ZZ5 XL (205/45 R17 88W) 2014
summer
Out of Stock
£105.99
Avon ZZ5 XL (235/35 R19 91Y)
summer
Out of Stock
£137.99
Avon ZZ5 XL (245/40 R19 98Y)
summer
Out of Stock
£152.99
Avon ZZ5 XL (255/40 R19 100Y)
summer
In Stock
£162.99
Avon ZZ5 XL (225/40 R18 92Y)
summer
Out of Stock
£88.99
Avon ZZ5 (245/40 R18 93Y) 2014
summer
Out of Stock
£114.99
Avon ZZ5 XL (255/45 R18 103Y) 2014
summer
Out of Stock
£152.99
Avon ZZ5 XL (245/40 R19 98Y) 2014
summer
Out of Stock
£152.99
Avon ZZ5 XL (235/35 R19 91Y) 2014
summer
Out of Stock
£129.99
Avon ZZ5 (255/35 R20 97Y)
summer
Out of Stock
£172.99
Avon ZZ5 XL (225/40 R18 92Y) 2014
summer
Out of Stock
£88.99
Avon ZZ5 XL (245/45 R18 100W)
summer
Out of Stock
£112.99
Avon ZZ5 XL (235/40 R18 95Y)
summer
Out of Stock
£110.99
Avon ZZ5 XL (265/35 R18 97Y)
summer
Out of Stock
£152.99
Avon ZZ5 XL (225/45 R18 95Y)
summer
Out of Stock
£105.99
Avon ZZ5 XL (235/40 R18 95Y) 2014
summer
Out of Stock
£107.99
Avon ZZ5 XL (245/45 R18 100W) 2014
summer
Out of Stock
£149.99
Avon ZZ5 XL (235/45 R18 98Y)
summer
Out of Stock
£131.99
Avon ZZ5 XL (245/45 R18 100Y)
summer
Out of Stock
£133.99
Avon ZZ5 XL (235/45 R18 98Y) 2014
summer
Out of Stock
£127.99
Avon ZZ5 XL (245/45 R18 100Y) 2014
summer
Out of Stock
£133.99
Avon ZZ5 XL (245/35 R19 93Y)
summer
Out of Stock
£163.99
Avon ZZ5 XL (255/35 R18 94Y)
summer
Out of Stock
£131.99
Avon ZZ5 XL (245/40 R18 97Y)
summer
Out of Stock
£119.99
Avon ZZ5 XL (255/35 R18 94Y) 2014
summer
Out of Stock
£131.99
Avon ZZ5 XL (245/40 R18 97Y) 2014
summer
Out of Stock
£119.99
Avon ZZ5 XL (255/35 R19 96Y)
summer
Out of Stock
£127.99
Avon ZZ5 XL (255/35 R19 96Y) 2014
summer
Out of Stock
£139.99