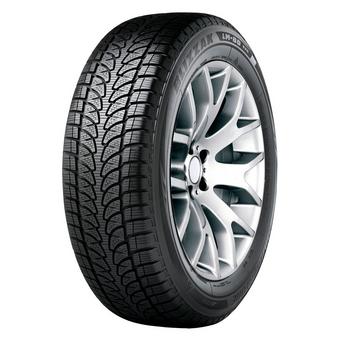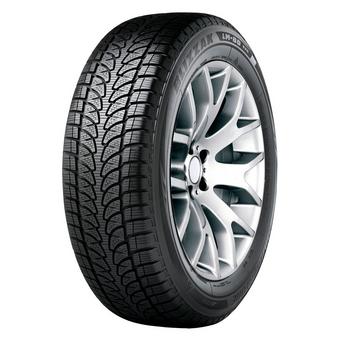 Half Price Wheel Alignment when you buy 2 or more Tyres.
Discount applied in basket.
Up to £40 Halfords gift card with 2 or more Bridgestone tyres
Amount varies dependant on quantity and size. T&Cs apply
Precision steering on ice and snow
Balanced wet and dry handling
Outstanding control
winter
The Bridgestone Blizzak LM-80 includes high-volume transversal grooves which clear water and slush from the contact patch for superior wet grip without compromising on dry performance.
Blizzark LM-80 extra information
Advanced compound and tread technologies
Superior winter handling, braking and response
Designed for SUV and 4X4
Other tyres in this range
Tyre Variation
Features
Availability
Price
Bridgestone Blizzak LM-80 (215/65 R16 98H) AO
winter

ao
Out of Stock
£124.99
Bridgestone Blizzak LM-80 (235/55 R18 100H) RG
winter
Out of Stock
£215.99
Bridgestone Blizzak LM-80 (255/55 R18 109V) RG XL
winter
Out of Stock
£195.99
Bridgestone Blizzak LM-80 (235/55 R19 105V) RG XL
winter
Out of Stock
£167.99
Bridgestone Blizzak LM-80 (255/55 R19 111H) RG XL
winter
Low Stock
£189.99
Bridgestone Blizzak LM-80 (215/70 R16 100T)
winter
Out of Stock
£149.99
Bridgestone Blizzak LM-80 (235/60 R18 103H) MO
winter

mo
Out of Stock
£172.99
Bridgestone Blizzak LM-80 (255/60 R18 112H) XL
winter
Out of Stock
£205.99
Bridgestone Blizzak LM-80 (225/55 R17 101V) RG XL
winter
Out of Stock
£177.99
Bridgestone Blizzak LM-80 (235/60 R18 107H) XL
winter
Out of Stock
£188.99
Bridgestone Blizzak LM-80 (255/65 R17 110H)
winter
Out of Stock
£204.99
Bridgestone Blizzak LM-80 (225/55 R18 98V) RG
winter
Out of Stock
£169.99
Bridgestone Blizzak LM-80 (265/60 R18 110H)
winter
Out of Stock
£228.99
Bridgestone Blizzak LM-80 (235/65 R17 108H) XL
winter
Out of Stock
£185.99
Bridgestone Blizzak LM-80 (265/65 R17 112H)
winter
Out of Stock
£209.99
Bridgestone Blizzak LM-80 (225/60 R18 100H)
winter
Out of Stock
£160.99
Bridgestone Blizzak LM-80 (245/65 R17 111H) XL
winter
Out of Stock
£214.99
Bridgestone Blizzak LM-80 (275/40 R20 106V) RG XL
winter
Out of Stock
£283.99
Bridgestone Blizzak LM-80 (225/65 R17 102H)
winter
Out of Stock
£165.99
Bridgestone Blizzak LM-80 (245/65 R17 111T) XL 72FC
winter
Out of Stock
£182.99
Bridgestone Blizzak LM-80 (215/60 R17 96H)
winter
Out of Stock
£145.99
Bridgestone Blizzak LM-80 (275/45 R20 110V) RG XL
winter
In Stock
£219.99
Bridgestone Blizzak LM-80 (235/50 R18 97H) RG
winter
Out of Stock
£215.99
Bridgestone Blizzak LM-80 (255/50 R19 107V) RG XL
winter
Out of Stock
£149.99
Bridgestone Blizzak LM-80 (235/55 R17 99H) RG
winter
Out of Stock
£169.99
Bridgestone Blizzak LM-80 (255/50 R20 109H) RG XL AO
winter

ao
Out of Stock
£291.99