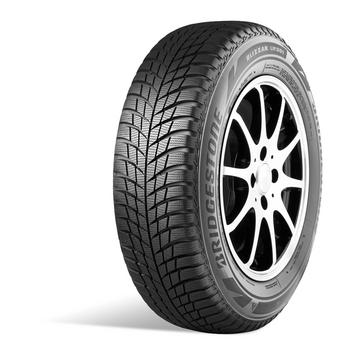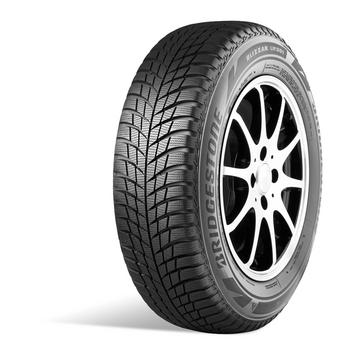 Fully fitted
Price includes valve*, balance and environmental disposal of your old tyres - no hidden extras! *Specialist valves will incur an additional charge. Please enquire in centre.
Precision steering
High cornering stability
Superb grip on snow
The Bridgestone Blizzak LM001 winter tyre has become very popular because of its excellent performance parameters, confirmed by the results of tests carried out by independent automotive magazines.
Blizzak LM-001 extra information
Precision steering
High cornering stability
Superb grip on snow
Other tyres in this range
Tyre Variation
Features
Availability
Price
Bridgestone Blizzak LM001 (185/60 R16 86H) RG 71CB
Out of Stock
£131.99
Bridgestone Blizzak LM001 (175/65 R14 82T) 71EB
Low Stock
£60.99
Bridgestone Blizzak LM001 (195/55 R16 91V) XL AO 71EB
Out of Stock
£163.99
Bridgestone Blizzak LM001 (185/65 R15 88T) RG 71CB
Out of Stock
£88.99
Bridgestone Blizzak LM001 (175/70 R14 84T) RG 71EC
Out of Stock
£61.99
Bridgestone Blizzak LM001 (185/65 R15 88T) RG 71EC
Out of Stock
£88.99
Bridgestone Blizzak LM001 (205/55 R17 91H) MO 71CB
Out of Stock
£190.99
Bridgestone Blizzak LM001 (195/60 R15 88T) RG 72EC
Out of Stock
£103.99
Bridgestone Blizzak LM001 (205/55 R17 95H) RG XL 72EC
Out of Stock
£185.99
Bridgestone Blizzak LM001 (185/55 R15 82T) RG 71EC
Out of Stock
£119.99
Bridgestone Blizzak LM001 (185/70 R14 88T) RG 71EC
Out of Stock
£77.99
Bridgestone Blizzak LM001 (205/60 R16 92H) 72CB
Out of Stock
£127.99
Bridgestone Blizzak LM001 (195/65 R15 95T) RG XL 72CC
Out of Stock
£97.99
Bridgestone Blizzak LM001 (185/55 R15 86H) RG XL 71EC
Out of Stock
£130.99
Bridgestone Blizzak LM001 (195/45 R16 84H) RG XL 72EC
Out of Stock
£139.99
Bridgestone Blizzak LM001 (205/60 R16 92H) AO 72CB
Out of Stock
£133.99
Bridgestone Blizzak LM001 (205/55 R16 91H) *BMW 72EB
Out of Stock
£130.99
Bridgestone Blizzak LM001 (205/60 R16 96H) XL *BMW 72CB
Out of Stock
£137.99
Bridgestone Blizzak LM001 (215/55 R17 98V) RG XL 72CC
Out of Stock
£188.99
Bridgestone Blizzak LM001 (205/55 R16 91H) RFT *BMW 72EC
Out of Stock
£134.99
Bridgestone Blizzak LM001 (225/45 R18 95H) RFT XL *BMW 72CB
Out of Stock
£60.99
Bridgestone Blizzak LM001 (205/60 R17 93H) *BMW 72CB
Out of Stock
£170.99
Bridgestone Blizzak LM001 (195/55 R16 87H) RFT *BMW
Out of Stock
£142.99
Bridgestone Blizzak LM001 (205/60 R16 92H) RG *BMW 72EB
Out of Stock
£133.99
Bridgestone Blizzak LM001 (155/65 R14 75T) RG 71EC
Out of Stock
£61.99
Bridgestone Blizzak LM001 (215/55 R17 98V) XL 72CC
Out of Stock
£188.99
Bridgestone Blizzak LM001 (225/45 R18 95V) RG XL 72EC
Out of Stock
£195.99
Bridgestone Blizzak LM001 (225/55 R17 97H) RFT *BMW 72CB
Out of Stock
£211.99
Bridgestone Blizzak LM001 (185/60 R15 88T) RG XL 71EC
Out of Stock
£95.99
Bridgestone Blizzak LM001 (205/60 R16 92H) RG 72EC
Out of Stock
£127.99
Bridgestone Blizzak LM001 (195/55 R16 87H) RG 72EC
Out of Stock
£139.99
Bridgestone Blizzak LM001 (165/65 R14 79T) RG 71EC
Out of Stock
£93.99
Bridgestone Blizzak LM001 (245/45 R20 103W) XL AO 72CC
Out of Stock
£303.99
Bridgestone Blizzak LM001 (205/55 R16 94V) RG XL 72EC
Out of Stock
£161.99
Bridgestone Blizzak LM001 (225/55 R17 97H) RFT *BMW 72EB
Low Stock
£211.99
Bridgestone Blizzak LM001 (215/60 R16 99H) RG XL 72EC
Out of Stock
£157.99
Bridgestone Blizzak LM001 (295/35 R20 101W) RG A5A 75EC
Out of Stock
£338.99
Bridgestone Blizzak LM001 (225/50 R17 94H) RFT *BMW
Out of Stock
£198.99
Bridgestone Blizzak LM001 (235/45 R17 97V) RG XL 72EC
Out of Stock
£210.99
Bridgestone Blizzak LM001 (205/60 R16 92H) RG RFT *BMW 72EB
Out of Stock
£156.99
Bridgestone Blizzak LM001 (225/55 R17 97H) RG *BMW
Out of Stock
£187.99
Bridgestone Blizzak LM001 (205/65 R16 95H) RG *BMW 72CB
Out of Stock
£164.99
Bridgestone Blizzak LM001 (225/50 R17 94H) RFT *BMW 72EB
Out of Stock
£198.99
Bridgestone Blizzak LM001 (235/45 R18 98V) RG XL 72EC
Out of Stock
£209.99
Bridgestone Blizzak LM001 (205/60 R16 96H) RFT XL *BMW 72CB
Out of Stock
£60.99
Bridgestone Blizzak LM001 (255/35 R19 96V) XL 73EC
In Stock
£189.99
Bridgestone Blizzak LM001 (225/55 R17 97V) RG 72EB
Out of Stock
£199.99
Bridgestone Blizzak LM001 (205/70 R16 97H) 72EC
Out of Stock
£134.99
Bridgestone Blizzak LM001 (215/65 R17 99H) AO 72CB
Out of Stock
£197.99
Bridgestone Blizzak LM001 (225/50 R17 98H) RFT XL *BMW 72CB
Out of Stock
£60.99
Bridgestone Blizzak LM001 (235/45 R20 96H) MO 71CB
Out of Stock
£281.99
Bridgestone Blizzak LM001 (205/60 R16 96H) RG XL 72EC
Out of Stock
£131.99
Bridgestone Blizzak LM001 (255/40 R18 99V) RG XL 73EC
Out of Stock
£221.99
Bridgestone Blizzak LM001 (225/60 R17 99H) AO 72CB
Out of Stock
£218.99
Bridgestone Blizzak LM001 (215/50 R17 95V) RG XL 72EC
Out of Stock
£180.99
Bridgestone Blizzak LM001 (215/65 R17 99H) BS 71CB
Out of Stock
£204.99
Bridgestone Blizzak LM001 (225/50 R17 98H) XL *BMW 72CB
Out of Stock
£60.99
Bridgestone Blizzak LM001 (235/50 R19 99H) MO 71CB
Out of Stock
£264.99
Bridgestone Blizzak LM001 (255/40 R20 97W) RG A5A 73FC
Out of Stock
£313.99
Bridgestone Blizzak LM001 (215/55 R16 93H) RG 72EC
Out of Stock
£159.99
Bridgestone Blizzak LM001 (225/40 R18 92V) RG XL 72EC
Out of Stock
£180.99
Bridgestone Blizzak LM001 (225/50 R17 98H) XL AO 71EC
Out of Stock
£183.99
Bridgestone Blizzak LM001 (235/55 R18 100H) AO 72CB
Low Stock
£173.99
Bridgestone Blizzak LM001 (255/55 R18 109H) XL *BMW 71CB
Out of Stock
£60.99
Bridgestone Blizzak LM001 (215/55 R16 97H) RG XL 72EC
Out of Stock
£164.99
Bridgestone Blizzak LM001 (225/45 R17 91H) RFT *BMW 72CB
Out of Stock
£197.99
Bridgestone Blizzak LM001 (225/50 R18 95H) RFT *BMW 72CB
Out of Stock
£233.99
Bridgestone Blizzak LM001 (245/40 R18 93V) RG AO 72EC
Out of Stock
£203.99
Bridgestone Blizzak LM001 (255/55 R19 111H) XL AO 72CC
Out of Stock
£274.99
Bridgestone Blizzak LM001 (215/55 R17 94V) AO 72EC
Out of Stock
£191.99
Bridgestone Blizzak LM001 (225/45 R18 91H) RG MO 71CB
Out of Stock
£199.99
Bridgestone Blizzak LM001 (225/55 R16 95H) RG 72EC
Low Stock
£106.99
Bridgestone Blizzak LM001 (245/40 R19 98V) RG XL 72EC
Out of Stock
£274.99
Bridgestone Blizzak LM001 (255/55 R20 110H) RFT XL *BMW 73CB
Out of Stock
£347.99
Bridgestone Blizzak LM001 (225/45 R18 91H) RG RFT MO 71CB
Low Stock
£171.99
Bridgestone Blizzak LM001 (225/55 R16 99H) RG XL 72EC
Out of Stock
£159.99
Bridgestone Blizzak LM001 (235/40 R18 95V) RG XL 72EC
Out of Stock
£149.99
Bridgestone Blizzak LM001 (245/45 R18 100V) RG XL 72EC
Out of Stock
£187.99