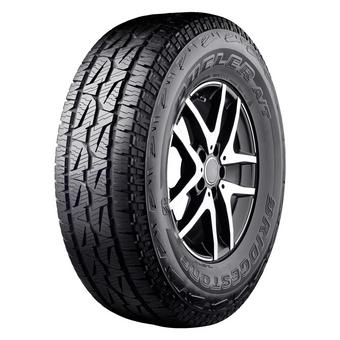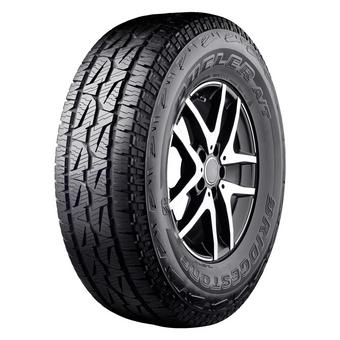 15% off
4 tyres when using our mobile fitting service.
Enter code:
BF15 at checkout
*Subject to availability.
T&Cs apply
Up to £40 off an MOT & Service with 2 or more tyres
Add both to basket or recieve a code via email after fitting. T&Cs apply
Smooth and quiet ride
Excellent grip in both wet and dry
Controlled cornering and handling
summer

Bridgestone

tyres fully fitted
Engineered to perform on and off-road, this tyre is ideal for conquering tough terrain in all seasons.
Other tyres in this range
Tyre Variation
Features
Availability
Price
Bridgestone Dueler A/T 001 195/80 R15 96T
summer
In Stock
£91.99
Bridgestone Dueler A/T 001 205/70 R15 96T
summer
Out of Stock
£107.99
Bridgestone Dueler A/T 001 205/80 R16 104T XL
summer
Low Stock
£90.99
Bridgestone Dueler A/T 001 215/65 R16 98T
summer
In Stock
£97.99
Bridgestone Dueler A/T 001 215/70 R16 100S
summer
Out of Stock
£101.99
Bridgestone Dueler A/T 001 235/70 R16 106T
summer
Out of Stock
£135.99
Bridgestone Dueler A/T 001 215/75 R15 100S
summer
Out of Stock
£107.99
Bridgestone Dueler A/T 001 235/75 R15 105T
summer
Out of Stock
£101.99
Bridgestone Dueler A/T 001 265/65 R17 112T
summer
Out of Stock
£118.99
Bridgestone Dueler A/T 001 215/80 R15 102S
summer
Low Stock
£103.99
Bridgestone Dueler A/T 001 235/75 R15 109T XL
summer
Out of Stock
£105.99
Bridgestone Dueler A/T 001 10.5/31 R15 109/107S
summer
Low Stock
£145.99
Bridgestone Dueler A/T 001 265/70 R15 112S
summer
Out of Stock
£138.99
Bridgestone Dueler A/T 001 215/80 R16 103S
summer
Out of Stock
£131.99
Bridgestone Dueler A/T 001 245/70 R16 107T
summer
Out of Stock
£127.99
Bridgestone Dueler A/T 001 265/70 R16 112S
summer
Out of Stock
£142.99
Bridgestone Dueler A/T 001 225/70 R15 100T
summer
Low Stock
£108.99
Bridgestone Dueler A/T 001 245/70 R17 110S
summer
Out of Stock
£144.99
Bridgestone Dueler A/T 001 265/70 R16 112T
summer
In Stock
£118.99
Bridgestone Dueler A/T 001 235/65 R17 108H XL
summer
Out of Stock
£127.99
Bridgestone Dueler A/T 001 255/55 R18 109H XL
summer
Out of Stock
£145.99
Bridgestone Dueler A/T 001 265/70 R17 115R
summer
Out of Stock
£136.99
Bridgestone Dueler A/T 001 255/60 R18 112T XL
summer
In Stock
£114.99
Bridgestone Dueler A/T 001 265/75 R16 116S
summer
Out of Stock
£157.99
Bridgestone Dueler A/T 001 255/65 R17 110T
summer
Out of Stock
£136.99
Bridgestone Dueler A/T 001 275/70 R16 114S
summer
Out of Stock
£162.99
Bridgestone Dueler A/T 001 255/70 R15 108S
summer
Out of Stock
£144.99
Bridgestone Dueler A/T 001 (255/70 R16 111S)
summer
Out of Stock
£129.99
Bridgestone Dueler A/T 001 225/75 R16 116/114S
summer
Out of Stock
£150.99