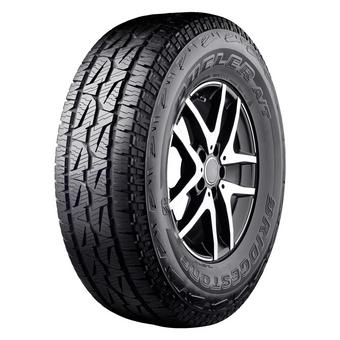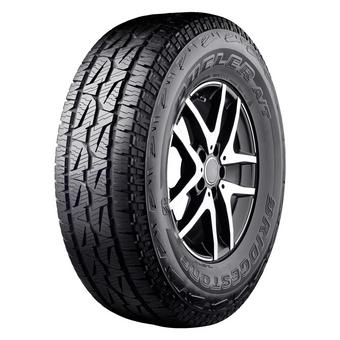 Half Price Wheel Alignment when you buy 2 or more Tyres.
Discount applied in basket.
Up to £40 Halfords gift card with 2 or more Bridgestone tyres
Amount varies dependant on quantity and size. T&Cs apply
Smooth and quiet ride
Excellent grip in both wet and dry
Controlled cornering and handling
summer
Engineered to perform on and off-road, this tyre is ideal for conquering tough terrain in all seasons.
Other tyres in this range
Tyre Variation
Features
Availability
Price
Bridgestone Dueler A/T 001 (195/80 R15 96T)
summer
Out of Stock
£93.99
Bridgestone Dueler A/T 001 (205/70 R15 96T)
summer
In Stock
£89.99
Bridgestone Dueler A/T 001 (205/80 R16 104T) XL
summer
Out of Stock
£93.99
Bridgestone Dueler A/T 001 (215/65 R16 98T)
summer
Low Stock
£97.99
Bridgestone Dueler A/T 001 (215/70 R16 100S)
summer
Out of Stock
£98.99
Bridgestone Dueler A/T 001 (235/70 R16 106T)
summer
Out of Stock
£131.99
Bridgestone Dueler A/T 001 (215/75 R15 100S) 72EC
summer
Out of Stock
£99.99
Bridgestone Dueler A/T 001 (235/75 R15 105T)
summer
Out of Stock
£104.99
Bridgestone Dueler A/T 001 (265/65 R17 112T)
summer
In Stock
£123.99
Bridgestone Dueler A/T 001 (215/80 R15 102S)
summer
Out of Stock
£104.99
Bridgestone Dueler A/T 001 (235/75 R15 109T) XL
summer
Out of Stock
£104.99
Bridgestone Dueler A/T 001 (10.5/31 R15 109S)
summer
Low Stock
£148.99
Bridgestone Dueler A/T 001 (265/70 R15 112S)
summer
Low Stock
£116.99
Bridgestone Dueler A/T 001 (215/80 R16 103S)
summer
Out of Stock
£132.99
Bridgestone Dueler A/T 001 (245/70 R16 107T)
summer
Out of Stock
£123.99
Bridgestone Dueler A/T 001 (265/70 R16 112S)
summer
Low Stock
£122.99
Bridgestone Dueler A/T 001 (225/70 R15 100T)
summer
Out of Stock
£112.99
Bridgestone Dueler A/T 001 (245/70 R17 110S) 72EC
summer
Out of Stock
£147.99
Bridgestone Dueler A/T 001 (265/70 R16 112T)
summer
Out of Stock
£133.99
Bridgestone Dueler A/T 001 (235/65 R17 108H) XL
summer
Out of Stock
£117.99
Bridgestone Dueler A/T 001 (255/55 R18 109H) XL
summer
Out of Stock
£144.99
Bridgestone Dueler A/T 001 (265/70 R17 115R)
summer
Out of Stock
£135.99
Bridgestone Dueler A/T 001 (255/60 R18 112T) XL 73CC
summer
Out of Stock
£129.99
Bridgestone Dueler A/T 001 (265/75 R16 116S) 72EC
summer
Out of Stock
£157.99
Bridgestone Dueler A/T 001 (255/65 R17 110T)
summer
In Stock
£118.99
Bridgestone Dueler A/T 001 (275/70 R16 114S)
summer
Out of Stock
£163.99
Bridgestone Dueler A/T 001 (255/70 R15 108S)
summer
Out of Stock
£126.99
Bridgestone Dueler A/T 001 (7.5/80 R16 114/112N) 72EE
summer
Low Stock
£136.99
Bridgestone Dueler A/T 001 (255/70 R16 111S)
summer
In Stock
£129.99
Bridgestone Dueler A/T 001 (225/75 R16 116/114S)
summer
Out of Stock
£142.99