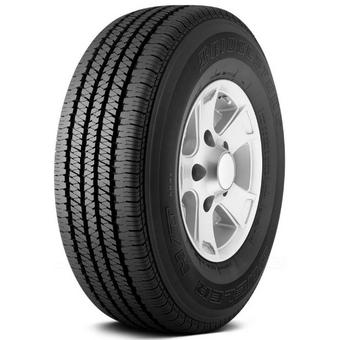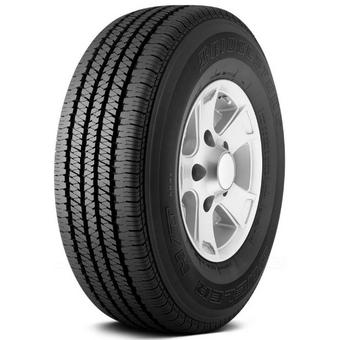 Half Price Wheel Alignment when you buy 2 or more Tyres.
Discount applied in basket.
Up to £40 Halfords gift card with 2 or more Bridgestone tyres
Amount varies dependant on quantity and size. T&Cs apply
Excellent handling stability
Superb in dry and wet conditions
Low noise level for comfortable ride
summer
Bridgestone's H/T 684 II is a premium quality 4x4 and light truck tyre ideal for motorway driving. Developed to provide year-round traction (even in light snow), this exceptional all-season tyre features a symmetric, independent tread design to maximise grip in tough conditions. This tyre also features twin steel belts within the tyre wall to stabilise the vehicle, while a polyester cord body helps to cushion the ride. Part of Bridgestone's award-winning Dueler range.
Bridgestone H/T 684 II extra information
Premium quality 4x4 and light truck tyre
Exceptional grip in all conditions
Ideal for motorway driving
Other tyres in this range
Tyre Variation
Features
Availability
Price
Bridgestone Dueler H/T 684 II (255/70 R16 111T) NZ
summer
In Stock
£125.99
Bridgestone Dueler H/T 684 II (265/60 R18 110H) HZ 72CE
summer
Out of Stock
£160.99
Bridgestone Dueler H/T 684 II (265/60 R18 110H) RHD 72CE
summer
In Stock
£148.99
Bridgestone Dueler H/T 684 II (265/65 R17 112T)
summer
In Stock
£122.99
Bridgestone Dueler H/T 684 II (285/60 R18 116V) HZ
summer
Out of Stock
£178.99
Bridgestone Dueler H/T 684 II HZ (265/60 R18 110H)
summer
In Stock
£114.99
Bridgestone Dueler H/T 684 II (245/65 R17 111S) RF
summer
Out of Stock
£141.99
Bridgestone Dueler H/T 684 II XL CZ (245/70 R16 111T)
summer
Out of Stock
£134.99
Bridgestone Dueler H/T 684 II (245/70 R16 111T) XL
summer
In Stock
£117.99
Bridgestone Dueler H/T 684 II (245/70 R17 110S) RHD 72EE
summer
Out of Stock
£140.99
Bridgestone Dueler H/T 684 II (195/80 R15 96S) 71CC
summer
Out of Stock
£97.99
Bridgestone Dueler H/T 684 II (265/60 R18 110H) 72CE
summer
Out of Stock
£156.99