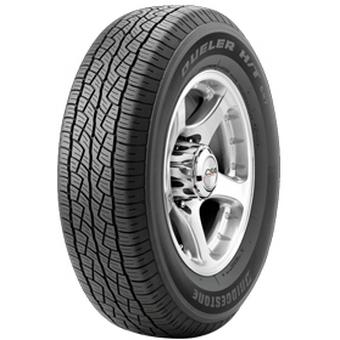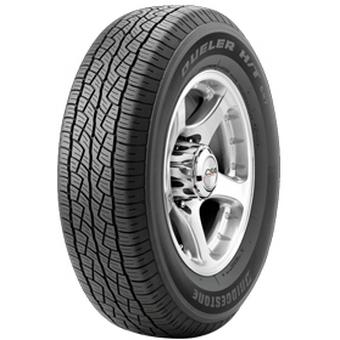 Fully fitted
Price includes valve*, balance and environmental disposal of your old tyres - no hidden extras! *Specialist valves will incur an additional charge. Please enquire in centre.
Excellent braking response
Confident traction in wet and dry
Reduced risk of aquaplaning
Designed for luxury 4x4s and SUVs, the Dueler Highway Terrain 687 provides sedan-like comfort and superior performance in wet and dry conditions. The Dueler H/T 687 is an all-wheel drive tyre that has been specifically designed for longer journeys and motorway driving. Thanks to its asymmetric tread and rugged design, the Dueler range provides greater traction, and is suitable for all terrains including off-road.
Bridgestone Dueler H/T 687 extra information
Provides a quiet and comfortable ride for 4x4s and SUVs
Suitable for all terrains including off-road
Excellent stability and steering response in wet and dry conditions
Great for motorway driving
Other tyres in this range
Tyre Variation
Features
Availability
Price
Bridgestone Dueler H/T 687 (215/70 R16 100H)
In Stock
£102.99
Bridgestone Dueler H/T 687 PZ (225/65 R17 101H)
Out of Stock
£131.99
Bridgestone Dueler H/T 687 (225/65 R17 102H)
In Stock
£108.99
Bridgestone Dueler H/T 687 (225/70 R16 102T)
Out of Stock
£112.99
Bridgestone Dueler H/T 687 (225/70 R16 103T)
Out of Stock
£113.99
Bridgestone Dueler H/T 687 (235/55 R18 99H)
Out of Stock
£134.99
Bridgestone Dueler H/T 687 (235/55 R18 99V)
Low Stock
£115.99
Bridgestone Dueler H/T 687 (235/60 R16 100H)
In Stock
£103.99
Bridgestone Dueler H/T 687 AZ (215/65 R16 98V)
Low Stock
£109.99