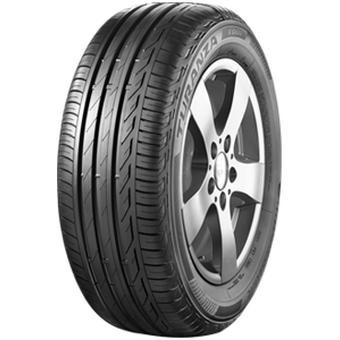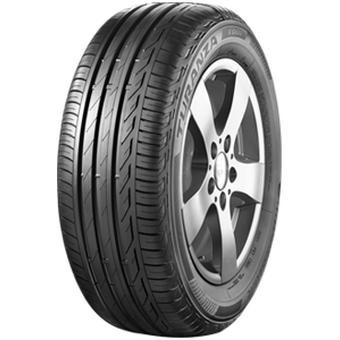 Price includes valve*, balance and environmental disposal of your old tyres - no hidden extras! *Specialist valves will incur an additional charge. Please enquire in centre.
Good all round performance
Reduced risk of aquaplaning
Low rolling resistance
summer
The Turanza T001 Evo is Bridgestone's flagship tyre of the touring range. It combines great safety, comfort, durability and environmental performance, to deliver a superior quality, all-round tyre.
Bridgestone Turanza T001 extra information
Reduced friction for better fuel economy
Up to 15% longer tyre life thanks to flat contact profile
Superb safety performance in all conditions
Comfortable and quiet ride
Other tyres in this range
Tyre Variation
Features
Availability
Price
Bridgestone Turanza T001 Evo (195/60 R15 88H)
summer
Out of Stock
£77.99
Bridgestone Turanza T001 Evo (195/60 R15 88V)
summer
Out of Stock
£82.99
Bridgestone Turanza T001 Evo (195/65 R15 91H)
summer
Out of Stock
£56.99
Bridgestone Turanza T001 Evo (185/60 R15 84H)
summer
Out of Stock
£72.99
Bridgestone Turanza T001 Evo (195/65 R15 91V)
summer
Out of Stock
£63.99
Bridgestone Turanza T001 Evo (185/65 R15 88H)
summer
Out of Stock
£80.99
Bridgestone Turanza T001 Evo (205/55 R16 91H)
summer
Out of Stock
£77.99
Bridgestone Turanza T001 Evo (195/50 R15 82V)
summer
Out of Stock
£88.99
Bridgestone Turanza T001 Evo (205/55 R16 91V)
summer
In Stock
£71.99
Bridgestone Turanza T001 Evo (215/65 R15 96H)
summer
Out of Stock
£110.99
Bridgestone Turanza T001 Evo (205/65 R15 94H)
summer
Out of Stock
£108.99
Bridgestone Turanza T001 Evo RG (205/50 R16 87V)
summer
Out of Stock
£100.99
Bridgestone Turanza T001 Evo RG XL (225/50 R17 98Y)
summer
Out of Stock
£106.99
Bridgestone Turanza T001 Evo (205/55 R16 91W)
summer
Out of Stock
£69.99
Bridgestone Turanza T001 Evo RG (205/50 R16 87W)
summer
Out of Stock
£92.99
Bridgestone Turanza T001 Evo (195/55 R15 85V)
summer
Out of Stock
£97.99
Bridgestone Turanza T001 Evo RG XL (235/45 R17 97Y)
summer
Out of Stock
£126.99
Bridgestone Turanza T001 Evo RG (215/45 R17 87W)
summer
Out of Stock
£95.99
Bridgestone Turanza T001 Evo RG XL (195/50 R16 88V)
summer
Out of Stock
£108.99
Bridgestone Turanza T001 Evo (195/55 R16 87H)
summer
Out of Stock
£83.99
Bridgestone Turanza T001 Evo RG XL (245/40 R18 97Y)
summer
Out of Stock
£150.99
Bridgestone Turanza T001 Evo XL (215/60 R16 99V)
summer
Out of Stock
£164.99
Bridgestone Turanza T001 Evo (215/55 R16 93V)
summer
Out of Stock
£131.99
Bridgestone Turanza T001 Evo RG (215/50 R17 91W)
summer
Out of Stock
£119.99
Bridgestone Turanza T001 Evo RG XL (245/45 R18 100Y)
summer
Out of Stock
£143.99
Bridgestone Turanza T001 Evo XL (225/55 R16 99V)
summer
Out of Stock
£122.99
Bridgestone Turanza T001 Evo (215/55 R16 93W)
summer
Out of Stock
£135.99
Bridgestone Turanza T001 Evo RG (225/45 R17 91W)
summer
Out of Stock
£91.99
Bridgestone Turanza T001 Evo RG XL (205/50 R17 93V)
summer
Out of Stock
£117.99
Bridgestone Turanza T001 Evo XL (185/60 R15 88H)
summer
Out of Stock
£82.99
Bridgestone Turanza T001 Evo XL (225/55 R17 101W)
summer
Out of Stock
£118.99
Bridgestone Turanza T001 Evo (225/55 R16 95Y)
summer
Out of Stock
£104.99
Bridgestone Turanza T001 Evo (215/55 R17 94W)
summer
Out of Stock
£110.99
Bridgestone Turanza T001 Evo RG XL (215/45 R17 91Y)
summer
Out of Stock
£101.99
Bridgestone Turanza T001 Evo XL (195/65 R15 95H)
summer
Out of Stock
£80.99
Bridgestone Turanza T001 Evo RG (235/45 R17 94Y)
summer
Out of Stock
£92.99
Bridgestone Turanza T001 Evo (215/60 R16 95V)
summer
Out of Stock
£124.99
Bridgestone Turanza T001 Evo RG XL (215/50 R17 95W)
summer
Out of Stock
£109.99
Bridgestone Turanza T001 Evo XL (205/55 R17 95V)
summer
Out of Stock
£116.99
Bridgestone Turanza T001 Evo RG (195/50 R15 82H)
summer
Out of Stock
£60.99
Bridgestone Turanza T001 Evo RG (235/50 R17 96Y)
summer
Out of Stock
£137.99
Bridgestone Turanza T001 Evo RG (205/45 R16 83W)
summer
Out of Stock
£90.99
Bridgestone Turanza T001 Evo RG (245/40 R18 93Y)
summer
Out of Stock
£117.99
Bridgestone Turanza T001 Evo RG XL (225/50 R17 98W)
summer
Out of Stock
£106.99
Bridgestone Turanza T001 Evo XL (215/55 R16 97W)
summer
Out of Stock
£121.99