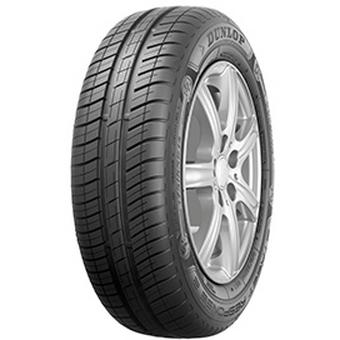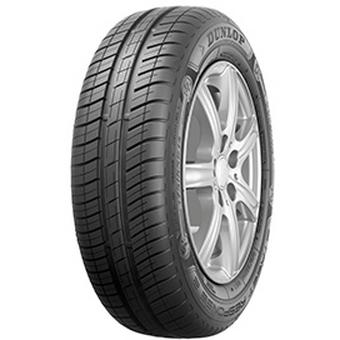 15% off
4 tyres when using our mobile fitting service.
Enter code:
BF15 at checkout
*Subject to availability.
T&Cs apply
Shorter braking on wet surfaces
Enhanced traction on wet roads
Enhanced grip and dry braking
summer
Dunlop
Dunlop has been at the forefront of tyre innovations, with a series of firsts - both in race results and technological developments. With over 100 years of tyre industry experience, Dunlop has grown to become one of the world's biggest and most trusted brands. Dunlop continues to innovate, pushing the development of new compounds and technologies through the rigours of two and four-wheeled motorsport. What Dunlop learn on the track enables them to continually surpass their own benchmarks on the world's roads and race circuits, applying the 'Race to Road' philosophy.
SP StreetResponse2
The SP Street Response2 has superior dry handling thanks to the Dunlop Touch Technology. Enjoy responsive dry handling as a flatter tread profile puts more rubber in contact with the road, resulting in improved grip and steering precision. A tight link is maintained between rim and tyre, giving you a tactile feel for the driving surface. With enhanced road feedback, driving becomes more enjoyable. It gives enhanced wet and dry performance for city cars it benefits from an asymmetric tread design that increase grip on wet roads and the grooves in the tread evacuate water rapidly, reducing the risk of aquaplaning in heavy rain. It is also has a fuel efficient compounds as the special tread compound lowers rolling resistance to give you greater fuel efficiency, without compromising wet grip.
Other tyres in this range
Tyre Variation
Features
Availability
Price
Dunlop SP StreetResponse2 (165/65 R15 81T)
summer
Out of Stock
£62.99
Dunlop SP StreetResponse2 (185/65 R15 88T)
summer
Out of Stock
£73.99
Dunlop SP StreetResponse2 (165/70 R13 79T)
summer
Low Stock
£59.99
Dunlop SP StreetResponse2 (195/65 R15 91T)
summer
Out of Stock
£71.99
Dunlop SP StreetResponse2 (165/70 R14 81T)
summer
In Stock
£60.99
Dunlop SP StreetResponse2 (195/65 R15 91T) 70CB
summer
In Stock
£64.99
Dunlop SP StreetResponse2 (145/70 R13 71T)
summer
Out of Stock
£63.99
Dunlop SP StreetResponse2 (175/60 R15 81T)
summer
Out of Stock
£85.99
Dunlop SP StreetResponse2 (155/65 R13 73T)
summer
Low Stock
£58.99
Dunlop SP StreetResponse2 (195/65 R15 95T) XL 70BB
summer
Out of Stock
£79.99
Dunlop SP StreetResponse2 (175/65 R14 82T)
summer
Out of Stock
£56.99
Dunlop SP StreetResponse2 (155/65 R14 75T)
summer
In Stock
£60.99
Dunlop SP StreetResponse2 (195/65 R15 95T) XL 70BB
summer
Low Stock
£80.99
Dunlop SP StreetResponse2 (175/65 R15 84T)
summer
In Stock
£66.99
Dunlop SP StreetResponse2 (155/70 R13 75T)
summer
In Stock
£54.99
Dunlop SP StreetResponse2 (195/70 R14 91T)
summer
Out of Stock
£90.99
Dunlop SP StreetResponse2 (175/70 R13 82T)
summer
In Stock
£61.99
Dunlop SP StreetResponse2 (155/80 R13 79T)
summer
Out of Stock
£51.99
Dunlop SP StreetResponse2 XL (165/70 R14 85T)
summer
Out of Stock
£79.99
Dunlop SP StreetResponse2 (175/70 R14 84T)
summer
In Stock
£73.99
Dunlop SP StreetResponse2 (165/65 R13 77T)
summer
Out of Stock
£60.99
Dunlop SP StreetResponse2 XL (175/65 R14 86T)
summer
Out of Stock
£60.99
Dunlop SP StreetResponse2 (185/60 R14 82T)
summer
Low Stock
£64.99
Dunlop SP StreetResponse2 (165/65 R14 79T)
summer
In Stock
£60.99
Dunlop SP StreetResponse2 XL (175/70 R14 88T)
summer
Out of Stock
£70.99
Dunlop SP StreetResponse2 (185/65 R14 86T)
summer
Out of Stock
£65.99
Dunlop SP StreetResponse2 XL (185/65 R15 92T)
summer
Out of Stock
£70.99
Dunlop SP StreetResponse2 (185/65 R15 92T) XL 71CC
summer
Out of Stock
£76.99
Dunlop SP StreetResponse2 (165/65 R15 81T) 70CC
summer
Out of Stock
£74.99
Dunlop SP StreetResponse2 (175/60 R15 81T) 70EC
summer
In Stock
£74.99
Dunlop SP StreetResponse2 (155/80 R13 79T) 70EC
summer
In Stock
£57.99
Dunlop SP StreetResponse2 (185/65 R15 88T) 70CB
summer
In Stock
£62.99
Dunlop SP StreetResponse2 (175/65 R14 82T) 70CB
summer
In Stock
£53.99