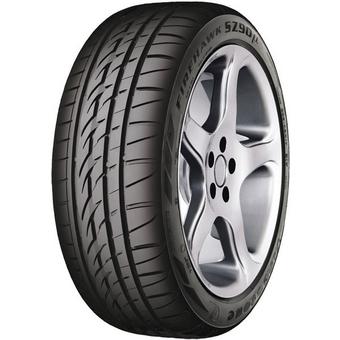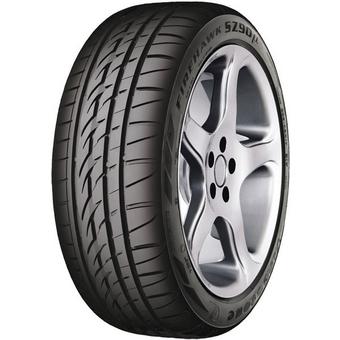 Price includes valve*, balance and environmental disposal of your old tyres - no hidden extras! *Specialist valves will incur an additional charge. Please enquire in centre.
Superb steering response
Dynamic, sporty look
Highly reliable in wet and dry
summer
The Firestone SZ90 tyres are high performance passenger car tyres from Firestone Tyres, the tyre manufacturer, long associated with producing affordable, high quality tyres. While these tyres may not belong to the ultra high performance category, they definitely bring out the fun in driving and are pioneers in what is called the 'light sport' category.
Firehawk SZ90 extra information
Mid-range great value tyre
Outstanding performance
Excellent steering response
Other tyres in this range
Tyre Variation
Features
Availability
Price
Firestone Firehawk SZ90 (225/45 R17 91W)
summer
In Stock
£73.99
Firestone Firehawk SZ90 RG (245/40 R17 91Y)
summer
Out of Stock
£59.99
Firestone Firehawk SZ90 (225/45 R17 91Y)
summer
Out of Stock
£73.99
Firestone Firehawk SZ90 RG XL (235/40 R18 95Y)
summer
Out of Stock
£118.99
Firestone Firehawk SZ90 RG RFT (205/45 R17 84V)
summer

run-flat
Out of Stock
£158.99
Firestone Firehawk SZ90 (225/50 R16 92W)
summer
In Stock
£95.99
Firestone Firehawk SZ90 RG XL (235/45 R17 97Y)
summer
Out of Stock
£86.99
Firestone Firehawk SZ90 (185/70 R13 86T)
summer
Out of Stock
£58.99
Firestone Firehawk SZ90 RG RFT (225/45 R17 91W)
summer

run-flat
Out of Stock
£88.99
Firestone Firehawk SZ90 (235/45 R17 94Y)
summer
In Stock
£89.99
Firestone Firehawk SZ90 (195/55 R15 85V)
summer
Out of Stock
£68.99
Firestone Firehawk SZ90 RG RFT (225/50 R17 94W)
summer

run-flat
Out of Stock
£116.99
Firestone Firehawk SZ90 (245/40 R18 93Y)
summer
Low Stock
£119.99
Firestone Firehawk SZ90 RG XL (245/45 R18 100Y)
summer
In Stock
£131.99
Firestone Firehawk SZ90 (205/40 R17 84W) RG XL 73GB
summer
Out of Stock
£86.99
Firestone Firehawk SZ90 RG RFT (245/40 R18 93Y)
summer

run-flat
Out of Stock
£135.99
Firestone Firehawk SZ90 RFT (195/55 R16 87V)
summer

run-flat
Out of Stock
£100.99
Firestone Firehawk SZ90 XL (195/45 R16 84V)
summer
Out of Stock
£76.99
Firestone Firehawk SZ90 (205/45 R16 83W)
summer
Out of Stock
£94.99
Firestone Firehawk SZ90 XL (215/45 R17 91Y)
summer
In Stock
£83.99
Firestone Firehawk SZ90 RG XL (205/45 R17 88V)
summer
Out of Stock
£113.99
Firestone Firehawk SZ90 XL (245/45 R17 99Y)
summer
Out of Stock
£121.99
Firestone Firehawk SZ90 RFT (205/55 R16 91W)
summer

run-flat
Out of Stock
£68.99
Firestone Firehawk SZ90 XL (205/40 R17 84W)
summer
In Stock
£86.99
Firestone Firehawk SZ90 (205/50 R17 89V)
summer
Low Stock
£89.99
Firestone Firehawk SZ90 XL (215/50 R17 95W)
summer
In Stock
£96.99
Firestone Firehawk SZ90 RG XL (205/45 R17 88W)
summer
Out of Stock
£93.99
Firestone Firehawk SZ90 XL (255/35 R18 94Y) 2014
summer
In Stock
£129.99
Firestone Firehawk SZ90 RG (205/45 R16 83W)
summer
Out of Stock
£85.99
Firestone Firehawk SZ90 (205/55 R16 91V)
summer
In Stock
£59.99
Firestone Firehawk SZ90 XL (205/45 R16 87W)
summer
In Stock
£85.99
Firestone Firehawk SZ90 RG XL (205/45 R17 88W) 2015
summer
In Stock
£93.99
Firestone Firehawk SZ90 XL (225/40 R18 92Y)
summer
In Stock
£83.99
Firestone Firehawk SZ90 XL (255/35 R19 96Y)
summer
Low Stock
£134.99
Firestone Firehawk SZ90 RG (225/45 R17 91W)
summer
Out of Stock
£73.99
Firestone Firehawk SZ90 (225/40 R18 88Y)
summer
Out of Stock
£83.99
Firestone Firehawk SZ90 XL (205/45 R17 88V)
summer
In Stock
£94.99
Firestone Firehawk SZ90 XL (225/45 R17 94W)
summer
Out of Stock
£79.99
Firestone Firehawk SZ90 RG XL (215/45 R17 91Y)
summer
Out of Stock
£83.99
Firestone Firehawk SZ90 XL (205/50 R17 93W)
summer
In Stock
£91.99
Firestone Firehawk SZ90 XL (225/45 R17 94Y)
summer
In Stock
£77.99
Firestone Firehawk SZ90 RG XL (225/45 R18 95Y)
summer
Low Stock
£120.99
Firestone Firehawk SZ90 XL (205/55 R16 94W) 2014
summer
Out of Stock
£80.99
Firestone Firehawk SZ90 XL (235/35 R19 91Y)
summer
Low Stock
£135.99
Firestone Firehawk SZ90 XL (235/40 R18 95Y)
summer
In Stock
£111.99
Firestone Firehawk SZ90 XL (235/45 R17 97Y)
summer
In Stock
£85.99
Firestone Firehawk SZ90 XL (235/45 R18 98Y)
summer
In Stock
£129.99
Firestone Firehawk SZ90 XL (245/40 R18 97Y)
summer
In Stock
£119.99
Firestone Firehawk SZ90 (215/50 R17 95W) RG XL 72FA
summer
Out of Stock
£98.99