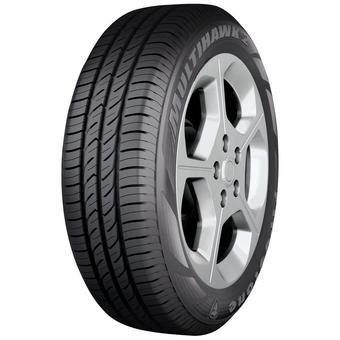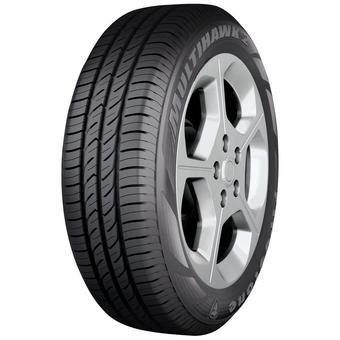 Price includes valve*, balance and environmental disposal of your old tyres - no hidden extras! *Specialist valves will incur an additional charge. Please enquire in centre.
Comfortable, smooth and super-quiet
Subtle, elegant design
Reliable braking performance
summer
The tread of the tyre has been designed to perfectly balance performance on dry and wet roads . When driving in dry conditions, a car can hold to the road very well. Starting, sudden braking or cornering at higher speeds is smooth and hassle-free. On the other hand, on a wet surface, Firestone Multihawk 2 efficiently drains water and is resistant to skidding. With these tyres, you have full control over the car, and daily traveling becomes easy.
Multihawk extra information
Update on the Firestone Multihawk
Excellent performance in wet and dry
Quiet and fuel efficient
Other tyres in this range
Tyre Variation
Features
Availability
Price
Firestone Multihawk 2 (165/60 R14 75H)
summer
In Stock
£60.99
Firestone Multihawk 2 (185/65 R14 86H)
summer
Low Stock
£62.99
Firestone Multihawk 2 (165/60 R14 75T)
summer
In Stock
£57.99
Firestone Multihawk2 (155/80 R13 79T)
summer
In Stock
£47.99
Firestone Multihawk 2 (185/65 R14 86T)
summer
In Stock
£49.99
Firestone Multihawk2 (185/60 R14 82H)
summer
Out of Stock
£40.99
Firestone Multihawk2 XL (195/65 R15 95T)
summer
Out of Stock
£64.99
Firestone Multihawk2 2Z (155/70 R13 75T)
summer
In Stock
£47.99
Firestone Multihawk 2 (165/65 R13 77T) 69EC
summer
In Stock
£53.99
Firestone Multihawk2 (165/60 R14 75H)
summer
Out of Stock
£60.99
Firestone Multihawk 2 (185/70 R14 88T)
summer
In Stock
£66.99
Firestone Multihawk2 (185/60 R14 82T)
summer
Out of Stock
£55.99
Firestone Multihawk2 XL 2Z (175/65 R14 86T)
summer
In Stock
£54.99
Firestone Multihawk 2 (165/70 R14 81T) 69EC
summer
In Stock
£50.99
Firestone Multihawk2 2Z (165/65 R15 81T)
summer
Out of Stock
£66.99
Firestone Multihawk2 (165/60 R14 75T)
summer
Out of Stock
£58.99
Firestone Multihawk2 (185/65 R14 86H)
summer
In Stock
£61.99
Firestone Multihawk 2 (165/70 R14 85T) XL 69EC
summer
In Stock
£55.99
Firestone Multihawk2 2Z (165/70 R14 81T)
summer
Out of Stock
£53.99
Firestone Multihawk2 (165/65 R13 77T)
summer
Out of Stock
£58.99
Firestone Multihawk2 (185/65 R14 86T)
summer
Out of Stock
£49.99
Firestone Multihawk 2 (175/65 R13 80T)
summer
In Stock
£62.99
Firestone Multihawk2 2Z (175/65 R13 80T)
summer
Out of Stock
£64.99
Firestone Multihawk2 (165/65 R14 79T)
summer
In Stock
£52.99
Firestone Multihawk2 (185/65 R15 88T)
summer
Out of Stock
£49.99
Firestone Multihawk 2 (155/65 R13 73T)
summer
In Stock
£52.99
Firestone Multihawk2 (165/70 R13 79T)
summer
In Stock
£45.99
Firestone Multihawk 2 (175/70 R14 84T)
summer
In Stock
£62.99
Firestone Multihawk2 2Z (175/65 R15 84H)
summer
Out of Stock
£58.99
Firestone Multihawk2 (185/70 R14 88T)
summer
Out of Stock
£69.99
Firestone Multihawk 2 (185/55 R14 80H)
summer
In Stock
£71.99
Firestone Multihawk2 2Z (175/70 R13 82T)
summer
Low Stock
£53.99
Firestone Multihawk2 (175/65 R14 82T)
summer
In Stock
£45.99
Firestone Multihawk 2 (155/65 R14 75T) 69EC
summer
In Stock
£50.99
Firestone Multihawk2 (195/65 R15 91T)
summer
Out of Stock
£54.99
Firestone Multihawk2 (135/80 R13 70T)
summer
In Stock
£49.99
Firestone Multihawk2 2Z (175/80 R14 88H)
summer
In Stock
£69.99
Firestone Multihawk 2 (185/60 R14 82H)
summer
In Stock
£55.99
Firestone Multihawk2 (175/65 R15 84T)
summer
Out of Stock
£61.99
Firestone Multihawk2 2Z (145/70 R13 71T)
summer
Low Stock
£55.99
Firestone Multihawk2 (155/65 R13 73T)
summer
Out of Stock
£52.99
Firestone Multihawk 2 (185/60 R14 82T)
summer
In Stock
£54.99
Firestone Multihawk2 2Z (185/55 R14 80H)
summer
Out of Stock
£71.99
Firestone Multihawk2 (175/70 R14 84T)
summer
Out of Stock
£63.99
Firestone Multihawk2 2Z (145/80 R13 75T)
summer
Low Stock
£51.99
Firestone Multihawk2 (175/80 R14 88T)
summer
In Stock
£53.99
Firestone Multihawk2 2Z (195/70 R14 91T)
summer
Low Stock
£70.99
Firestone Multihawk2 2Z (155/65 R14 75T)
summer
Out of Stock
£52.99
Firestone Multihawk2 XL (175/70 R14 88T)
summer
Low Stock
£62.99