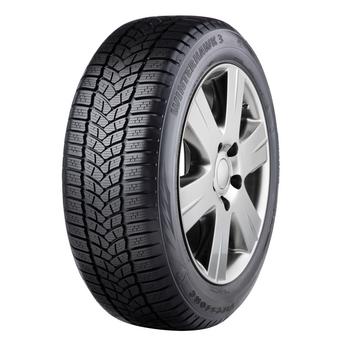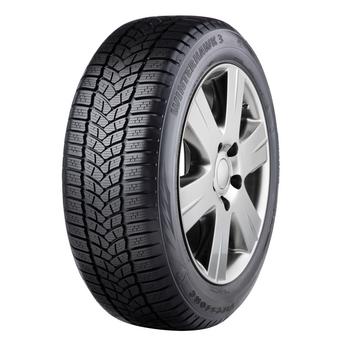 Fully fitted
Price includes valve*, balance and environmental disposal of your old tyres - no hidden extras! *Specialist valves will incur an additional charge. Please enquire in centre.
Outstanding grip on snow and ice
Steady through rain and slush
Vastly improved wear resistance
The Winterhawk 3 offers a high level balanced winter performance in the mid priced sector. With its innovative tread design and higher groove volume, the Winterhawk 3 provides better snow traction, ice grip and wet performance than the tyre it replaces, in addition to a 30% improvement in wear.
Other tyres in this range
Tyre Variation
Features
Availability
Price
Firestone Winterhawk 3 (185/60 R14 82T)
Out of Stock
£66.99
Firestone Winterhawk 3 (195/65 R15 91T) 72EB
Out of Stock
£57.99
Firestone Winterhawk 3 (215/55 R17 98V) XL 72EC
Out of Stock
£151.99
Firestone Winterhawk 3 RG XL (225/40 R18 92V)
Out of Stock
£153.99
Firestone Winterhawk 3 (185/60 R15 84T) 71CC
Out of Stock
£74.99
Firestone Winterhawk 3 (205/45 R17 88V) XL 72EC
Out of Stock
£135.99
Firestone Winterhawk 3 (185/60 R15 88T) XL 71CC
Out of Stock
£73.99
Firestone Winterhawk 3 (205/55 R16 91H)
Low Stock
£95.99
Firestone Winterhawk 3 (225/45 R17 91H) RG 71EB
Out of Stock
£57.99
Firestone Winterhawk 3 RG XL (225/55 R17 101V)
Out of Stock
£159.99
Firestone Winterhawk 3 (205/55 R17 95V) XL 72EC
Out of Stock
£150.99
Firestone Winterhawk 3 (225/45 R18 95V) XL 72EC
Out of Stock
£163.99
Firestone Winterhawk 3 RG XL (235/45 R17 97V)
Out of Stock
£138.99
Firestone Winterhawk 3 (185/70 R14 88T)
Out of Stock
£77.99
Firestone Winterhawk 3 (205/60 R15 91H)
Out of Stock
£144.99
Firestone Winterhawk 3 (225/50 R17 98H) RG XL 72CC
Out of Stock
£122.99
Firestone Winterhawk 3 XL (175/70 R14 88T)
Out of Stock
£79.99
Firestone Winterhawk 3 (195/50 R15 82H)
Out of Stock
£79.99
Firestone Winterhawk 3 (205/60 R15 91T) 72EC
Out of Stock
£123.99
Firestone Winterhawk 3 (235/45 R18 98V) XL 72CC
Out of Stock
£183.99
Firestone Winterhawk 3 (155/65 R14 75T)
Out of Stock
£58.99
Firestone Winterhawk 3 (195/50 R15 82T) 72EC
Out of Stock
£76.99
Firestone Winterhawk 3 (205/60 R16 92H)
Out of Stock
£99.99
Firestone Winterhawk 3 (245/40 R18 97V) XL 72EC
Out of Stock
£176.99
Firestone Winterhawk 3 (165/65 R14 79T) 71EC
Out of Stock
£66.99
Firestone Winterhawk 3 (195/55 R15 85H)
Out of Stock
£88.99
Firestone Winterhawk 3 (205/60 R16 96H) XL 72CB
Out of Stock
£105.99
Firestone Winterhawk 3 (245/45 R18 100V) XL 72CC
Out of Stock
£180.99
Firestone Winterhawk 3 (165/70 R14 81T)
Out of Stock
£61.99
Firestone Winterhawk 3 (195/55 R16 87T) 72EC
Out of Stock
£102.99
Firestone Winterhawk 3 (215/50 R17 95V) XL 72CC
Low Stock
£146.99
Firestone Winterhawk 3 (175/65 R14 82T) 2015
Out of Stock
£57.99
Firestone Winterhawk 3 (195/65 R15 91H)
Out of Stock
£64.99
Firestone Winterhawk 3 (215/55 R16 93H)
Out of Stock
£121.99