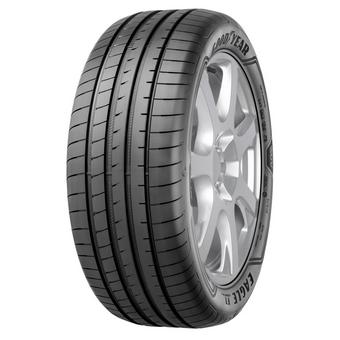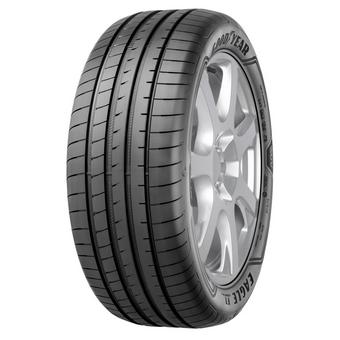 Up to £50 off your next Halfords Purchase*
Voucher amount subject to rim size and quantity purchased *T&Cs apply
Price includes valve*, balance and environmental disposal of your old tyres - no hidden extras! *Specialist valves will incur an additional charge. Please enquire in centre.
Stable handling at higher speeds
Powerful grip
summer
The Goodyear EfficientGrip SUV tyre comes with innovative technologies such as ActiveBraking Technology which increases the tyres contact with the road when you brake, providing shorter braking distances. The GripBooster Technology is an adhesive compound which increases stickiness to the road's surface, giving you enhanced grip. The tyre also has an SUV-optimised construction, improving stability and handling at higher speeds.
EfficientGrip SUV extra information
Reduced fuel consumption and CO2 emissions
Shorter braking distance on wet and dry roads
Improved steering precision and handling
Long-lasting
Other tyres in this range
Tyre Variation
Features
Availability
Price
Goodyear Eagle F1 Asymmetric 3 SUV (235/55 R19 101Y) FP AR 70CA
summer
Out of Stock
£142.99
Goodyear Eagle F1 Asymmetric 3 SUV (235/55 R19 105W) FP XL JLR
summer

lr
In Stock
£152.99
Goodyear Eagle F1 Asymmetric 3 SUV (235/65 R17 104W) AR 70BB
summer
Out of Stock
£125.99
Goodyear Eagle F1 Asymmetric 3 SUV (235/55 R19 105W) XL 68CA
summer
Out of Stock
£133.99
Goodyear Eagle F1 Asymmetric 3 SUV (235/65 R18 106W) 68BB
summer
Out of Stock
£169.99
Goodyear Eagle F1 Asymmetric 3 SUV (235/55 R19 105Y) XL AR 69BA
summer
Out of Stock
£147.99
Goodyear Eagle F1 Asymmetric 3 SUV (245/45 R20 103W) FP XL 69CA
summer
Out of Stock
£195.99
Goodyear Eagle F1 Asymmetric 3 SUV (255/45 R20 105W) FP XL 68CA
summer
Low Stock
£208.99
Goodyear Eagle F1 Asymmetric 3 SUV (235/45 R19 99Y) FP XL 68CA
summer
Out of Stock
£149.99
Goodyear Eagle F1 Asymmetric 3 SUV (245/45 R21 104Y) FP XL JLR
summer

lr
Out of Stock
£269.99
Goodyear Eagle F1 Asymmetric 3 SUV (235/60 R18 103W) AR 69CA
summer
Out of Stock
£203.99
Goodyear Eagle F1 Asymmetric 3 SUV (265/45 R21 108H) XL AO SCT
summer

ao
In Stock
£247.99
Goodyear Eagle F1 Asymmetric 3 SUV (255/50 R19 107Y) FP XL 68CA
summer
In Stock
£153.99
Goodyear Eagle F1 Asymmetric 3 SUV (235/45 R20 100V) FP XL 68CB
summer
Out of Stock
£152.99
Goodyear Eagle F1 Asymmetric 3 SUV (245/45 R21 104Y) FP XL JLR
summer

lr
Out of Stock
£298.99
Goodyear Eagle F1 Asymmetric 3 SUV (235/60 R18 103W) AR 69CB
summer
Out of Stock
£148.99
Goodyear Eagle F1 Asymmetric 3 SUV (275/45 R21 110Y) FP XL 69CA
summer
In Stock
£177.99
Goodyear Eagle F1 Asymmetric 3 SUV (275/30 R20 97Y) ROF XL MOE
In Stock
£205.99
Goodyear Eagle F1 Asymmetric 3 SUV (255/50 R20 109H) RP XL AO
summer

ao
Out of Stock
£199.99
Goodyear Eagle F1 Asymmetric 3 SUV (295/40 R20 106Y) FP N0 69CB
summer

po
In Stock
£201.99
Goodyear Eagle F1 Asymmetric 3 SUV (235/45 R20 100V) FP XL 68CB
summer
Out of Stock
£204.99
Goodyear Eagle F1 Asymmetric 3 SUV (235/60 R18 103W) AR 71BA
summer
Out of Stock
£120.99
Goodyear Eagle F1 Asymmetric 3 SUV (275/35 R22 104Y) FP XL 69CA
summer
Out of Stock
£222.99
Goodyear Eagle F1 Asymmetric 3 SUV (275/50 R20 109W) FP 70CA
summer
In Stock
£217.99
Goodyear Eagle F1 Asymmetric 3 SUV (255/50 R20 109Y) FP XL 68CA
summer
Out of Stock
£189.99
Goodyear Eagle F1 Asymmetric 3 SUV (295/40 R21 111Y) FP XL 70CA
summer
Out of Stock
£208.99
Goodyear Eagle F1 Asymmetric 3 SUV (235/50 R18 97V) FP 69CA
summer
In Stock
£115.99
Goodyear Eagle F1 Asymmetric 3 SUV (245/45 R21 104Y) XL JLR SCT
summer

lr
In Stock
£265.99
Goodyear Eagle F1 Asymmetric 3 SUV (235/60 R18 107V) FP XL JLR
summer

lr
In Stock
£116.99
Goodyear Eagle F1 Asymmetric 3 SUV (275/55 R19 111W) FP 70CA
summer
In Stock
£169.99
Goodyear Eagle F1 Asymmetric 3 SUV (275/40 R20 106Y) FP XL 68CA
summer
Out of Stock
£166.99
Goodyear Eagle F1 Asymmetric 3 SUV (255/55 R18 109Y) FP XL 68CA
summer
Out of Stock
£119.99
Goodyear Eagle F1 Asymmetric 3 SUV (315/35 R20 110Y) FP XL 69CA
summer
Low Stock
£205.99
Goodyear Eagle F1 Asymmetric 3 SUV (235/50 R19 99V) FP AO 71CA
summer

ao
In Stock
£122.99
Goodyear Eagle F1 Asymmetric 3 SUV (245/50 R20 105V) FP XL (J)
summer

ja
In Stock
£175.99
Goodyear Eagle F1 Asymmetric 3 SUV (235/60 R18 107W) FP XL 69EA
summer
Out of Stock
£128.99
Goodyear Eagle F1 Asymmetric 3 SUV (275/40 R20 106Y) FP XL 69CA
summer
In Stock
£184.99
Goodyear Eagle F1 Asymmetric 3 SUV (285/40 R21 109Y) FP XL 70BB
summer
Out of Stock
£226.99
Goodyear Eagle F1 Asymmetric 3 SUV (235/55 R18 100V) AO 70BB
summer

ao
Out of Stock
£137.99
Goodyear Eagle F1 Asymmetric 3 SUV (255/40 R21 102Y) FP XL 68CA
summer
In Stock
£204.99
Goodyear Eagle F1 Asymmetric 3 SUV (255/60 R18 108W) 67BB
summer
Out of Stock
£116.99
Goodyear Eagle F1 Asymmetric 3 SUV (275/40 R20 106Y) FP XL SCT
summer
Out of Stock
£208.99
Goodyear Eagle F1 Asymmetric 3 SUV (285/40 R21 109Y) FP XL AO
summer

ao
In Stock
£249.99
Goodyear Eagle F1 Asymmetric 3 SUV (255/45 R19 100V) FP 68CA