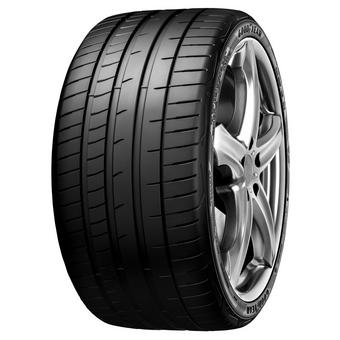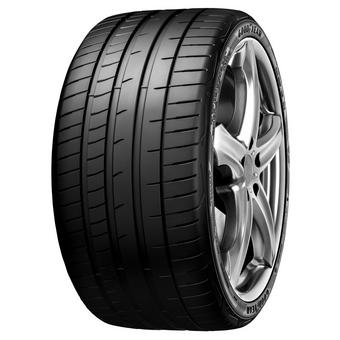 Up to £50 off your next Halfords Purchase*
Voucher amount subject to rim size and quantity purchased *T&Cs apply
Price includes valve*, balance and environmental disposal of your old tyres - no hidden extras! *Specialist valves will incur an additional charge. Please enquire in centre.
Superior performance on dry
Better handling and cornering
Driving stability also at high speed
summer
The Eagle F1 SuperSport draws on Goodyear's racing experience to provide maximum grip and handling. Responsive directional changes are ensured through the stiff tread ribs while a massive closed outside pattern, used on the tyre's shoulder, provides control during load transfers in corners. A super-stiff sidewall design further improves handling without unduly compromising ride comfort. Although primarily developed for dry conditions, Goodyear has innovatively addressed wet performance through the deployment of a multi-compound combination that sees dry-optimised outer sections paired with three wet-optimised central segments. This enables drivers to safely push harder through corners on dry roads while still enjoying an exceptional wet braking and wet handling performance.
Goodyear Eagle F1 SuperSport Extra Information
Innovative U-shaped compound combination: Specialised power zones for high wet and dry performance
Tread deformation protector: Excellent footprint preservation for high-speed stability
Massive closed outside pattern: Agile dry performance and cornering
Super stiff sidewall design: Improved handling and driving stability
Other tyres in this range
Tyre Variation
Features
Availability
Price
Goodyear Eagle F1 SuperSport (225/35 R19 88Y) XL 72EA
summer
In Stock
£138.99
Goodyear Eagle F1 SuperSport (225/40 R18 92Y) XL 72EA
summer
Out of Stock
£98.99
Goodyear Eagle F1 SuperSport (255/35 R20 97Y) XL 73CA
summer
In Stock
£163.99
Goodyear Eagle F1 SuperSport (225/45 R18 95Y) XL 72EA
summer
In Stock
£129.99
Goodyear Eagle F1 SuperSport (255/40 R18 99Y) XL 73EA
summer
In Stock
£178.99
Goodyear Eagle F1 SuperSport (235/35 R19 91Y) FP XL 72EA
summer
Out of Stock
£140.99
Goodyear Eagle F1 SuperSport (255/40 R19 100Y) XL 73EA
summer
In Stock
£181.99
Goodyear Eagle F1 SuperSport (235/40 R18 95Y) XL 72EA
summer
Out of Stock
£116.99
Goodyear Eagle F1 SuperSport (265/35 R19 98Y) XL 73EA
summer
In Stock
£193.99
Goodyear Eagle F1 SuperSport (245/35 R18 92Y) XL 72EA
summer
Out of Stock
£159.99
Goodyear Eagle F1 SuperSport (265/35 R20 99Y) XL 72EA
summer
In Stock
£207.99
Goodyear Eagle F1 SuperSport (245/35 R19 93Y) XL 72EA
summer
Out of Stock
£165.99
Goodyear Eagle F1 SuperSport (275/40 R18 103Y) XL 73CA
summer
Out of Stock
£200.99
Goodyear Eagle F1 SuperSport (245/35 R20 95Y) FP XL 72EA
summer
Out of Stock
£189.99
Goodyear Eagle F1 SuperSport (285/30 R19 98Y) FP XL 75EA
summer
Low Stock
£201.99
Goodyear Eagle F1 SuperSport (245/40 R18 97Y) XL 72EA
summer
Out of Stock
£192.99
Goodyear Eagle F1 SuperSport (285/30 R21 100Y) XL 75CA
summer
Out of Stock
£267.99
Goodyear Eagle F1 SuperSport (245/45 R18 100Y) XL 72CA
summer
In Stock
£137.99
Goodyear Eagle F1 SuperSport (295/30 R20 101Y) XL 74CA
summer
Out of Stock
£237.99
Goodyear Eagle F1 SuperSport (305/30 R20 103Y) XL 75EA
summer
In Stock
£234.99
Goodyear Eagle F1 SuperSport (275/40 R18 103Y) FP XL 73CA
summer
Out of Stock
£228.99
Goodyear Eagle F1 SuperSport (225/35 R19 88Y) FP XL 72EA
summer
Out of Stock
£161.99
Goodyear Eagle F1 SuperSport (225/40 R18 92Y) FP XL 72CB
summer
Out of Stock
£114.99
Goodyear Eagle F1 SuperSport (225/40 R18 92Y) XL 69CA
summer

ao
Out of Stock
£100.99
Goodyear Eagle F1 SuperSport (275/35 R19 100Y) FP XL
summer
In Stock
£219.99
Goodyear Eagle F1 SuperSport (255/35 R20 97Y) XL NA0
summer
Low Stock
£161.99
Goodyear Eagle F1 SuperSport (245/40 R19 98Y) XL 72EA
summer
In Stock
£148.99
Goodyear Eagle F1 SuperSport (255/40 R19 100Y) FP XL AO 73EA
summer
In Stock
£157.99
Goodyear Eagle F1 SuperSport (275/35 R19 100Y) FP XL 73EA
summer
In Stock
£182.99
Goodyear Eagle F1 SuperSport (255/40 R18 99Y) FP XL 73EA
summer
Out of Stock
£201.99