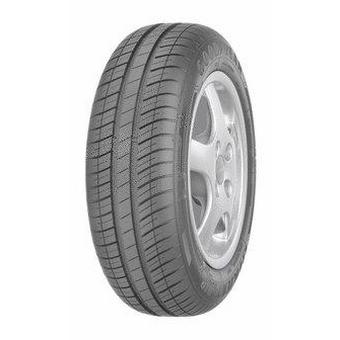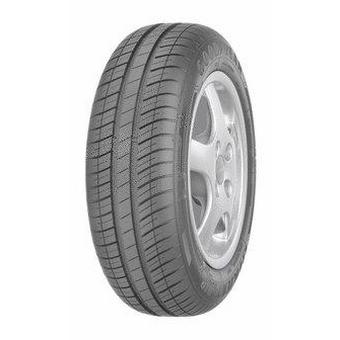 Up to £50 OFF* 2 or more Goodyear tyres
USE CODE: GY50
Discount applied in basket. Discount amount dependant on quanitity & tyre rim size. *T&Cs apply
Fully fitted
Price includes valve*, balance and environmental disposal of your old tyres - no hidden extras! *Specialist valves will incur an additional charge. Please enquire in centre.
Improved fuel efficiency and mileage
Shorter braking distances on wet&dry
Better resistance to aquaplaning
summer
The efficient Grip Compact is the fuel-saving tyre that keeps performing for longer. It provides improved fuel efficiency and mileage, while also providing shorter braking distances on wet and dry roads.
Other tyres in this range
Tyre Variation
Features
Availability
Price
Goodyear EfficientGrip Compact (155/65 R14 75T)
summer
In Stock
£56.99
Goodyear EfficientGrip Compact (155/70 R13 75T)
summer
In Stock
£54.99
Goodyear EfficientGrip Compact (175/65 R14 82T) 2014
summer
Out of Stock
£58.99
Goodyear EfficientGrip Compact (165/65 R13 77T)
summer
In Stock
£60.99
Goodyear EfficientGrip Compact (175/65 R14 82T) 70CC
summer
In Stock
£53.99
Goodyear EfficientGrip Compact (165/65 R14 79T)
summer
Low Stock
£56.99
Goodyear EfficientGrip Compact (175/65 R15 84T)
summer
In Stock
£64.99
Goodyear EfficientGrip Compact (165/65 R15 81T)
summer
Out of Stock
£67.99
Goodyear EfficientGrip Compact (175/70 R13 82T)
summer
Out of Stock
£54.99
Goodyear EfficientGrip Compact (185/65 R15 88T) 2014
summer
Out of Stock
£64.99
Goodyear EfficientGrip Compact (165/65 R15 81T)
summer
Out of Stock
£67.99
Goodyear EfficientGrip Compact XL (175/70 R14 88T) 2014
summer
In Stock
£70.99
Goodyear EfficientGrip Compact (175/70 R13 82T) 68CB
summer
Out of Stock
£56.99
Goodyear EfficientGrip Compact (165/70 R13 79T)
summer
Low Stock
£57.99
Goodyear EfficientGrip Compact XL (185/60 R15 88T)
summer
Out of Stock
£70.99
Goodyear EfficientGrip Compact (175/70 R14 84T)
summer
Out of Stock
£69.99
Goodyear EfficientGrip Compact (185/70 R14 88T)
summer
In Stock
£70.99
Goodyear EfficientGrip Compact (145/70 R13 71T)
summer
Out of Stock
£59.99
Goodyear EfficientGrip Compact (165/70 R14 81T)
summer
In Stock
£58.99
Goodyear EfficientGrip Compact (185/60 R14 82T) 69CC
summer
Out of Stock
£61.99
Goodyear EfficientGrip Compact XL (185/65 R15 92T)
summer
In Stock
£67.99
Goodyear EfficientGrip Compact (195/65 R15 91T)
summer
Out of Stock
£63.99
Goodyear EfficientGrip Compact (155/65 R13 73T)
summer
In Stock
£55.99
Goodyear EfficientGrip Compact (165/70 R14 C 89/87R)
summer
Out of Stock
£90.99
Goodyear EfficientGrip Compact (185/60 R15 88T) XL 69BB
summer
Low Stock
£74.99
Goodyear EfficientGrip Compact XL (195/65 R15 95T)
summer
Out of Stock
£75.99
Goodyear EfficientGrip Compact (195/65 R15 91T) 70CC
summer
In Stock
£55.99
Goodyear EfficientGrip Compact (175/65 R14 82T)
summer
In Stock
£54.99
Goodyear EfficientGrip Compact (185/65 R14 86T)
summer
Out of Stock
£67.99
Goodyear EfficientGrip Compact (195/65 R15 95T) XL 70BB
summer
In Stock
£67.99
Goodyear EfficientGrip Compact (185/65 R14 86T) 70CB
summer
Low Stock
£64.99
Goodyear EfficientGrip Compact ROF MO (275/40 R19 101Y)
summer

run-flat
In Stock
£262.99
Goodyear EfficientGrip Compact XL (165/70 R13 83T)
summer
Low Stock
£60.99
Goodyear EfficientGrip Compact XL (165/70 R14 85T)
summer
Out of Stock
£58.99
Goodyear EfficientGrip Compact XL (175/65 R14 86T)
summer
In Stock
£59.99