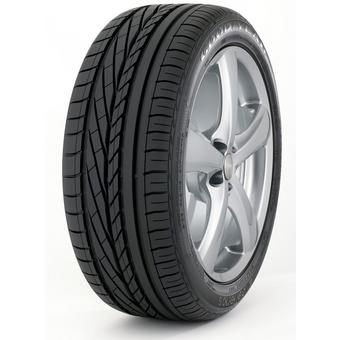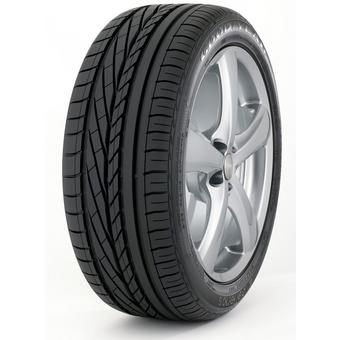 Price includes valve*, balance and environmental disposal of your old tyres - no hidden extras! *Specialist valves will incur an additional charge. Please enquire in centre.
Exceptional wet grip
Smooth, quiet ride
Precision handling and even wear
summer
The Goodyear Excellence is a three-in-one tyre that delivers superb grip, handling and comfort.
Other tyres in this range
Tyre Variation
Features
Availability
Price
Goodyear Excellence (235/65 R17 104W) AO 70EB
summer

ao
Out of Stock
£155.99
Goodyear Excellence FP ROF * (225/55 R17 97Y) 2014
summer

run-flat
In Stock
£142.99
Goodyear Excellence (245/40 R20 99Y) FP ROF XL *BMW 69EC
In Stock
£234.99
Goodyear Excellence FP ROF XL *BMW (245/40 R20 99Y) 2014
In Stock
£232.99
Goodyear Excellence FP ROF * (245/45 R18 96Y)
summer

run-flat
Out of Stock
£194.99
Goodyear Excellence ROF XL *BMW (245/40 R19 98Y)
In Stock
£202.99
Goodyear Excellence (275/35 R20 102Y) FP ROF XL *BMW 73EC
In Stock
£236.99
Goodyear Excellence FP ROF XL *BMW (275/35 R20 102Y)
In Stock
£215.99
Goodyear Excellence FP ROF *BMW (195/55 R16 87H)
In Stock
£114.99
Goodyear Excellence XL AO (235/60 R18 107W)
summer

ao
Out of Stock
£150.99
Goodyear Excellence * (225/55 R17 97Y)
summer
In Stock
£107.99
Goodyear Excellence FP ROF XL BMW (245/40 R20 99Y)
Out of Stock
£254.99
Goodyear Excellence FP ROF *BMW (195/55 R16 87V)
In Stock
£116.99
Goodyear Excellence *BMW (225/55 R17 97W)
summer

bm
In Stock
£108.99
Goodyear Excellence FP XL (225/45 R17 94W)
summer
Out of Stock
£97.99
Goodyear Excellence FP ROF *BMW (245/45 R19 98Y)
In Stock
£185.99
Goodyear Excellence AO (235/55 R17 99V) 2015
summer

ao
In Stock
£110.99
Goodyear Excellence FP XL (275/40 R20 106Y)
summer
Out of Stock
£182.99
Goodyear Excellence FP ROF *BMW (245/55 R17 102V)
In Stock
£197.99
Goodyear Excellence AO (235/60 R18 103W)
summer

ao
In Stock
£117.99
Goodyear Excellence (195/65 R15 91H)
summer
Out of Stock
£63.99
Goodyear Excellence RHD (195/65 R15 91H)
summer
Out of Stock
£66.99
Goodyear Excellence FP ROF *BMW (245/55 R17 102W)
In Stock
£185.99
Goodyear Excellence FP AO (235/55 R19 101W)
summer

ao
In Stock
£125.99
Goodyear Excellence (215/60 R16 95H)
summer
Out of Stock
£126.99
Goodyear Excellence ROF *BMW (245/40 R19 94Y)
In Stock
£192.99
Goodyear Excellence FP ROF MOE (225/45 R17 91W)
In Stock
£97.99
Goodyear Excellence FP AO (255/45 R20 101W)
summer

ao
In Stock
£202.99
Goodyear Excellence (215/60 R16 95V)
summer
Out of Stock
£79.99
Goodyear Excellence ROF *BMW (275/35 R19 96Y)
In Stock
£252.99
Goodyear Excellence FP ROF MOE (225/45 R17 91Y)
In Stock
£95.99
Goodyear Excellence FP MO (215/45 R17 87V)
summer

mo
Out of Stock
£102.99
Goodyear Excellence ROF *BMW (275/40 R19 101Y)
In Stock
£217.99
Goodyear Excellence FP ROF MOE (245/40 R17 91W)
Out of Stock
£178.99
Goodyear Excellence ROF XL (225/50 R17 98W)
summer

run-flat
In Stock
£139.99
Goodyear Excellence (235/65 R17 104W) FP AO 70EB
summer
Out of Stock
£145.99