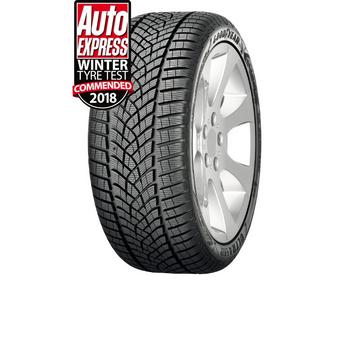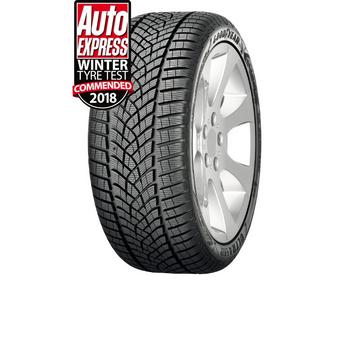 15% off
4 tyres when using our mobile fitting service.
Enter code:
BF15 at checkout
*Subject to availability.
T&Cs apply
This is a winter tyre
Superb grip and handling on snow and ice
Excellent braking distance on snow
winter
UltraGrip Performance is a high performance tyre for tough snow conditions offering confident handling on snow and ice while offering a fuel efficient design.
Other tyres in this range
Tyre Variation
Features
Availability
Price
Goodyear UltraGrip Performance G1 (245/45 R20 103V) FP XL 72CB
winter
Out of Stock
£281.99
Goodyear UltraGrip Performance G1 (255/45 R20 105V) FP XL SCT
winter
Out of Stock
£256.99
Goodyear UltraGrip Performance G1 XL (235/45 R17 97V)
winter
In Stock
£146.99
Goodyear UltraGrip Performance G1 (275/40 R21 107V) FP XL 72CB
winter
Out of Stock
£199.99
Goodyear UltraGrip Performance G1 XL (235/45 R18 98V)
winter
Out of Stock
£210.99
Goodyear UltraGrip Performance G1 (295/35 R21 107V) FP XL 72CB
winter
Out of Stock
£284.99
Goodyear UltraGrip Performance G1 XL (235/50 R18 101V)
winter
Out of Stock
£176.99
Goodyear UltraGrip Performance G1 XL (195/55 R20 95H)
winter
Out of Stock
£130.99
Goodyear UltraGrip Performance G1 XL (245/45 R17 99V)
winter
Out of Stock
£158.99
Goodyear UltraGrip Performance G1 XL (215/45 R17 91V)
winter
Out of Stock
£127.99
Goodyear UltraGrip Performance G1 (205/45 R18 90H) XL *BMW 70CB
winter
Out of Stock
£144.99
Goodyear UltraGrip Performance G1 XL (255/45 R18 103V)
winter
Out of Stock
£246.99
Goodyear UltraGrip Performance G1 XL (215/55 R17 98V)
winter
Out of Stock
£145.99
Goodyear UltraGrip Performance G1 (205/55 R16 91H) AO 72CB
winter

ao
Out of Stock
£116.99
Goodyear UltraGrip Performance G1 XL (225/45 R18 95V)
winter
Out of Stock
£163.99
Goodyear UltraGrip Performance G1 (205/55 R17 91H) ROF 69EC
winter

run-flat
Out of Stock
£166.99
Goodyear UltraGrip Performance G1 XL (225/55 R16 99H)
winter
Out of Stock
£136.99
Goodyear UltraGrip Performance G1 (225/40 R19 93W) FP XL 71EC
winter
Out of Stock
£144.99
Goodyear UltraGrip Performance G1 XL (235/40 R18 95V)
winter
Out of Stock
£180.99
Goodyear UltraGrip Performance G1 (225/50 R18 99V) FP ROF XL
winter

run-flat
Out of Stock
£203.99
Goodyear UltraGrip Performance G1 (225/45 R17 91V) FP ROF
winter

run-flat
Low Stock
£164.99
Goodyear UltraGrip Performance G1 (205/60 R16 92V)
winter
Out of Stock
£97.99
Goodyear UltraGrip Performance G1 (245/45 R20 103V) FP XL NF0
winter
Out of Stock
£248.99
Goodyear UltraGrip Performance G1 (245/35 R20 95V) FP XL NA0
winter
Out of Stock
£280.99
Goodyear UltraGrip Performance G1 (245/40 R18 97V) FP XL AO
winter
Out of Stock
£158.99
Goodyear UltraGrip Performance G1 225/50 R17 98H XL MO
winter

mo
Low Stock
£151.99
Goodyear UltraGrip Performance G1 225/45 R18 95H FP XL MO
winter

mo
Low Stock
£163.99