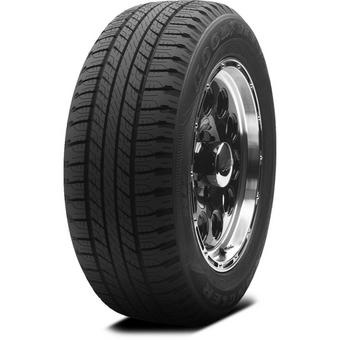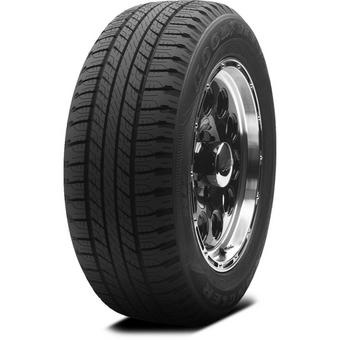 Price includes valve*, balance and environmental disposal of your old tyres - no hidden extras! *Specialist valves will incur an additional charge. Please enquire in centre.
Excellent performance all year round
Aggressive grip in winter weather
Intelligent 4x4 tyre
winter

summer
The Wrangler HP All Weather is the intelligent 4x4 tyre that gives you peak performance all year round. It has an aggressive grip in the wet and winter weather with aquaplaning resistance and yet is also a quiet tyre offering a comfortable ride.
Other tyres in this range
Tyre Variation
Features
Availability
Price
Goodyear Wrangler HP All Weather (245/65 R17 107H)
summer
In Stock
£118.99
Goodyear Wrangler HP All Weather (275/55 R17 109V) 2015
In Stock
£131.99
Goodyear Wrangler HP All Weather (245/65 R17 111H) XL 71CC
Out of Stock
£148.99
Goodyear Wrangler HP All Weather FP XL (235/60 R18 107V)
summer
In Stock
£130.99
Goodyear Wrangler HP All Weather (275/60 R18 113H)
Out of Stock
£152.99
Goodyear Wrangler HP All Weather (245/70 R16 107H) FP 70EE
In Stock
£106.99
Goodyear Wrangler HP All Weather FP XL (255/60 R18 112H)
In Stock
£109.99
Goodyear Wrangler HP All Weather (275/65 R17 115H)
summer
In Stock
£133.99
Goodyear Wrangler HP All Weather XL (235/70 R17 111H)
In Stock
£133.99
Goodyear Wrangler HP All Weather (275/70 R16 114H)
Out of Stock
£124.99
Goodyear Wrangler HP All Weather (215/60 R16 95H)
summer
Out of Stock
£105.99
Goodyear Wrangler HP All Weather (255/55 R19 111Q) FP XL 74EE
In Stock
£147.99
Goodyear Wrangler HP All Weather XL (245/65 R17 111H)
Out of Stock
£159.99
Goodyear Wrangler HP All Weather FP (235/60 R18 103V)
In Stock
£115.99
Goodyear Wrangler HP All Weather (215/60 R16 95H) 70EE
summer
Out of Stock
£104.99
Goodyear Wrangler HP All Weather (255/65 R16 109H)
In Stock
£106.99
Goodyear Wrangler HP All Weather FP (235/70 R16 106H)
In Stock
£95.99
Goodyear Wrangler HP All Weather XL (255/55 R19 111V)
Out of Stock
£159.99
Goodyear Wrangler HP All Weather (235/60 R18 103V)
Out of Stock
£164.99
Goodyear Wrangler HP All Weather (255/65 R17 110H)
Out of Stock
£169.99
Goodyear Wrangler HP All Weather FP (265/65 R17 112H)
winter
In Stock
£153.99
Goodyear Wrangler HP All Weather (235/65 R17 104V)
Out of Stock
£130.99
Goodyear Wrangler HP All Weather (255/65 R17 110T)
po
In Stock
£129.99
Goodyear Wrangler HP All Weather FP RHD (265/65 R17 112H)
winter
In Stock
£129.99
Goodyear Wrangler HP All Weather (235/65 R17 104V) FP 70CC
In Stock
£101.99
Goodyear Wrangler HP All Weather (255/70 R15 112/110S C)
summer
In Stock
£103.99
Goodyear Wrangler HP All Weather FP ROF XL (255/55 R19 111V)
run-flat
In Stock
£226.99
Goodyear Wrangler HP All Weather (245/60 R18 105H)
Out of Stock
£164.99
Goodyear Wrangler HP All Weather (265/65 R17 112H)
summer
Out of Stock
£159.99
Goodyear Wrangler HP All Weather FP XL (235/55 R19 105V)
In Stock
£129.99
Goodyear Wrangler HP All Weather (255/55 R19 111V) FP XL
summer
In Stock
£156.99