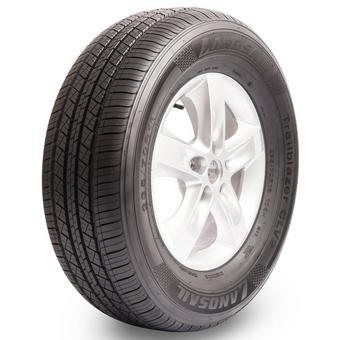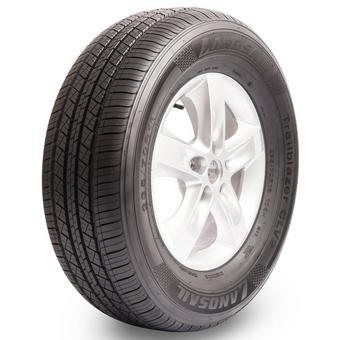 Price includes valve*, balance and environmental disposal of your old tyres - no hidden extras! *Specialist valves will incur an additional charge. Please enquire in centre.
SUV tyre
All weather grip
Sensitive and responsive cornering
summer
The CLV2 is developed for on-road SUV applications and offers a smooth and comfortable drive in all weather conditions.
Landsail CLV2 extra information
Diversely distributed tread blocks enhance dampening characteristics.
Tapering outer blocks for sensitive and responsive cornering.
Enhanced compound provides all weather grip.
Other tyres in this range
Tyre Variation
Features
Availability
Price
Landsail CLV2 Trailblazer (215/70 R16 100H) 71CB
summer
In Stock
£76.99
Landsail CLV2 Trailblazer (215/70 R16 100H) 71EC
summer
Out of Stock
£76.99
Landsail CLV2 Trailblazer (235/60 R18 107V) XL 72CB
summer
In Stock
£83.99
Landsail CLV2 Trailblazer (225/60 R17 99H) 71EB
summer
In Stock
£74.99
Landsail CLV2 Trailblazer (225/70 R16 103T) 73EC
summer
Low Stock
£77.99
Landsail CLV2 Trailblazer (225/60 R17 99H) 71EC
summer
Out of Stock
£74.99
Landsail CLV2 Trailblazer (235/50 R18 101W) XL 72CB
summer
In Stock
£78.99
Landsail CLV2 (215/70 R16 100H)
summer
Out of Stock
£76.99
Landsail CLV2 Trailblazer (235/65 R17 108H) XL 72CB
summer
In Stock
£81.99
Landsail CLV2 Trailblazer (225/65 R17 102H)
summer
Out of Stock
£94.99
Landsail CLV2 Trailblazer (235/50 R18 101W) XL 72EC
summer
Out of Stock
£78.99
Landsail CLV2 Trailblazer (265/60 R18 112H)
summer
Out of Stock
£101.99
Landsail CLV2 (225/60 R17 99H)
summer
Out of Stock
£74.99
Landsail CLV2 Trailblazer (235/65 R17 108H) XL 72EC
summer
Out of Stock
£81.99
Landsail CLV2 Trailblazer (235/55 R18 104V) XL 72CB
summer
In Stock
£87.99
Landsail CLV2 XL (235/65 R17 108H)
summer
In Stock
£81.99
Landsail CLV2 Trailblazer (265/60 R18 114H) XL 73CB
summer
In Stock
£101.99
Landsail CLV2 (235/70 R16 106H)
summer
In Stock
£86.99
Landsail CLV2 Trailblazer (235/70 R16 106H) 71CB
summer
In Stock
£86.99
Landsail CLV2 Trailblazer (225/70 R16 103H) 71CB
summer
In Stock
£77.99
Landsail CLV2 Trailblazer (235/55 R18 104V) XL 72CC
summer
Out of Stock
£87.99
Landsail CLV2 Trailblazer (265/65 R17 112H)
summer
Out of Stock
£93.99
Landsail CLV2 (245/65 R17 107H)
summer
Out of Stock
£91.99
Landsail CLV2 Trailblazer (235/60 R16 100H)
summer
Out of Stock
£85.99
Landsail CLV2 Trailblazer (265/65 R17 112H) 72CB
summer
In Stock
£93.99
Landsail CLV2 (255/65 R17 110H)
summer
Out of Stock
£92.99
Landsail CLV2 Trailblazer (225/70 R16 103H) 73EC
summer
Out of Stock
£77.99
Landsail CLV2 Trailblazer (235/60 R16 100H) 71EB
summer
In Stock
£85.99
Landsail CLV2 Trailblazer (265/65 R17 112H) 72EC
summer
Out of Stock
£94.99
Landsail CLV2 (265/70 R16 112H)
summer
Low Stock
£102.99
Landsail CLV2 Trailblazer (245/65 R17 107H) 71EB
summer
In Stock
£91.99
Landsail CLV2 Trailblazer (225/70 R16 103T) 71CB
summer
Out of Stock
£77.99
Landsail CLV2 Trailblazer (235/60 R16 100H) 71EC
summer
Out of Stock
£85.99
Landsail CLV2 Trailblazer (265/70 R16 112H) 72CB
summer
In Stock
£102.99
Landsail CLV2 Trailblazer (255/65 R17 110H) 72CB
summer
In Stock
£92.99
Landsail CLV2 Trailblazer (255/65 R17 110H) 72CC
summer
Out of Stock
£89.99
Landsail CLV2 Trailblazer XL (235/60 R18 107V)
summer
Low Stock
£83.99
Landsail CLV2 XL (235/50 R18 101W)
summer
Out of Stock
£75.99
Landsail CLV2 XL (235/55 R18 104V)
summer
Low Stock
£87.99