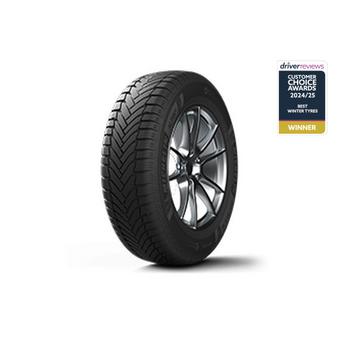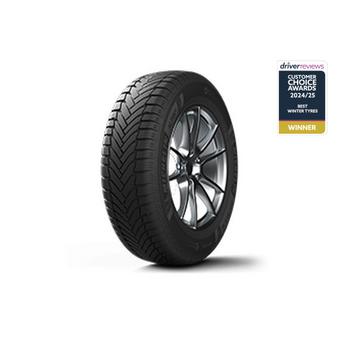 Fully fitted
Price includes valve*, balance and environmental disposal of your old tyres - no hidden extras! *Specialist valves will incur an additional charge. Please enquire in centre.
3PMSF certified for winter use
No.1 Tyre Brand in UK ᶧ
Out of Stock
Michelin's Alpin 6 tyre comes with Michelin's cutting-edge Evergrip Technologies which provides optimal safety and control on snow, even when worn. It's multi-layer tread compound is designed with high winter performance in mind.
Other tyres in this range
Tyre Variation
Features
Availability
Price
Michelin Alpin 6 (195/45 R16 84H) XL 69EB
Out of Stock
£112.99
Michelin Alpin 6 (205/55 R16 94V) XL 69CB
Out of Stock
£141.99
Michelin Alpin 6 (195/65 R15 91H) 69CB
Out of Stock
£86.99
Michelin Alpin 6 (205/55 R17 95H) XL 69CB
Out of Stock
£206.99
Michelin Alpin 6 (195/65 R15 91T) 69CB
Out of Stock
£72.99
Michelin Alpin 6 (215/55 R17 94V) 69CB
Out of Stock
£178.99
Michelin Alpin 6 (205/55 R17 95V) XL 69CB
Out of Stock
£206.99
Michelin Alpin 6 (195/65 R15 95T) XL 69CB
Out of Stock
£80.99
Michelin Alpin 6 (215/55 R17 98V) XL 69CB
Out of Stock
£203.99
Michelin Alpin 6 (225/50 R17 98V) XL 69CB
Out of Stock
£165.99
Michelin Alpin 6 (205/60 R15 91H) 69CB
Out of Stock
£152.99
Michelin Alpin 6 (205/45 R16 87H) XL 69EB
Out of Stock
£176.99
Michelin Alpin 6 (215/60 R16 99H) XL 69CB
Out of Stock
£147.99
Michelin Alpin 6 (225/55 R16 99H) XL 69CB
Out of Stock
£153.99
Michelin Alpin 6 (205/60 R16 96H) XL 69CB
Out of Stock
£145.99
Michelin Alpin 6 (205/45 R17 88H) XL 69EB
Out of Stock
£201.99
Michelin Alpin 6 (215/60 R16 99T) XL 69CB
Out of Stock
£145.99
Michelin Alpin 6 (215/40 R17 87V) XL 69EB
Out of Stock
£179.99
Michelin Alpin 6 (205/45 R17 88V) XL 69EB
Out of Stock
£182.99
Michelin Alpin 6 (225/45 R17 91H) 69EB
Out of Stock
£157.99
Michelin Alpin 6 (215/45 R17 91V) XL 69CB
Out of Stock
£205.99
Michelin Alpin 6 (205/55 R16 91H) 69CB
Out of Stock
£100.99
Michelin Alpin 6 (225/45 R17 94H) XL 69CB
Out of Stock
£157.99
Michelin Alpin 6 (215/55 R16 93H) 69CB
Out of Stock
£173.99
Michelin Alpin 6 (205/55 R16 91T) 69CB
Out of Stock
£131.99
Michelin Alpin 6 (225/45 R17 94V) XL 69CB
Out of Stock
£150.99
Michelin Alpin 6 (215/55 R16 97H) XL 69CB
Out of Stock
£130.99
Michelin Alpin 6 (205/55 R16 94H) XL 69CB
Out of Stock
£143.99
Michelin Alpin 6 (225/50 R16 96H) XL 69CB
Out of Stock
£213.99
Michelin Alpin 6 (185/50 R16 81H) 69EB
Out of Stock
£149.99
Michelin Alpin 6 (215/55 R17 94H) 69CB
Out of Stock
£183.99
Michelin Alpin 6 (225/50 R17 94H) 69EB
Out of Stock
£166.99
Michelin Alpin 6 (225/50 R17 98H) XL 69CB
Out of Stock
£166.99