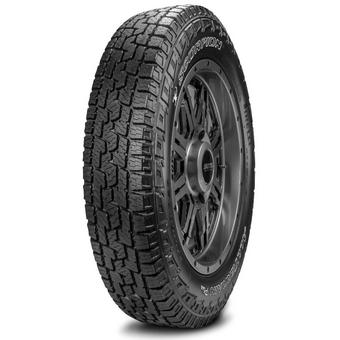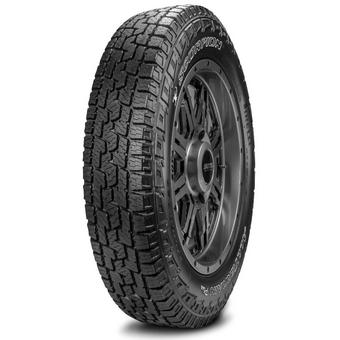 SUV all terrain product
Aggressive off road look
Safety and comfort on all surfaces
The Scorpion All Terrain Plus is an all season tyre designed for both off-road and on-road use. It also comes with the Three-Peaks Mountain Snowflake symbol which guarantees that the tyre meets the conditions of rigorous testing and is suitable for operation in difficult weather conditions.
The tyre has an aggressive and irregular tread pattern providing improved traction and performance in off-road conditions. The contact pressure distribution has been optimised for regular wear and better traction and braking which improves mileage and safety. The longitudinal grooves improves water distribution which in turn increases the tyres performance on wet surfaces. To improve traction in snow and mud, the tyre has high density siping, giving control and safety on all surfaces. The tyre also has a wider sidewall layout which means the tyre is more robust against sidewall damage.
Other tyres in this range
Tyre Variation
Features
Availability
Price
Pirelli Scorpion All Terrain Plus (255/60 R18 112H) XL 72EE
all-season
Low Stock
£196.99
Pirelli Scorpion All Terrain Plus (275/65 R17 115T) 72EE
all-season
Out of Stock
£218.99
Pirelli Scorpion All Terrain Plus (255/70 R16 111T) 73EE
all-season
Out of Stock
£173.99
Pirelli Scorpion All Terrain Plus (225/65 R17 102H) 72EE
all-season
Out of Stock
£149.99
Pirelli Scorpion All Terrain Plus (275/70 R16 114T) 72EE
all-season
Out of Stock
£212.99
Pirelli Scorpion All Terrain Plus (265/60 R18 110H) RWL 72EE
all-season
Out of Stock
£199.99
Pirelli Scorpion All Terrain Plus (265/65 R17 112T) 72EE
all-season
In Stock
£171.99
Pirelli Scorpion All Terrain Plus (235/65 R17 108H) XL 72EE
all-season
In Stock
£134.99
Pirelli Scorpion All Terrain Plus (265/65 R18 114T) RWL 73EE
all-season
Out of Stock
£225.99
Pirelli Scorpion All Terrain Plus (235/70 R16 106T) 72EE
all-season
Out of Stock
£154.99
Pirelli Scorpion All Terrain Plus (265/70 R16 112T) 73EE
all-season
Out of Stock
£183.99
Pirelli Scorpion All Terrain Plus (245/65 R17 111T) XL 72EE
all-season
Out of Stock
£193.99
Pirelli Scorpion All Terrain Plus (265/70 R17 115T) 72EE
all-season
Low Stock
£168.99
Pirelli Scorpion All Terrain Plus (245/70 R16 111T) XL 72EE
all-season
Out of Stock
£169.99
Pirelli Scorpion All Terrain Plus (265/75 R16 116T) 72EE
all-season
Out of Stock
£148.99
Pirelli Scorpion All Terrain Plus (245/70 R17 110T) 72EE
all-season
Out of Stock
£187.99
Pirelli Scorpion All Terrain Plus (275/55 R20 113T) RWL 72EE
all-season
Out of Stock
£284.99
Pirelli Scorpion All Terrain Plus (255/55 R19 111H) XL 72EE
all-season
In Stock
£203.99
Pirelli Scorpion All Terrain Plus (275/60 R20 115T) RWL 72CE
all-season
Out of Stock
£283.99
Pirelli Scorpion All Terrain Plus (275/65 R18 116T) RWL 72EE
all-season
Out of Stock
£242.99