Back to results
Check and Maintain Tyre Pressures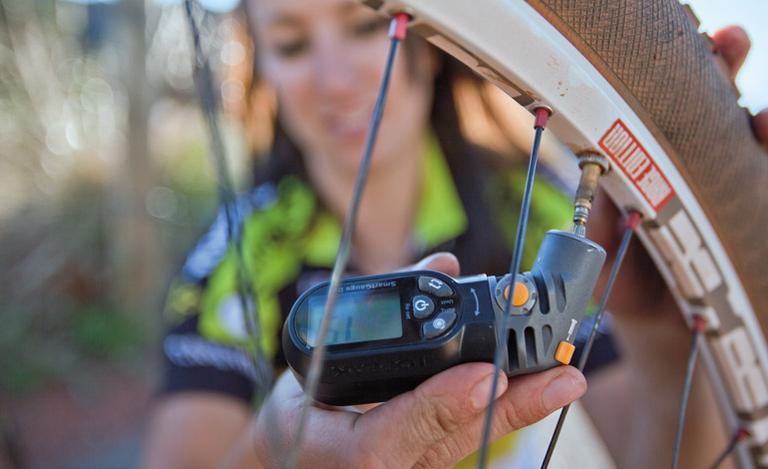 Maintaining your bike's tyre pressure is vital if you want to keep up your high performance.
Check And Maintain Tyre Pressures
Tyres are probably the most important parts of your bike and you need to make sure they're always in good condition. They're going to lose pressure over time, which will affect the speed and quality of your ride. But having too much air in your tyres is as uncomfortable and dangerous as having too little, so we'll help you get it right.
How to check and maintain tyre pressure
Grab a bike pump (and a pressure gauge if your pump doesn't have one built in) then follow these 6 simple steps:
1. Work out the right tyre pressure for your bike
This depends on where and how you're riding, as well as your weight. We've given some general guidelines below, but each tyre should have recommended pressures stamped on the sidewall. Also remember if you're going really high that your rims will have a maximum recommended pressure too.
rear mountain bike tyres should be at 45 pounds per square inch (PSI).
front mountain bike tyres should be at 35 PSI.
road bike tyres vary a lot and could need as much as 130 PSI, but 100-110 is not unusual for 23mm tyres. Ask one of our experts in your local Halfords for some advice on the best pressure for your bike.
3. Take off the dust caps
If you have them, take the dust caps off the valves.
There are two types of valve:
Presta - these are long and thin with a nut at the top. Undo the nut at the top and push in the stalk until you hear air hissing out. Letting out a little helps the valve to work if it hasn't moved for a while.
Schrader - these are wider and flat-topped. Just take off the dust cap.
2 .Check the pressure of your tyres
Use the bike pressure gauge to see the pressure of your tyres. If you're using a gauge built into a pump, sometimes you might need to pump a tiny bit to engage the valve and get a reading.
4. Attach your pump
Some pumps come with an adapter so you can switch between either type of valve. Make sure that you've got the right one for the job, or that yours is set to the right valve.
Start pumping, being careful to hold the valve still so you don't damage it or rip it out of the tube.
5. Test your tyre pressure
Use the gauge again to see if your tyres are now at the right pressure.
6. Put the dust caps back on
You're almost ready to get back on your bike. Screw the dust caps on until they're finger-tight.
It's also a good idea to get a screwdriver and gently pick out any stones or debris stuck in the treads. While you're up close, check the tyre walls for any cuts or splits.
So there you have it. Looking after your tyres means less punctures, more comfort and more speed, not to mention your tyres lasting longer! If you haven't got a pump, take a look at our range and pick one up.
View all Pumps and Puncture Repair