Back to results
Video - How to Adjust Gears on a Road Bike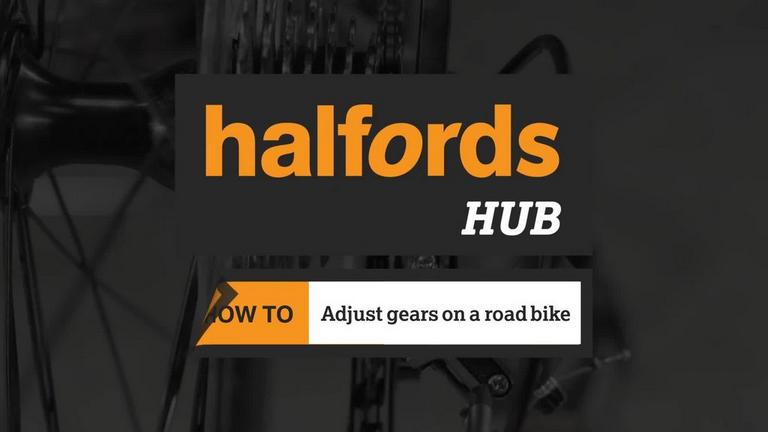 Getting to grips with how to adjust gears is a rewarding skill and increases confident home bike maintenance.
---
Gears are super important on road bikes, as you'll constantly be changing up or down depending on inclines and road surfaces. If your road bike gears aren't changing efficiently, here's a guide on how to fix common road bike gear and gearset problems.
What you'll need:
A screwdriver
A 9mm spanner or a 5mm allen key, depending on the bike. You can find this information in your bike owner's manual.
If you're missing anything, you can order everything on this list from our bike maintenance and tools sections.
Get in gear
---
Before you start, make sure the bike chain is on the larger cog on your front gears and on the smaller cog of your rear gears. Then, undo the pinch bolt and remove the cable.
Make those tweaks
---
Screw the power adjuster screw all the way in, before turning the higher limit screw (the little screw at the back of the derailleur marked by a '(H') towards the wheel. Run the chain through the gears and check for clicking or jerky gear changes. This is where you'll need to tweak the lower limit screw (again, at the back of the derailleur with a 'L' next to it) by turning it towards the bike too - you're looking for super-smooth chain movement between gears and no clicking noises, so play with the limits until you're happy.
Tighten it up and test it out
---
Once you've got smooth changes, pull the cable back through and re-tighten the pinch bolt. If things still don't feel perfect, either let some cable out or tighten the power adjuster until the chain runs smoothly. Now give it a test drive and repeat the process if you still aren't getting perfect gear changes!
If dismantling your bike isn't your thing or you just don't have time to spend in the garage or shed, drop into your local Halfords store and one of our bike experts will be able to help for a small fee. As well as adjusting your gears so they change perfectly, we'll check your bike is safe to ride before getting you back out there!
Find out more