Car Seat Demonstration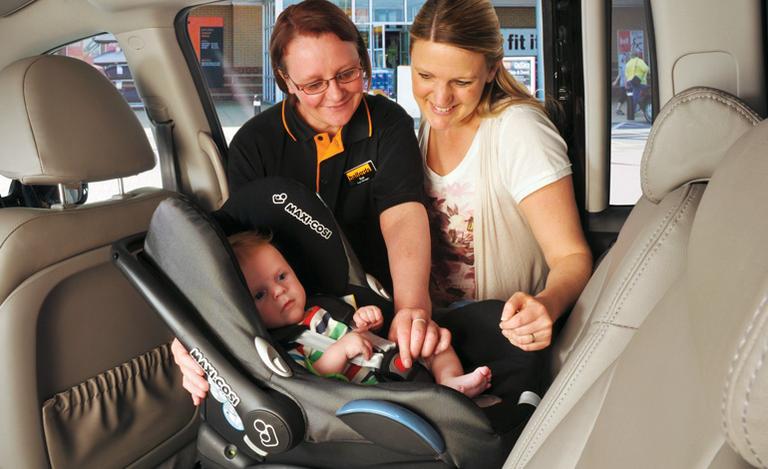 We can help you get your car seat fitted
Halfords was the first national retailer to offer a free car seat fitting demonstration - so from baby to booster seats, you can be sure we know our stuff.
One of our instore experts will be able to show you how to fit your chosen car seat into your vehicle correctly, ensuring your little one is safe and secure on your journeys.
Our car seat demonstration
When you buy your car seat from Halfords*, one of our fully trained, RoSPA-accredited fitters can demonstrate how to correctly fit it in your vehicle, so you can fully understand how it works.
Once you're happy to fit the seat yourself, we'll take you through a comprehensive fitting checklist so you know exactly what to look for next time.
Even after you've driven away, if there's still something you're unsure of, you can pop in and speak to one of our fitters - it's all part of our after-sales service.
It's a good idea to regularly check the installation to ensure the car seat is securely in place and hasn't come out of its fitting inadvertently. Keep the instruction booklet to hand too as this will help you make adjustments to the seat as your child grows.
*Service not available on seats purchased from Halfords' Approved Partners.
What car seat should I use for my car?
Our expertise doesn't end there, and our experts will help you every step of the way, providing the advice you need to find the perfect car seat for your child.
Finding the right car seat for your car can also be confusing, as some car seats will suit certain cars better than others.
Halfords' experts can help guide you through these options so you can purchase a seat confident in the knowledge that it's suitable for your child's needs.
Shop car seats
Can I fit a child car seat in the front passenger seat of my car?
It is recommended to fit your car seat in the rear of your vehicle. The main reason for this is that it's away from any air bag equipment that could be activated in a collision. If you have to fit the car seat in the front, then it's important to check your car's instruction manual as it will stipulate whether the air bag needs to be switched off or not in this situation. Some cars allow you to disable the air bag facility which you can then re-engage when an adult is using the seat. You should also push the passenger seat as far back as you can as an extra precaution.
For total peace of mind, avoid the front seat altogether and only use the back seat.
You can browse our fantastic range of car seats over at Halfords.com or discover our top tips and handy advice for finding the best car seat here.
And don't forget, drivers face a fixed £30 penalty or a fine of up to £500 if they don't comply with car seat regulations. Car seat law outlines that all children must travel in size-appropriate seats. This covers children up to 135cm in height (150cm in the Republic of Ireland) or 12 years old, whichever comes first. Only when a child is taller than 135cm (or 150cmn in ROI) are they allowed to use an adult seatbelt regardless of their age.