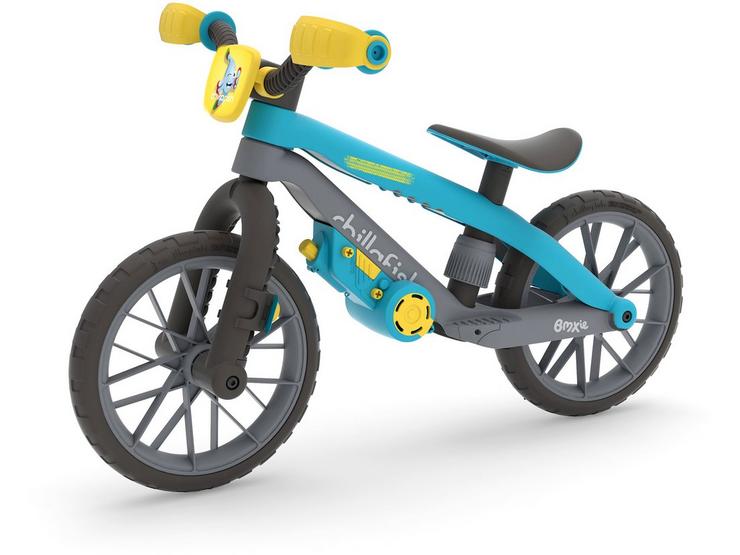 10 people are viewing now
5 purchases during last 48 hours
Age Group : First Bike
Frame Material : Reinforced Plastic
Tyres : Puncture Proof Foam
Chillafish BMXie Moto Balance Bike
Age Group : First Bike
Seat adjusts without tools from : 12.5-16 inch / 32-41cm
Recommended Kid's Height : 87-110 cm / 34.3-43.3 inch
Free build on bikes (£250 and over) by our expert bike technicians. Learn more
Unlimited lifetime safety checks
Lifetime guarantee on frames and rigid forks*
Kids CycleCare available
The
Chillafish BMXie Moto Balance Bike
gets kids excited while learning multiple skills. BMXie Moto is a multi-play balance trainer and now comes with detachable play motor & sound 'turbo cards'. Learning balance on a balance bike gets even better: insert the Turbo Cards to make real motor sounds while riding, VROOM VROOM or unassemble your play motor to fix your bike in the pits. The play motor has 2 small storage areas closed off with the child safe screws & screwdriver included in the packaging.
Need anything more? Airless Rubber Skin tyres give you the best grip possible, and you don't even need to inflate them. A foam core means they cannot puncture: an outside rubber layer makes them just like rubber tires, unlike other foam tires on the market. Great grip and no pumps - that's best of both worlds, and that's what a Chillafish balance bike deserves!
The BMXie Balance Bike has been in the Chillafish family since the very beginning and is one of the most widely used balance bikes in the world. This is our 2nd generation of the BMXie bike, with improved engineering and features. Chillafish products are trusted by over 1 million households around the globe.
Chillafish BMXie Moto Balance Bike - Extra Info
Free build on bikes (£250 and over) by our expert bike technicians. Learn more
We guarantee that your child will want to get out and ride their new bike, so don't waste any riding time by letting us build it for you. We'll make sure it's safe to ride and even get rid of the packaging.
Bike Maintenance
Keeping your child's bike in top condition means it won't be out of action for too long. With our
Kids CycleCare
service, we'll make sure your child's bikes components aren't wearing out and make sure everything is good to go before they start riding again. Don't forget that you can bring the bike into any Halfords store for a free safety check at any time.
Our Guarantee
We take the quality of our bikes seriously, which is why we offer a lifetime guarantee* on frames and forks.
*Please see our T&C's
here
Size Guide
WHEEL SIZE
AGE (YEARS)
HEIGHT (INCH)
HEIGHT (CM)
Balance
First Bike
2' 11" - 3' 5"
88 - 105
12"
3 - 5
3' 3" - 3' 8"
98 - 112
14"
4 - 6
3' 5" - 3' 10"
105 - 117
16" / 18"
5 - 7
3' 8" - 4' 2"
112 - 127
20"
6 - 9
3' 10" - 4' 6"
117 - 136
24"
8 - 11
4' 2" - 4' 9"
127 - 145
26"
9 - 12
4' 6" - 5' 0"
138 - 154
For Children 11+ please consider our range of adult bikes. Below gives an indication of the sizes you should look for. (For accurate sizing please view size guide on individual bikes).
FRAME SIZE
AGE (YEARS)
HEIGHT (INCH)
HEIGHT (CM)
14"
11 - 14
4' 10" - 5' 6"
148 - 168
14"/17"
12 - 15
5' 0" - 5' 8"
154 - 174
17"
13 - 16
5' 3" - 5' 10"
160 - 178