Premium E-Bike CycleCare - 3 Years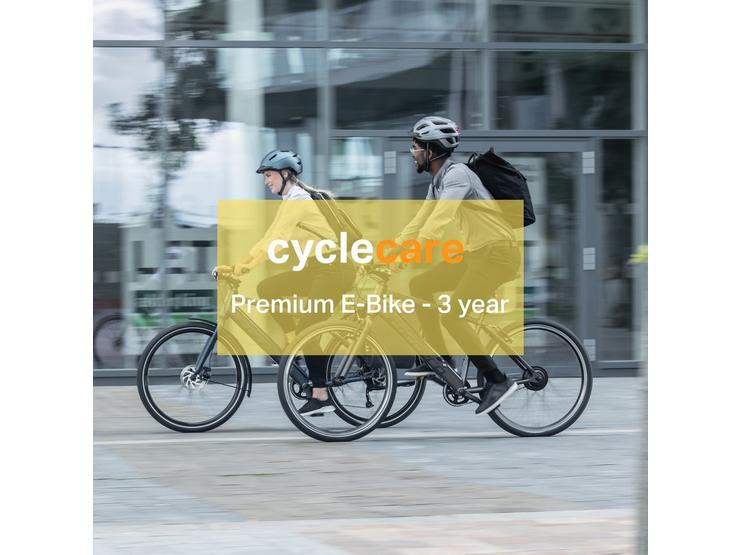 10 people are viewing now
5 purchases during last 48 hours
Premium E-Bike CycleCare - 3 Years
Half price silver service or £38/€45 off a gold​ service per year
Unlimited 15% off bike accessories​
Unlimited puncture repairs & 15% off bike parts
Premium E-Bike CycleCare at a glance
For E-Bike riders no matter how little or far you ride
Savings on servicing, parts & punctures, accessories & E-Bike insurance
Savings worth £521/€603
Just £120/€144 when purchased with a Halfords E-Bike
Premium E-Bike CycleCare
Our Premium E-bike CycleCare entitles you to 3 years of exclusive benefits for a one-off payment. Premium E-bike CycleCare is perfect for all e-bike riders, including frequent commuters.
Keep your e-bike running smoothly with our Premium E-Bike CycleCare, giving you exclusive benefits and great savings on your e-bike accessories, repairs, and servicing.​ It's essential to regularly have your e-bike checked and serviced. With Premium CycleCare, you can have your tyres and chain checked and lubricated as part of a bike health check to make sure you're getting the most out of your ride. Plus, whenever you feel like the gears and brakes aren't running smoothly, we'll check and adjust them for you.
E-Bike CycleCare is the best way to access the greatest value for money when looking after your e-bike, with savings of over 60%! (based on all benefits redeemed and average customer spend).​
What's included?
Half price silver service or £38/€45 off a gold service per year
Unlimited 15% off bike accessories
Unlimited 15% off bike parts
Unlimited puncture repairs worth over £28/€33 (fitting & tube included)
Unlimited gears & brakes adjustment worth over £30/€36
E-Bike checks with tyres inflated & chain lubricated
Unlimited E-Bike accessory fitting worth over £8/€10
45% off Cycleplan bike insurance (discount off 1 year's total policy premium)
Software and / or firmware upgrades (see T&Cs for more info)
£120/€144 when purchased with a Halfords E-Bike
When it's time to get your e-bike serviced, your Premium E-Bike CycleCare has got you covered – with a choice between 50% off our most popular Silver service or a £38/€45 saving on our Gold service, you can decide how much TLC your e-bike needs each year.​ Your benefits also entitle you to unlimited puncture repairs for when you need them, where we'll replace and fit new inner tubes to get your e-bike quickly up and running again. ​Get all the e-bike accessories you need for less with an unlimited 15% discount on bike accessories, from helmets and pumps to locks and pannier racks, and we can fit your new accessories for free!​
Plus, you'll benefit from unlimited 15% off e-bike parts to help keep the cost of any additional repairs to a minimum, and 45% off Cycleplan e-bike insurance for peace of mind that your e-bike is covered for less. On most e-bike brands and systems we'll also upgrade your software and firmware - for a list of brands/systems covered see our T&Cs.
CycleCare for everyone
Anyone can benefit from a CycleCare plan. It doesn't matter where or when you purchased your bike or what brand it is. Once you've placed your order online, you'll need to go into store with your post purchase email to activate your plan. The store colleague will ask you to confirm your contact details and the make, model, colour, and frame size of your e-bike. It's at this point your plan will start.​
When activating your CycleCare plan in-store, we recommend you also have a FREE e-bike health check to make sure everything's working as it should. You can also book a Free E-Bike Health Check online when completing your CycleCare purchase here.
For more information you can read our FAQs, and our full Terms & Conditions.​
Redeeming your benefits
You can redeem your benefits in-store by confirming your contact details to store colleagues. We will always try to complete CycleCare jobs straight away and this is often the case for simple jobs like puncture repairs and brake or gear adjustments. If the store is particularly busy your bike may need to be booked in at a later date. Silver and gold service packages will be booked in subject to inspection. We may need to order parts in to complete the service. We will confirm this and the time it will take after inspecting the bike.
To see what else Halfords has to offer, visit our Cycling Services page for more information on repairs, service packages, and more.