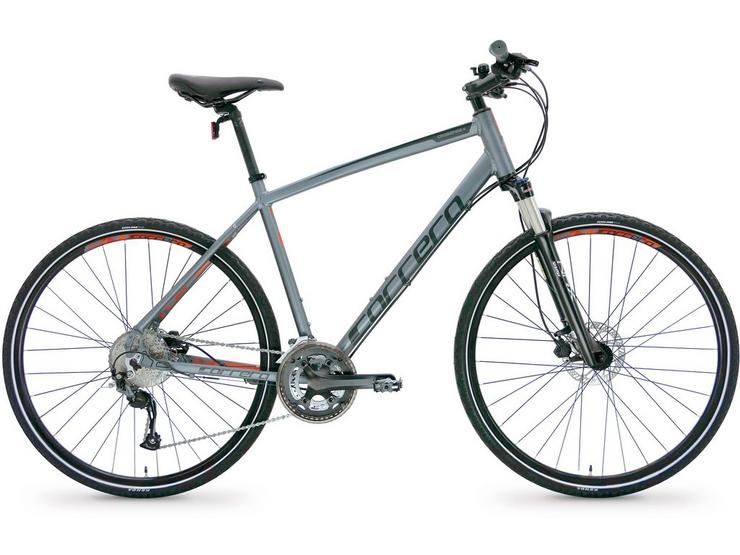 10 people are viewing now
5 purchases during last 48 hours
Groupset : Shimano Altus 2x9 (18 speed)
Brake Type : Hydraulic Disc Brakes
Forks : Suntour NRX with 75mm of travel and lockout
Carrera Crossfire 3 Mens Hybrid Bike - Grey
Frame: Triple Butted, lightweight, easy-handling with comfortable upright sitting position
Gears: 2x9 Shimano gearing offers plenty of choice on all terrains
Saddle: Carrera Memory Foam Saddle for ultimate comfort on your ride
Puncture Protection Tyres: Designed with an extra puncture resistant layer
Forks: 75mm adjustable Suntour front suspension fork with lockout increases rider choice
Brakes: Hydraulic Disc brakes for efficient and controlled stopping power
Wheels: Large 700c double walled rims for extra durability and better rolling
Lifetime Frame Guarantee: Built strong and built to last
At the top of the range, the Carrera Crossfire 3 is the ultimate 'go-anywhere' bike. The all-new design includes powerful hydraulic brakes that can handle any adventure that you throw at them. The triple-butted frame makes light work of those steep climbs whilst the 18-speed (2x9) Shimano gearing offers plenty of choice on all terrains. As does the lock-out fork which allows you to stop movement of the fork on a challenging incline. Enjoy the comfort of this top tier model that's built for more.

Take us up on our free bike build and you'll be on the road quicker with minimum hassle. With all the tools, equipment and training needed, we can get your bike built quickly and safely, and we'll even get rid of the packaging for you. Plus, our free lifetime safety checks and lifetime frame guarantee mean you have the confidence to go further.

PLEASE NOTE:

This bike is suitable for fitting a rear child seat.
Looking for more hybrid bike buying tips? Start with our
Hybrid Bike Buyers Guide
, full of tips and tricks for choosing the best hybrid bike for you.
Carrera Crossfire 3 Mens Hybrid Bike - Grey - Extra Info
Bike build available by our expert bike technicians. Learn more

Unlimited lifetime safety checks

Lifetime guarantee on frames and rigid forks*

Cyclecare available
*Please see our T&Cs here
More About The All-New Carrera Crossfire 3 Hybrid Bike
Extra comfort
Customers told us that features such as saddle comfort were a crucial element of their riding experience. Recognising this we've therefore equipped all Carrera bikes with memory foam saddles as standard - helping you spend even more time comfortably on your rides. These saddles are specific to the discipline and their shape is designed to complement that style of riding.

We've also looked at one of the main contact points and equipped the Crossfire 3 with soft rubber, ergonomically designed handlebar grips for additional comfort.

Additional peace of mind. And grip.
To give you even more riding time and not have you standing idle we're also giving you more peace of mind by fitting 'Carrera Puncture Protection' tyres as standard which include an additional layer of puncture resistant material running around the tyre which will help reduce the incidence of punctures.

Adjustable Suspension
The Carrera Crossfire 3 is also comfortable to ride on varying surfaces thanks to the Suntour front suspension forks. With 75mm of travel, they do a great job of absorbing bumps and obstacles giving you more control and confidence. The suspension can also be locked out for a faster, rigid fork experience when riding on roads.

Controlled stopping power
Hydraulic brakes further increase the reliability and efficiency of the Crossfire 3's braking giving additional confidence to riders is all conditions and weathers.

Lightweight, easy-handling frame
Weighing in at 14.5kg, the Carrera Crossfire 3's lightweight aluminium frame does a great job of keeping the bike's overall weight down, helping you to cycle further for longer. With the flat handlebars and upright sitting position you're able to maintain great visibility of the road ahead plus the frames come in three sizes making it easier to find the right bike for you.

Great Gear Range
The 18-speed (2x9) Shimano gear set gives superb choice for both climbing hills and achieving good speeds on flat roads. Gear changes will feel slick and smooth and a large range cassette ensures you'll be transferring energy from the pedals to the rear wheel efficiently.

Carrera Crossfire Accessories
A Mudguard Set is a great option for helping to keep some of the mud and water away from your bike and clothes.

Deter thieves with a Lock, ideal for locking your bike up outside the office or at a bike rack, and make sure you're safe and seen with Bike Lights.

Carrera Crossfire 3 Maintenance
Looking after your Crossfire 3 Hybrid Bike is important, especially if you plan on putting in some serious miles. We offer CycleCare, a range of services designed to keep your bike in optimum condition by replacing and repairing worn out parts. From Hydraulic brakes to gear adjustment, there's a wide range of services to keep your Carrera Crossfire 3 Hybrid Bike in top condition.

Frame Guarantee

We're confident that the Carrera Crossfire 3 is built to last, which is why we offer a lifetime guarantee on the bike's frame (terms and conditions apply).

*Please see our T&C's here
Size Guide
| Height (Inch) | Height (cm) | Frame Size |
| --- | --- | --- |
| 5' 3" - 5' 6" | 160 - 168 | S |
| 5' 6" - 5' 10" | 168 - 178 | M |
| 5' 10" - 6' 2" | 178 - 188 | L |
Mens Geometry Table
| Size | S (17") | M (19") | L (21") |
| --- | --- | --- | --- |
| Top Tube (effective) | 580mm | 595mm | 610mm |
| Seat Tube Length | 430mm | 480mm | 530mm |
| Head Tube Length | 130mm | 150mm | 165mm |
| Head Angle | 69.5 degrees | 69.5 degrees | 70 degrees |
| Seat Angle (effective) | 74 degrees | 74 degrees | 73.5 degrees |
| Chain Stay Length | 450mm | 450mm | 450mm |
| Fork Offset (Rake) | 45mm | 45mm | 45mm |
| Bottom Bracket Drop | 56mm | 56mm | 56mm |
| Crank Length | 170mm | 170mm | 175mm |
| Stem Length | 60mm | 70mm | 80mm |
| Handlebar Width | 620mm | 640mm | 640mm |
Additional Information:
Learn more about our maximum weight limits on adult bikes here.

The above images and description serve as an example. Current disruption in the global supply network mean that specific components may not be available. If that occurs, we may replace those components with similar parts of the same or higher quality, provided that any such substitutions do not negatively affect the overall quality or use of the product.