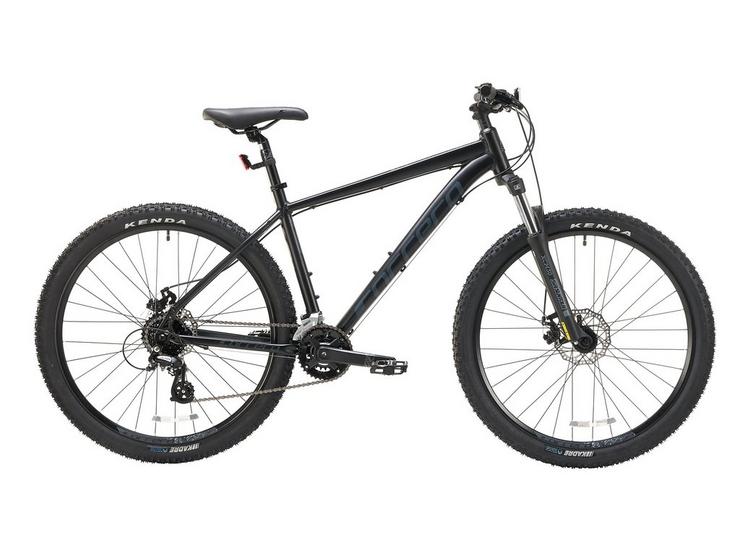 10 people are viewing now
5 purchases during last 48 hours
Approximate Weight : 14.5kg
Groupset : Shimano Altus 2x8 (16 speed)
Brake type : Mechanical Disc Brakes
Carrera Vengeance Mens Mountain Bike - Black - XS, S, M, L, XL Frames
Frame: Lightweight strong and durable Alloy frame
Forks: Suntour XCM adjustable forks with 100mm of travel
Gears: 16 speed Shimano Altus gearing for easier hill climbs
Brakes: Mechanical disc-brakes for smooth, controlled stopping
Wheels: 27.5" double walled rims for extra durability
Saddle: Carrera Memory Foam Saddle for ultimate comfort on your ride
Lifetime Frame Guarantee: Built strong and built to last
Puncture Protection Tyres: Designed with an extra puncture resistant layer
It's no surprise that the Carrera Vengeance Mountain Bike is our most popular bike. It has all the fantastic features of the Carrera Valour Mountain Bike including an all new design with wider handlebars, shorter stems and updated geometry. As well as the 2x Shimano drivetrain, the Vengeance also has a larger number of gears making gear shifting even more versatile.

We've designed soft and supportive memory foam into every one of our saddles so wherever you're going, we've added in more comfort. The tough puncture protection tyres will also enable you to do more, reducing the likelihood of puncture while the stronger and stiffer frame will give you better control on the trails without increasing the weight.

The adjustable fork gives the rider choices to match the suspension to the terrain and the mechanical disc brakes are a brilliant upgrade that increases stopping power when you're out in all weathers. The Carrera Vengeance Mountain Bike is definitely up to the task if you're after more thrills.

PLEASE NOTE:

Most sizes of this bike are suitable for a rear mounted child seat, unfortunately the XS & small versions are not compatible - in these instances you could opt for a pannier rack and pannier mounted child seat.
Carrera Vengeance Mens Mountain Bike - Black - Extra Info
*Please see our T&Cs here
More about the
ALL-NEW

Carrera Vengeance Mountain Bike

Extra Comfort
Customers told us that features such as saddle comfort were a crucial element of the overall package. Recognising this we've therefore equipped the Vengeance bikes with memory foam saddles helping you spend even more time comfortably on the roads and trails. Often overlooked (but nevertheless important as they are one of your contact points) we've developed new handlebar grips whose shape enables a steady hold with a knurled soft rubber surface for additional comfort.

Additional peace of mind (and grip!)
To give you even more riding time and not have you standing idle we're also giving you more peace of mind by fitting 'Carrera Puncture Protection' tyres as standard which include an additional layer of puncture resistant material running around the tyre which will help reduce the incidence of punctures.

Lightweight responsive frame
We've overhauled and updated the tube profiles so that they are chunkier and more purposeful delivering a stiffer and more capable frame that still has low overall weight at approximately 14.5kg. Even better news is the improved geometry whereby we've tweaked the angles of the frame giving a longer wheel base which offers stability, coupled with shorter stems and wider handlebars which will give riders more control especially when cornering.

Efficient modern gears
To enhance the riding experience we have also upgraded the drive train on the new Vengeance, moving from a triple chainset to a 2x (2 by). One less cog at the front means less weight and less maintenance but also makes changing gears more intuitive as fewer choices help you get the one you want quicker… and don't worry about the range of gears.

The Vengeance now comes with a bigger cassette at the back wheel so you've still got those important choices at the top and bottom end of the range. Less sometimes definitely is more!

If it ain't broke..
Stopping power is still provided by mechanical disc brakes, which provide consistent and controlled braking even on the toughest surfaces. To smooth out the inevitable bumps that come with trail riding, there's high-end Suntour XCM front suspension, which gives 100mm of travel and can be adjusted depending on the type of ride or surface.

Looks the part
And looks might not be everything but if you're spending your heard earned cash on a new bike then it had better look the part. We are happy to report that the Vengeance comes in two colour options for Men and two for Women. All are stunning so the hardest decision you'll have to make is which colour suits you best.

Carrera Vengeance Accessories
Kit your Carrera Vengeance out for additional use. Prevent some of the mud and water from soaking you and your bike with a Halfords Mud Guard Set and stay safe and seen with a set of affordable lights. Always better to be safe than sorry as well so beef up your security with a dependable bike lock.

Free Bike Build
We guarantee you'll be raring to go when you pick up your new bike, so don't waste any trail time on having to build it. Our team of in-store bike experts have the tools and the time to put your brand new Carrera Vengeance together and make sure it's safe to ride, so you can turn up and collect it ready to go! Just ask a colleague at the till, or choose the 'free bike build' option at the online checkout.

Carrera Mountain Bike Maintenance
Keeping your bike in peak condition is key if you plan on having it a long time, so let Halfords look after your Carrera Vengeance with CycleCare. With a huge range of services covering everything from your brake cables to the chainset, CycleCare is designed to ensure your bike stays in peak condition, even after plenty of miles.

Remember that you always bring your Carrera Vengeance to your local Halfords store for unlimited free safety checks for as long as you have the bike.

Halfords Frame Guarantee
We take bike build quality seriously, which is why your new Carrera Vengeance comes with a lifetime frame guarantee. The Carrera Vengeance really is built to last.

Looking for more mountain bike buying tips? Start with our Mountain Bike Buyer's Guide, full of tips and tricks for choosing the best mountain bike for you.
Carrera Mountain Bike Size Guide

Mens
| Height (Inch) | Height (cm) | Frame Size |
| --- | --- | --- |
| 4' 11" - 5' 4" | 150 - 163 | XS (14") |
| 5' 3" - 5' 7" | 160 - 170 | S (16") |
| 5' 6" - 5' 10" | 168 - 178 | M (18") |
| 5' 9" - 6' 1" | 175 - 185 | L (20") |
| 5' 11" - 6' 4" | 180 - 193 | XL (22") |
Mens Geometry Table
| Size | XS (14") | S (16") | M (18") | L (20") | XL (22") |
| --- | --- | --- | --- | --- | --- |
| Top Tube (effective) | 560mm | 582mm | 605mm | 625mm | 645mm |
| Seat Tube Length | 355mm | 410mm | 460mm | 510mm | 560mm |
| Head Tube Length | 100mm | 100mm | 110mm | 130mm | 150mm |
| Head Angle | 68 degrees | 68 degrees | 68 degrees | 68 degrees | 68 degrees |
| Seat Angle (effective) | 74 degrees | 73.degrees | 73.degrees | 73.degrees | 73.degrees |
| Chain Stay Length | 427mm | 427mm | 427mm | 427mm | 427mm |
| Fork Offset (Rake) | 40mm | 40mm | 40mm | 40mm | 40mm |
| Bottom Bracket Drop | 40mm | 40mm | 40mm | 40mm | 40mm |
| Crank Length | 165mm | 170mm | 175mm | 175mm | 175mm |
| Stem Length | 50mm | 50mm | 50mm | 50mm | 50mm |
| Handlebar Width | 720mm | 720mm | 740mm | 740mm | 740mm |
Additional Information:
Learn more about our maximum weight limits on adult bikes here.

The above images and description serve as an example. Current disruption in the global supply network mean that specific components may not be available. If that occurs, we may replace those components with similar parts of the same or higher quality, provided that any such substitutions do not negatively affect the overall quality or use of the product.