Second Hand Grade B - Carrera Subway E Mens Electric Hybrid Bike - 18" Frame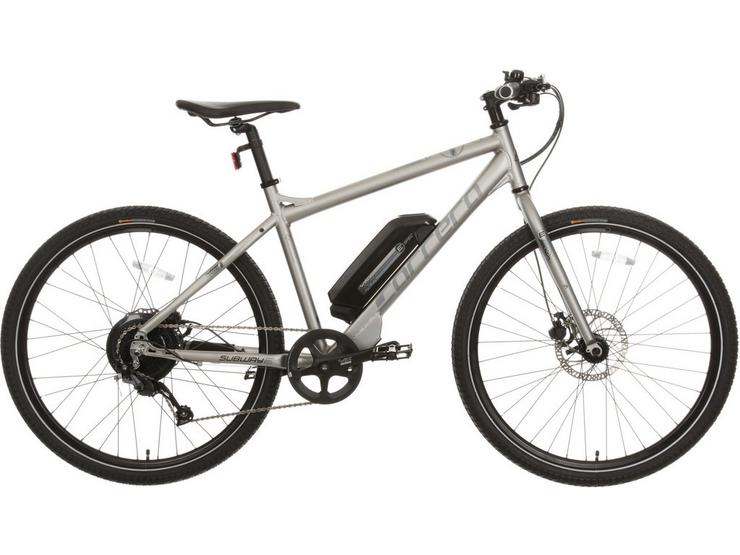 10 people are viewing now
5 purchases during last 48 hours
Second Hand Grade B - Carrera Subway E Mens Electric Hybrid Bike - 18" Frame
Grade B: Less than 500 miles, may have slight cosmetic and/or mechanical wear from light use
Average Range: 20-25 miles (max 40 miles)*
Motor Type : Suntour Rear Wheel Drive
Approx Weight (KG): 18kg
About The Bike
All of our second hand e-bikes are pre-built, safety checked by our expert technicians and ready to ride away on the same day you collect.
Removable Battery: Yes
Average Range: 20-25 miles (max 40 miles)* – see 'Range' for details
Recharge Time: 5-6 Hours
Frame: Lightweight Alloy Hybrid frame
Gears: 9-speed Shimano Altus SL M-2000
Brakes: Tektro Hydraulic Disc brakes with 180mm Rotors
Wheels: 27.5" x 1.95 Kenda K-841 Reflective
The Subway E boasts a lightweight aluminium frame, powerful Tektro hydraulic disc brakes and double wall rims to help prevent against punctures. If you are looking for a solid bike that can handle roads and off-road paths alike, the Carrera Subway E should be on your shortlist.
We also stock the brand new version of the Carrera Subway E Bike. View it here
E-Parts
Battery:
With a capacity of 317Wh / 9Ah and a range of up to 40miles* per charge the Subway E is very capable on most leisure rides or commutes. To support the sophisticated motor and battery system, the Subway E comes with a smart control system (BMS) that protects the battery from overheating, short circuiting or overcharging.

Motor & Sensor
The Carrera Subway E is fitted with a rear hub Suntour Performance 36V electric motor system, seamlessly integrated into the rear wheel, providing improved traction and controlled handling. This performance motor also boasts an impressive 60NM of torque. The cadence sensor will adjust the power output based on the users pedalling speed, when the users cadence increases then the system will increase the power output.
Display:
The electric motor of the Carrera Subway E 2.0 is controlled via a Suntour OLED multifunctional display and integrated remote. The OLED display allows you to choose from one of 4 assistance modes, eco, tour, sport and turbo, depending on the level of support you require. The unit also allows the user to view additional data whilst riding, such as speed, mileage, trip time and battery level.
Range
All electric bikes indicate a maximum mileage range that they can cover on a single battery charge. This is the furthest range in ideal conditions; however, this range can be impacted by a number of factors:
The combined weight of the rider and any luggage.

The assistance mode selected.

The cycling route (e.g. type of terrain and inclines).

Temperature and climate (e.g. cold weather will decrease the performance of the battery).

Tyre pressure.

Wind speed and direction.
How Our Bikes Are Graded
All of our second hand e-bikes have been valued and safety checked by our trained e-bike technicians, so they are ready to ride away.
They check the condition of the electrical components including the battery and motor, the wheels, frame, saddle, drivetrain and handlebars against a list of criteria. Then, they'll assign a grade that takes into account the bikes age and condition.
Grade A bikes may be lightly used, less than 100 miles, have none or very minor cosmetic / mechanical wear and the majority of its original parts.
Grade B bikes will have less than 500 miles, may have slight cosmetic and / or mechanical wear from light use and minor replacement parts
Grade C bikes will have less than 1000 miles, may have some cosmetic and / or mechanical wear from use and some its original parts may have been replaced.
Mileage: Some of our second hand e-bikes have new controller units fitted. On these e-bikes the Odometer will state zero mileage. The bike will be graded accurately based on the mileage taken from the old controller.
12 Month Warranty
All Halfords second hand e-bikes come with a 12-month guarantee (from the date of purchase) and we'll repair any defects for free within that time period.
Your warranty includes all electrical components; battery, motor, controller and ECU as well as frame, saddle, drivetrain, handlebars and wheels. Areas that are not covered are if there is excessive wear and tear and where components fail due to misuse, a lack of servicing and / or a lack of care.
No Fuss Refund
If you change your mind and no longer want the second hand e-bike that you have purchased, you have the right to return the e-bike to the store from which you bought it within 14 days from receipt and receive a refund.
To be eligible for a refund, you must provide your proof of purchase. If excessive wear and tear, obvious negligence or the bike has not been cleaned, you may not be entitled to a full refund and this will be at the managers discretion.
Environmental Benefits
At Halfords we're committed to reducing waste and our CO2 emissions. That's why we have introduced the Second Hand Bike and Bike Xchange Scheme. You can join us on our mission by buying a second hand bike to reduce waste, cut CO2 emissions and as a bonus savings are passed onto you as our second hand bikes are sold at a lower price compared to buying brand new.
If that's not enough here are some more environmental benefits of our second hand bike scheme...
Each bike expertly restored and sold to our customers results in an estimated 157.7kg CO2 emissions saving (versus buying a new bike)
If we restore 100,000 bikes, this will lead to 15770 tonnes of CO2 saved!

If a bike cannot be resold at Halfords, we will share this with our charity partners who repair & donate to African communities.

If unrepairable, the bike materials are sent to

Re-cycle

to recover the valuable materials.
Please Note: The above images and description serve as an example, as these are refurbished e-bikes, specific components may not be available. If that occurs, we may replace those components with similar parts of the same or higher quality, provided that any such substitutions do not negatively affect the overall quality or use of the product.