Love your electric bike, or your money back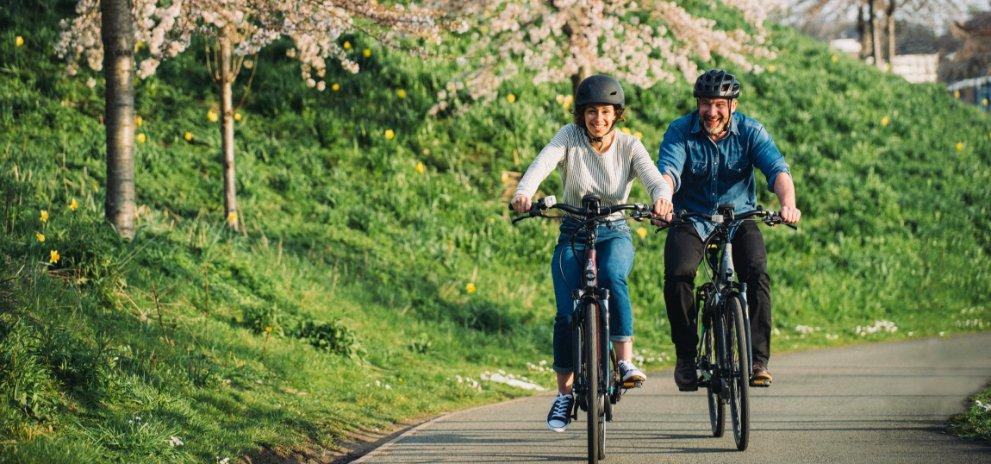 Electric bikes, or e-bikes, are a fantastic way for people of all ages to enjoy cycling.
Cycling is great for your physical and mental wellbeing, and the added benefit of an e-bike is that they allow you to tackle tricky hills with ease and cycle further for longer. They're also really environmentally-friendly and won't leave you exhausted, which makes them an ideal form of transport for commuting.
We're sure that you'll love any new e-bike you buy from Halfords, but in case you change your mind we're pleased to be able to offer a full refund within 14 days of your initial purchase (as long as your bike is in an as-new condition).
Simply bring your bike to your nearest Halfords store, along with proof of purchase and the same card that you used when you originally purchased the bike. One of our colleagues will then be happy to process the refund for you.
Please note that if you paid using Klarna, you'll receive your refund within 5-7 working days of the refund being processed.
For the full terms and conditions, see below.
Terms and conditions
In addition to your usual rights of return, and subject to the remainder of this section, if you change your mind and decide you no longer want an electric bicycle ("e-bike") that you have purchased, you have the right to return that e-bike within 14 days from the date of purchase, even if that e-bike has been used.
In order to be eligible for an e-bike return, e-bikes must be clean and in an as new condition. With the exception of minor superficial dirt, paragraph 1 will not apply to e-bikes that are dirty, scratched or otherwise damaged.
The cancellation rights set out in this section do not apply in the case of the following e-bikes, which may only be returned if they are either unused or faulty:
E-bikes which were purchased before 25 June 2021; or
E-bikes which were purchased and/or have been used for commercial use.
Returns of used e-bikes can only be accepted in store. To exercise your right to return an e-bike, please take the e-bike to the store from which it was purchased or, if the e-bike was purchased online, to your nearest Halfords retail store.
You must bring the charger, manuals, battery key and any other components along with the e-bike, and have your receipt or online order confirmation in order to be eligible for a return. Halfords reserves the right to refuse to return or exchange any used e-bike for which you do not have a receipt or order confirmation.
We will refund you on the credit card or debit card used by you to pay. If you used vouchers to pay for the e-bike we will refund you in vouchers. If the e-bike was purchased using Klarna, we expect that Klarna will process your refund within 5-7 days of the date of return.
Shop electric bikes