TOMTOM SAT NAVs – FOR THOSE WHO GO
From the TomTom GO DISCOVER with a HD screen and live services to the TomTom GO CLASSIC with European maps and 1-month speed camera alerts - we are sure you'll find the perfect Sat Nav you're looking for!
Shop the TomTom range
Car Sat Nav
Drive-ready satnavs simplify your journeys with trusted road and traffic guidance. Be inspired, drive prepared, and know that TomTom are with you every step of your journey.
With the TomTom GO DISCOVER you get a HD screen, faster processor, and a 1- year trial to live fuel pricing information, live off street parking and speed camera alerts.
Motorcycle Sat Nav
Don't just pick your destination, choose your journey by personalising every detail.
Enhance your riding ability by selecting elevation and cornering levels directly on your RIDER 500 motorbike sat nav or when planning your route on MyDrive.
Camper Sat Nav
Get out and explore the great outdoors with TomTom GO Camper sat navs : GO Camper Tour & GO Camper Max. These models will compliment your camper or caravan wherever you go, jam packed with premium Camper features.
Large Vehicle/HGV Sat Nav
Imagine a route that's tailored to your truck, bus or van. The TomTom GO EXPERT has real-time alerts for restrictions that might impact your vehicle, a HD high resolution screen and smart ways around traffic and routes tailored to your large vehicle.
Sat Nav Accessories
Discover the best accessories for your TomTom sat nav in the car, motorcycle, camper, or truck.
TomTom Sat Navs at Halfords
TomTom GO Discover Range
Trusted navigation – TomTom's fastest and easiest sat nav yet
The TomTom GO DISCOVER is your go-to driving companion that helps you explore new routes with confidence. It's equipped with the latest and greatest TomTom technology, so you can look forward to where you're going.
The TomTom Car Sat Nav GO DISCOVER includes the most up-to-date maps which can be updated 3x quicker** via Wi-Fi thanks to a new processor and increased memory space. Connect your phone to TomTom GO DISCOVER via Bluetooth® wireless connectivity and get access to trusted TomTom Traffic information and premium live services. This includes a 1-year trial to Speed Camera Alerts, fuel price information, off-street parking availability, and electric vehicle charging points of interest and availability. Topping off this impressive package, a highly responsive touchscreen provides 4x faster swiping and route calculations.
GO smarter
Save time and money when you travel.
Avoid getting stuck in traffic with real-time TomTom Traffic. Get alternative route options and accurate arrival times.
See which car parks are free or are filling up before you arrive, saving you time to explore.*
Stay one step ahead and keep under the speed limit so you get to where you're going safely.*
Know where to find the lowest fuel prices and the closest stations.*
GO bigger
Big screen. Big sound. Experience TomTom's largest 7" HD touchscreen with simplified interaction and a powerful speaker for clearer navigation.
GO faster
TomTom make the best maps and deliver them 3x faster!** They've been making maps dedicated to driving for over 25 years – and now you can update them 3x faster wirelessly and at no extra cost.

The TomTom GO DISCOVER is available in a 5" resistive screen or a 6" / 7" HD touchscreen.

*1-year free trial
**Compared to TomTom's previous generation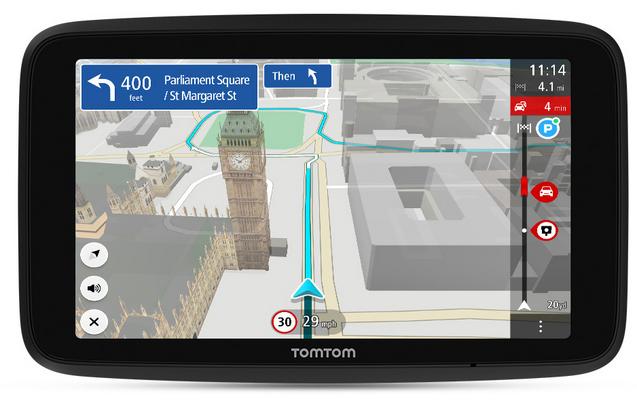 TomTom GO Discover Car Sat Nav with 5" resistive screen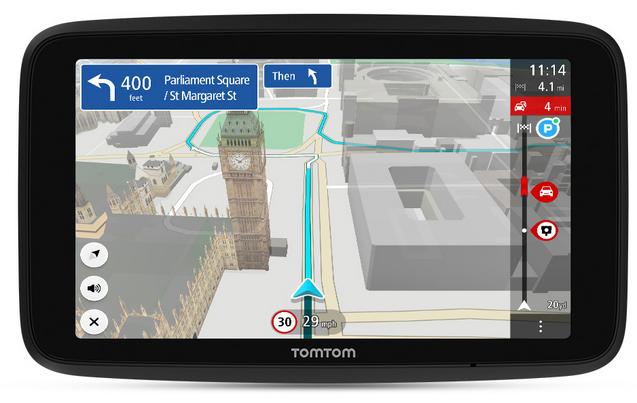 TomTom GO Discover Car Sat Nav with 6" HD touchscreen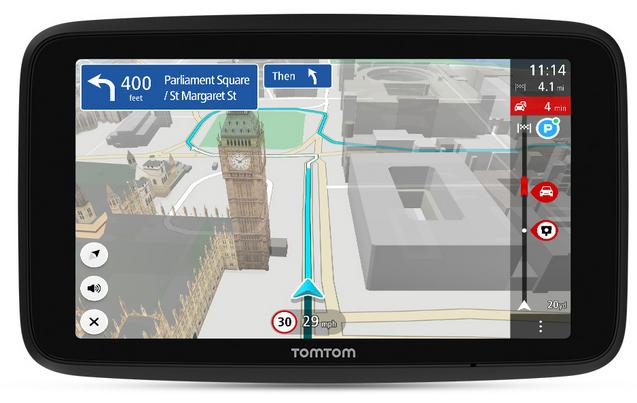 TomTom GO Discover Car Sat Nav with 7" HD touchscreen
TomTom GO Classic Range
Great-value navigation for easy getaways
From weekend escapes to epic road trips, TomTom GO CLASSIC is your affordable navigation companion. It has all you need to easily plan your journey and enjoy smooth travels, including the latest European maps, fast Wi-Fi® updates, smart routing and live traffic info.

The TomTom GO CLASSIC is available in a 5" OR 6" resistive touchscreen.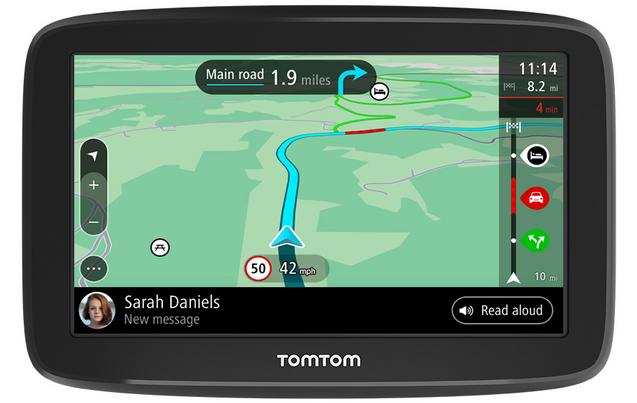 TomTom GO Classic Car Sat Nav with 5" resistive touchscreen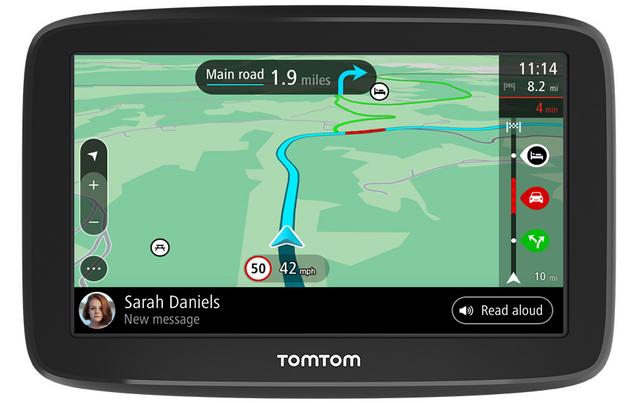 TomTom GO Classic Car Sat Nav with 6" resistive touchscreen
TomTom GO Expert Range
Expert navigation for trucks, buses, coaches and vans
On a single day, on a single drive, anything can come up. Make sure you're ready for what's ahead with the TomTom GO Expert sat nav. It's your dedicated large vehicle sat nav, packed with premium features.
Navigation dedicated to your large vehicle
Make sure you're always on the right road with routes customised to your vehicle, plus timely alerts about bridge heights, ADR tunnels, UN class restrictions and more. Plus, find all you need along the way with dedicated points of interest (POIs) for professional drivers.
Stay safe and comfortable on the road
Get a clear view of your itinerary on a large 7" HD touchscreen with the highest resolution on the market. Drive safer with voice commands and vivid sound from a powerful speaker. Secure it all with the easy-to-use click and-drive mount.
Drive confidently with accurate maps and info
Take the guesswork out of driving with the most accurate, up-to-date world maps on the market. Stay one step ahead of traffic and within the speed limit with live TomTom Traffic updates, traffic jam warnings and 1-year of speed camera alerts.
Designed for effortless use
TomTom GO Expert offers straightforward navigation from a modern user interface. They've added extra processing power so you can swipe, zoom and use features quickly and easily – and they've even built in a 5Ghz Wi-Fi® band for even faster map and software updates.
Plan your route with ease with TomTom MyDrive
Plan routes, add multiple drop-off points, check live traffic, and save your favourite routes from your smartphone, tablet or PC with TomTom MyDrive. Routes are synced automatically to your TomTom GO Expert sat nav – just get in your vehicle and you're ready to GO.

The TomTom GO EXPERT is available in a 6" or 7" HD touchscreen.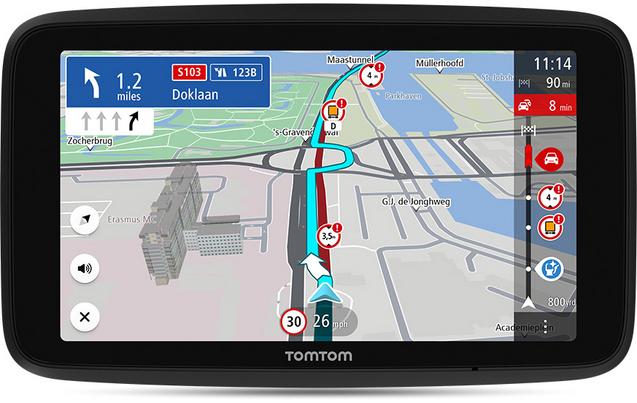 TomTom GO Expert Car Sat Nav with 6" HD touchscreen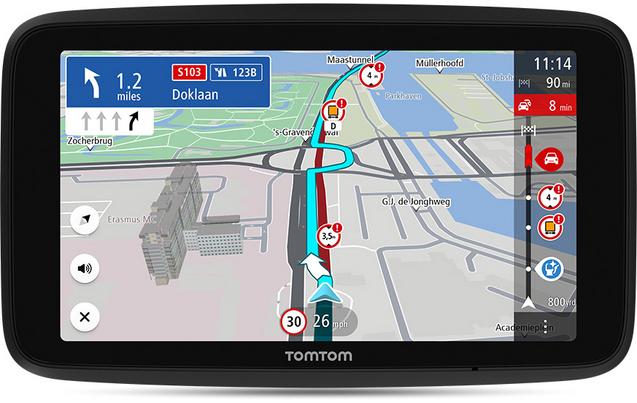 TomTom GO Expert Car Sat Nav with 7" HD touchscreen
| | | | | |
| --- | --- | --- | --- | --- |
| | Go Classic | Go Essential | Go Discover | Go Expert |
| Screen size | 5", 6" | 5" | 5", 6", 7" | 6", 7" |
| Touch screen type | Resistive | Capacitive | New HD Touchscreen | New HD Touchscreen |
| TomTom Map updates | Europe | Europe | World | World |
| Speed camera alerts | 1 Month trial | 6 Month trial | 12 Month trial | 12 Month trial |
| TomTom Traffic | Via Smartphone | Via Smartphone | Via Smartphone | Via Smartphone |
| Updates via WiFi® | ✓ | ✓ | 3X quicker updates | ✓ |
| TomTom MyDrive companion app | ✓ | ✓ | ✓ | ✗ |
| Roadtrips by TomTom | ✓ | ✓ | ✓ | ✗ |
| Voice Control | ✗ | ✓ | ✓ | ✓ |
| New Live fuel pricing | ✗ | ✗ | One Year trial | ✗ |
| New Live off street parking availability | ✗ | ✗ | One Year trial | ✗ |
| Click and Drive mount | ✗ | ✓ | ✓ | ✓ |