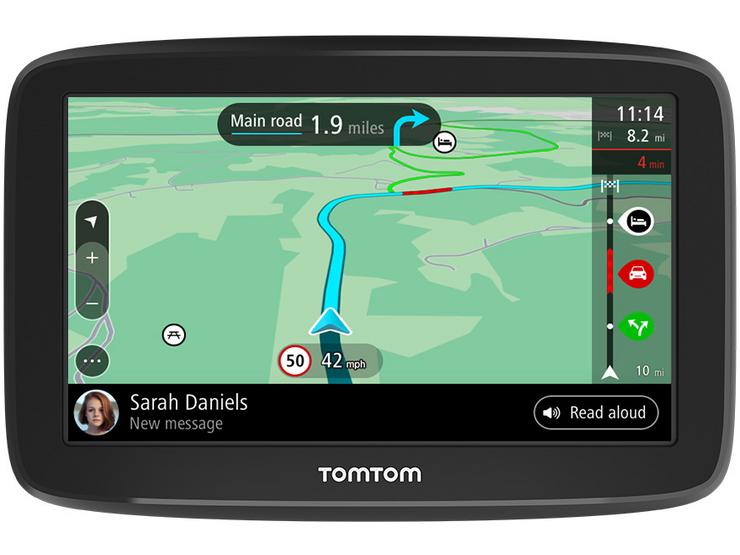 10 people are viewing now
5 purchases during last 48 hours
Live Traffic : Yes
Lifetime Map Updates : Yes
Mapping : Full Europe
TomTom GO Classic 6" Car Sat Nav
Live Traffic Updates

Updates via Wifi
Lifetime Map Updates

1 Month Speed Camera Updates
Accurate traffic information
The TomTom GO Classic 6" Car Sat Nav has an intuitive design that lets you focus on the road ahead. Featuring an interactive and easy-to-use interface, the GO Classic learns your driving habits and predicts destinations so you can head off immediately.
Accurate traffic information in real-time enables this car sat nav to intelligently plan routes around traffic and allows you to avoid hold-ups.
It also provides advanced warning when you're approaching a speed camera, helping you to stay safe (this feature is initially available as a free one-month trial and can be extended by switching over to a subscription).
Key features & benefits:
TomTom Traffic: Time-saving traffic congestion avoidance, with trusted arrival times backed by comprehensive traffic information and real-time updates

1-month speed camera alerts: Stay updated, under the speed limit, and safe along the way

TomTom Europe map updates at no extra cost: Effortless navigation with routes around road closures and other traffic hassles

Wireless connectivity: Get regular software and European map updates with the convenience of built-in Wi-Fi

Smartphone messages: Opt to have your messages read out loud effortlessly so you can keep your focus on the road
Built-in Wi-Fi
The built-in Wi-Fi gives you access to the latest maps and software. Simply connect to your Wi-Fi network and choose what to install from the menu. You can also download and update Europe maps at no extra cost.
The 6" touchscreen is versatile, responsive and easy-to-use with the touch of a finger, stylus or glove. The easily reversible mount will hold your device firmly in position and you can even use the GO Classic to listen to text messages or call contacts, allowing you to keep your attention on the road.
The TomTom Go Classic 6" Car Sat Nav is a great option for those looking for a comprehensive sat nav that will get them from A to B quickly and safely.