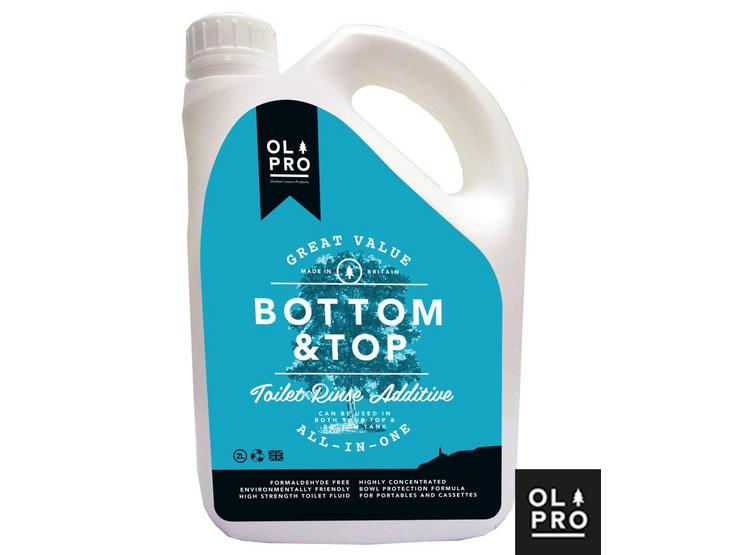 10 people are viewing now
5 purchases during last 48 hours
Olpro Bottom & Top Toilet Fluid & Toilet Rinse All In One -2L
The OLPRO Bottom & Top Toilet Fluid & Toilet Rinse All In One -2L is a strong product which works in both the top and the bottom tank of all cassette and portable toilets. It's Formaldehyde free and environmentally friendly so can be used on all club sites and even on inland water ways. It's high strength kills all bacteria in both the top and bottom tank and breaks down waste quickly. Despite it's effectiveness you need to use only 100mls for every 20 litres.
This means that one 2 litre bottle will give you 80 shots of highly concentrated toilet fluid and rinse for only £9.99. So not only is there no need to use two different products for your waste tank and rinse - it's also more cost effective to use Bottom & Top.

Bottom & Top was listed as an essential product by Practical Caravan for 2013 and is now a number one selling product.

So, as you would do with any blue or green chemical pour a shot into your waste tank and then, as you would with any rinse, pour into your top tank. Bottom & Top has a pleasant, subtle smell of lavender to neutralise any unpleasant smells. In the bottom tank it will break down waste and in the rinse tank, as you flush, it will neutralise smells, and run a detergent formula around the bowl keeping it clean and safe.

Usage Example: If you have a toilet with a 20 litre waste tank use 100 ml of Bottom & Top in the bottom tank, and then the same in the rinse tank. For a 20 litre tank you'll be able to re-charge the top and bottom tanks 10 times with a 2 litre bottle. If you empty the toilet 3 times over a weeks holiday then you'll get 3 weeks use from a single bottle, with a little left over. This is whilst guaranteeing a safe, clean, fresh smelling and environmentally friendly holiday.

Olpro Bottom & Top Toilet Fluid & Toilet Rinse All In One -1L Extra Info
2 Litre Double Concentrated
Use only 50mls for every 10 litres