Clarks CMD-23 Front & Rear Mechanical Disc Brake Set, 160mm Rotors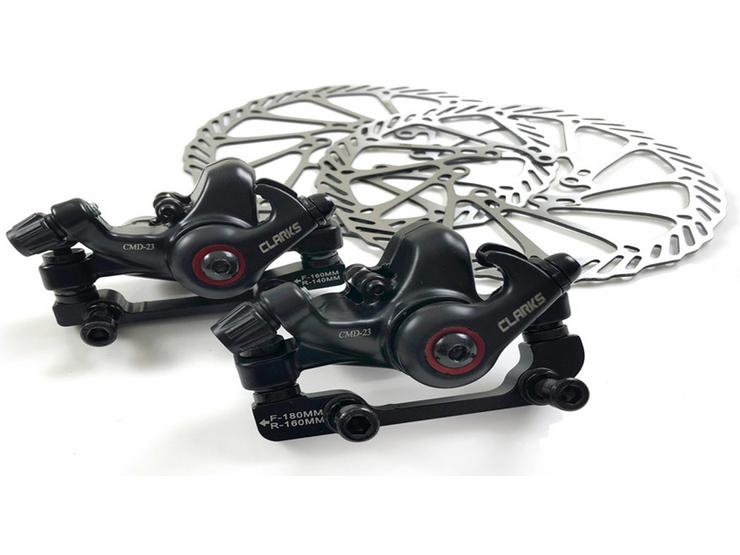 10 people are viewing now
5 purchases during last 48 hours
Clarks CMD-23 Front & Rear Mechanical Disc Brake Set, 160mm Rotors
Diameter : 160mm
Compatible with : VX852/VRX852/VR852
Type : Disc Brakes
Clarks CMD-23 Front & Rear Mechanical Disc Brake Set, 160mm Rotors
The New CMD 23 is a workshop replacement brake system. It has already proved popular with OEM customers, fitted to 1.2 million bikes each year. A lightweight disc brake it's suitable for MTB and Hybrid bikes. Available in sets, front and rear, with 160mm rotors. The brake is made to very high standards, surpassing CEN regulations, with a large brake pad area providing greater braking power.

Compatible with MTB/Hybrid Bikes

IS & PM compatible Lightweight design Mechanical disc brakes offer the cyclist all the benefits of powerful all weather braking but without the more complex maintenance requirements of hydraulic brake systems. Cable operated brake callipers provide consistent braking performance that is better wheel rim based braking systems due to the position of the hub mounted braking surface.

Positioned away from road dirt and traffic film these systems are ideal for hybrid and road cyclists who require reliable braking but without excess weight and maintenance problems. All our mechanical brakes are supplied with Post Mount and International Standard mounting brackets, bolts calipers and rotors.