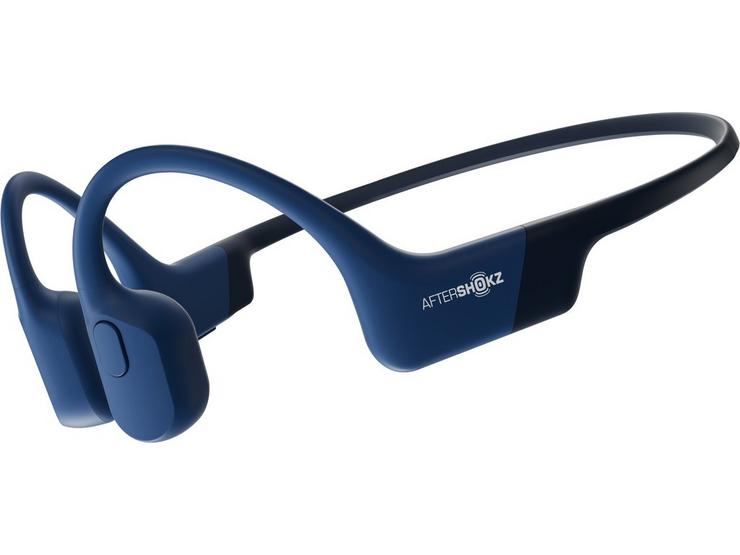 10 people are viewing now
5 purchases during last 48 hours
Battery Life : 8 Hours
Waterproof : Yes
AfterShokz Aeropex Bluetooth Headphones
Open-Ear Listening
8 Hours of Music + Calls
IP67 Waterproof
Weight : 26g
In the Box - Headphones - Two Magnetic Charging Cables - Silicone Rubber Case - Earplug
Warranty 2 years
Bone Conduction Technology
The Aeropex Headphones are bud-free, using unique and patented Bone Conduction Technology the headset generates mini vibrations that travel through your cheekbones. The vibrations go directly to your inner ears, completely bypassing your eardrums allowing you to hear the audio with precision while also allowing you to hear the ambient sounds of the world around you.
Pain Free Listening
With bud-free listening the entire experience is incredibly comfortable for all-day use.
Enhanced Audio Re-engineered technology optimizes the headphone's audio providing a dynamic stereo sound with deeper bass, less vibration and louder volume.
Titanium Fit
The wraparound titanium frame ensures a secure and stabilized fit against your most intense workouts or bike rides with bike helmet & sunglasses compatibility. At only 26 grams the headphones are also incredibly lightweight – taking the strain off your ears for all-day comfortable wear.
Music and Calls
The headphones come with an extensive battery life that provides up to 8 hours of music, calls, audiobooks, and podcasts
Waterproof and Durable
With an IP67 water resistant rating the headphones are fully sweat and waterproof – perfect for even your most intense workouts.
8-Hour Battery
Designed to outlast even your longest workouts or bike rides the headphones have a battery life of up to 8 hours and a dual noise-cancelling microphone makes taking calls or listening to music effortless.
Bluetooth V5.0
The headphones provide a quick and stable connection with a range of up to 33 feet (10 meters).
In the Box
- Headphones - Two Magnetic Charging Cables - Silicone Rubber Case - Earplug
Warranty
2 years