Halfords E-Scooter Inner Tube 10 x 2.0 – 2.215" Bent Valve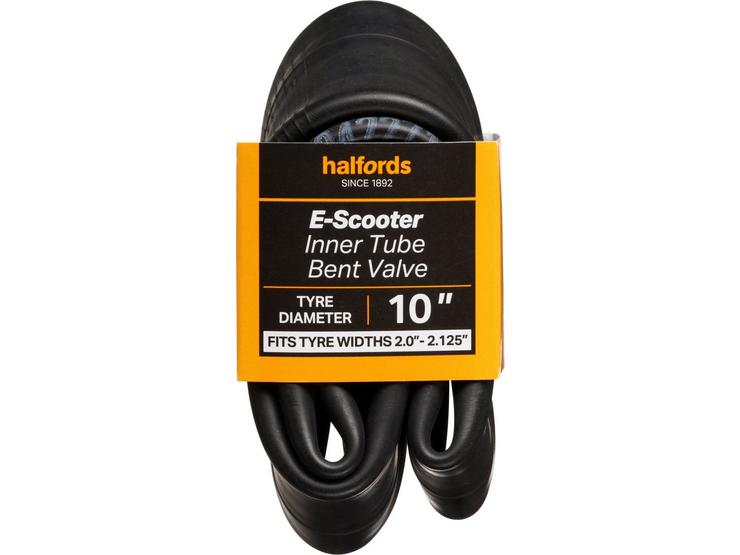 10 people are viewing now
5 purchases during last 48 hours
Halfords E-Scooter Inner Tube 10 x 2.0 – 2.215" Bent Valve
Fits all pure scooters
65° bent valve
Size: 10 x 2.0 – 2.215"
Halfords E-Scooter Inner Tube 10 x 2.0 – 2.215" Bent Valve
10 x 2.0 – 2.215", Bent Valve
Fits front or back scooter wheels
Compatible with Decent One/One Max/X7, all pure electric scooters this includes the Pure Air Pro Long Range, Pure Air Pro, Pure Air & Pure Air Go'
The
Halfords E-Scooter Inner Tube
measures 10 x 2.0 - 2.215" and will fit most E-Scooters with a 10" tyre, a key component to keep your scooter up and running suitable for both front and back wheels.
E-scooter inner tubes are difficult to fit, often requiring specialist tools and expertise to install correctly. To avoid the risk of damaging your E-scooter we recommend using our expert fitting service, ask in-store for details.
On some E-Scooters where the valve is a close fit to the wheel a valve adapter may be needed to inflate the inner tube.
| | | | | | | |
| --- | --- | --- | --- | --- | --- | --- |
| E-Scooter Inner Tube Compatibility | | | | | | |
| Inner Tube Model | INDI EX-1 Inner Tube | Halfords Inner Tube 8.5" x 2" | Carrera impel IS-1 Inner Tube | Halfords 8.5" x 2" Bvalve Inner Tube | Carrera impel IS-2 10" Inner Tube | Halfords Inner Tube 10" x 2"-2.2" |
| | 8" | 8.5" | 8.5" | 8.5" | 10" | 10" |
| Size | 8" x 2" | 8.5" x 2" | 8.5" x 2" | 8.5" x 2" | 10" x 2" | 10" x 2"-2.2" |
| Valve | Bent | Straight | Bent | Bent | Bent | Bent |
| Xiaomi: M365, M365 Pro, Essential, 1S, PRO 2 | - | Compatible | - | - | - | - |
| | - | - | Compatible | Compatible | - | - |
| | - | - | - | - | Compatible | Compatible |
| Pure: GO, Air, Air Pro, Air Pro LR | - | - | - | - | - | Compatible |
| INDI EX1 | Compatible | - | - | - | - | - |
| INDI EX2 | - | Compatible | - | - | - | - |
| Decent: X7, One, One Max | - | - | - | - | - | Compatible |