Halfords Group signs Military Covenant
Halfords Group signs Armed Forces Covenant
Halfords Retail and Autocentres pledge to support career opportunities for service leavers
HALFORDS Group today signs the Government's Armed Forces Covenant as it launches a range of measures to support service leavers and veterans, helping them access training and careers in Halfords retail shops and Autocentres.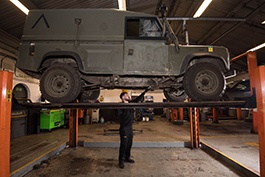 The initiative is launched jointly with the Ministry of Defence and will result in greater support for those leaving the armed forces, as well as reservists, to help recruit colleagues into one of the 200 current full and part time career opportunities at Halfords Group, across shops, Autocentres and support centre.
As part of the Covenant, Halfords Retail and Halfords Autocentres will offer guaranteed interviews to service leavers for all roles (pending that candidates meet the minimum requirements for the role) to help with what can be a difficult transition to civilian life. Halfords Group will also support service leavers by recruiting Halfords roles through the Career Transition Partnership (CTP), offering guaranteed placement into the interview process, offering 10 days additional unpaid leave for reservists and offering a range of offers for those serving in the armed forces.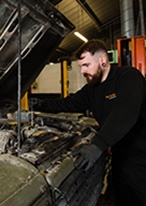 Adam Smith, centre manager at Halfords Autocentre Peterborough, joined the forces aged 16, rising to become a Scimitar tank commander. He left the army in 2013 and initially struggled to find his feet, however his level 2 mechanic training gained in the army helped him secure his role with Halfords. "I've got a really good team here at Halfords and we all look out for each other as we did in the army. When I was with the regiment I had to take responsibility for my colleagues who all depended on each other to succeed and it is the same here."
"In the army you have to have the mindset of being able to solve problems as part of a team which is really useful in this role. I think its great Halfords is stepping up to support the forces and I think more companies should do it."
Graham Stapleton CEO for Halfords Group said; "We are really proud to sign the Armed Forces Covenant to help people leaving the services find new careers and gain training with Halfords Retail and Autocentres. This initiative is completely win-win, allowing our business to access a pool of potential colleagues with fantastic transferable skills, and helping service leavers build new careers with Halfords."
Major General William O'Leary Deputy Commander Field Army, on behalf of the Ministry of Defence said; "Having Halfords Group sign our Armed Forces Covenant is a fantastic boost to the scheme and shows that there are excellent career opportunities for service leavers and reservists."
Halfords is a Sunday Times Best Big Company to Work For, employing over 10,000 colleagues across 400 Halfords stores and at more than 300 Halfords Autocentres. There are currently more than 200 full and part time career opportunities across Halfords Group, for more information visit www.halfordscareers.com.
For further information, please email Halfords@z-pr.com or telephone number 020 7287 5006.
The Armed Forces Covenant is a promise by the nation ensuring that those who serve or who have served in the armed forces, and their families, are treated fairly. More information about the Armed Forces Covenant and how to get involved is at https://www.armedforcescovenant.gov.uk/
Through their Armed Forces Covenant pledges, employers have demonstrated concrete support for the Armed Forces family and key initiatives include:
- An agreement with mortgage lenders allowing personnel posted abroad to rent out their homes without facing higher mortgage costs or having to change their mortgage.
- Fairer mobile and broadband phone contracts, freezing the accounts of Armed Forces personnel and their families posted overseas and removing cancellation fees.
- Better deals in motor insurance, allowing personnel to keep their no claims bonuses and avoid cancellation fees when posted overseas at short notice.
- Employer networks in a wide range of sectors to support Service leavers through their transition to new careers.
- A Review of the Covenant in Business commissioned by the Forces in Mind Trust is being run to highlight and promote best practice and identify areas for further improvement.
More information about the companies involved can be found at https://www.armedforcescovenant.gov.uk/businesses-helping-deliver-armed-forces-covenant/
Case study: Adam Smith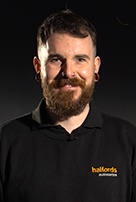 Age - 28
Position - Centre Manager, Halfords Autocentre Peterborough
Military Roles - Scimitar driver, gunner and commander, infantryman
Rank - Private
Lives in - Peterborough
Autocentre Manager Adam grew up in a military family. He was born on an RAF base in Germany as his dad was an engineer. As a boy, he wanted to be in the military so, in 2006 he signed up, aged just 16.
He trained at the Army's Armour Centre in Bovington, Weymouth, before joining an armoured division called the Queen's Royal Lancers regiment, based in Catterick in North Yorkshire.
Adam loved the military life. In the Army he found he quickly developed his confidence and skills and was given a high level of responsibility. During his career, he visited places all over the world including Canada, Dubai, Afghanistan and Cyprus. His jobs included being a Scimitar tank driver, gunner and eventually the tank commander where he was in charge of the vehicle and its crew.
In 2013, Adam decided to leave the forces and started his six month resettlement period. He began considering new careers and in preparation, he trained as a vehicle mechanic. He joined the motor trade as a mechanic and last year, he was interviewed and got the job as Peterborough Autocentre Manager, a job that he really enjoys.
He said: "I've got a really good team here at Halfords and we all look out for each other as we did in the Army. When I was with the regiment, I took responsibility for my colleagues and we all depended on each other to succeed - it is the same here. In the Army you have to have the mindset of being able to solve problems as a team, something that is really useful when helping customers and fixing their cars. I think it's fantastic Halfords is supporting the forces and I think more companies should do it."