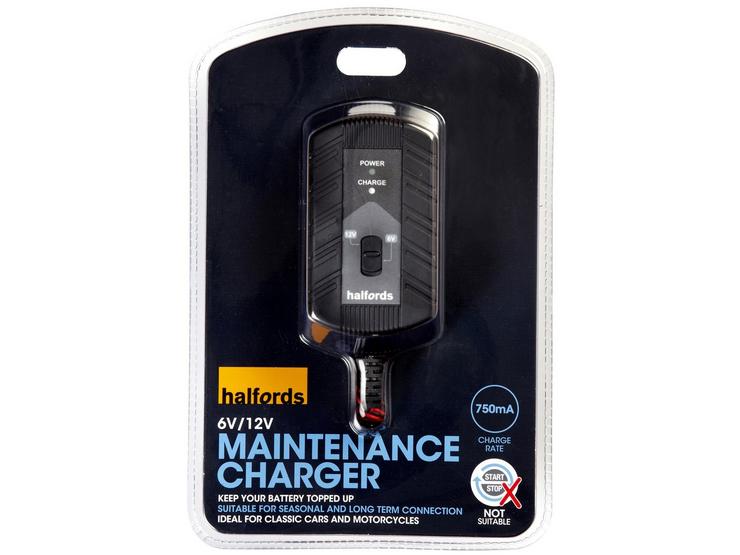 10 people are viewing now
5 purchases during last 48 hours
Charge Time : Slow
Start Stop Compatible : No
Charge Rate : 0.75A
Halfords 6V/12V Maintenance Charger
Keep your battery charged and in good condition, with the
Halfords 6V/12V Maintenance Charger
. Made specifically to attach to batteries for a long period of time. Ideal for infrequently or seasonally used vehicles such as motorbikes, campervans, classic cars, boats and caravans. Has settings for both 6V and 12V vehicles. LED indicators show charging status, and the unit comes with polarity protection.
If a battery is left unused for a long period, it will lose charge and become flat. This means it will need jump starting before it can be used again. Being left unused can also lead to the build-up of sulphur, which can damage the battery. A maintenance charger adds a small amount of charge, keeping the battery topped up and protecting it from damage, without overcharging. Safe to attach for several months at a time.
Not suitable for vehicles with START/STOP batteries.
Want to recharge as well as maintain you battery? Try the Halfords Smart Charger. It can recharge vehicles batteries up to 2.0L, has a maintenance mode and is suitable for START/STOP technology.
Please Note:
Product and packaging design may vary.
Halfords 6V/12V Maintenance Charger Extra Info
Suitable for 6V and 12V vehicles.
Suitable for lead acid and gel batteries.
Designed for long-term connection.
Keeps batteries topped up and in good condition.
LED indicators show charging status.
2m battery cables.
Battery clamps and battery connectors for permanent included.
Polarity protection.
Do not use on START/STOP vehicles.
Download user guide.
Halfords now offer great value Breakdown Cover, for your car and bike, from less than 40p a week.
Click here to find out more