Ring Charge and Diagnose Smart Charger - 12A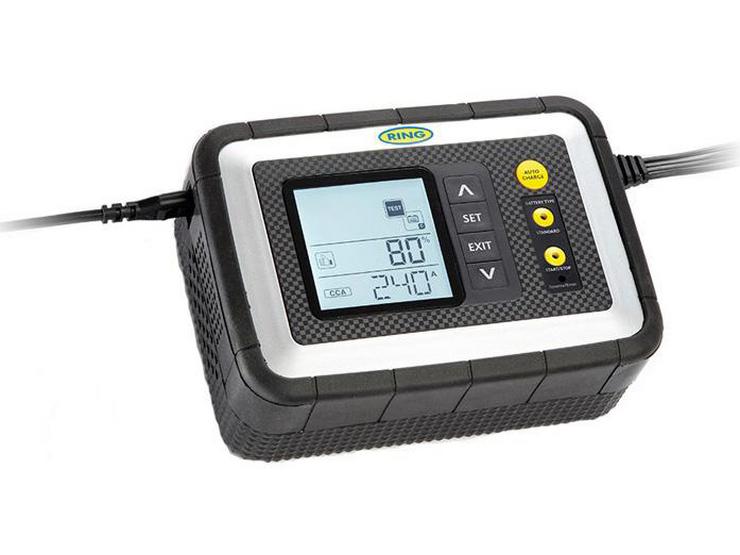 10 people are viewing now
5 purchases during last 48 hours
Ring Charge and Diagnose Smart Charger - 12A
Charge Speed : Fast
Start Stop Compatible : Yes
Charge Rate : 12A
Ring 12A Smart Charger - Charge and Diagnose
Get the fastest, most extensive care for your car battery with the Ring 12A Smart Charger. This charger carries out four tests to check its health making this a powerful, efficient way to analyse, recharge, repair and maintain your car battery.
Suitable to use on lead, gel, calcium, AGM and EFB batteries (including those with START/STOP technology) the Ring 12A Smart Charger analyses voltage status, alternator recharging performance and battery start power performance, with results are shown on the LCD screen.
The RSC612 Smart Charge applies an eight stage cycle, that recharges at the optimum speed, repairs damage to the battery, and automatically switches to a low charge rate once the battery is recharged, ensuring that it maintains its charge level without causing damage through overcharging. The RSC612 also has four battery analysis tools, that test start power, the alternator check, battery cranking performance and battery voltage, to give you a full view of your vehicle battery's health.
The RSC612/RESC612 also has maintenance mode - ideal for long term connection - and memory saver function, so it can retain the vehicle's electronics settings (e.g. radio settings) if the battery is disconnected. The winter charge mode is ideal for charging in cold weather. The LCD screen makes it easy to take readings and select charge or analysis settings. This is a comprehensive battery care tool.
Features & Benefits:
Autocharge selects the fastest charge for your battery size
Suitable to use on all battery types: lead, gel, calcium, AGM and EFB
Includes settings for both standard and STOP/START batteries
12 amp charger, suitable for vehicles up to 5.0L
Four diagnostic tests will check battery voltage, start power, alternator performance and battery capacity
LCD display
Fully insulated battery clips
Battery capacity: 25-300Ah
Memory saver function retains vehicle and audio settings if the battery is removed
Attach to batteries that won't be used for a long period of time to keep them in good condition
8 stage charging cycle that recharges, protects from overcharging and repairs damage
Battery cranking test identifies potential starting problems due to battery failure
Auto charge button applies the fastest charge without having to alter settings
Winter charge mode adapts the charging cycle to suit cold weather
Warranty information:
Additional Note:
Suitable for use on vehicles with Start/Stop batteries.
The battery charging and reconditioning is a fully automatic seven stage process:
1. Desulphation - Reduces build-up of sulphate that can damage battery performance and lifespan.
2. Soft Start - Gently introduces voltage to prevent shocking the system.
3. Bulk Charge - Smart Charger automatically selects the fastest charge cycle for your battery.
4. Absorption - Adds the last 20% gently so it is absorbed and held by the battery.
5. Discharge Test - Checks how quickly the battery is losing charge.
6. Recondition - If it is not retaining charge, the battery is reconditioned to improve performance.
7. Float - Maintains battery over long period without overcharging. Ideal to leave plugged in over winter.
Please note that the Ring 12A Smart Charger is specifically designed to charge and maintain batteries – it does not jump start or recharge completely flat batteries.