SIP Startmaster PW520 Starter and Charger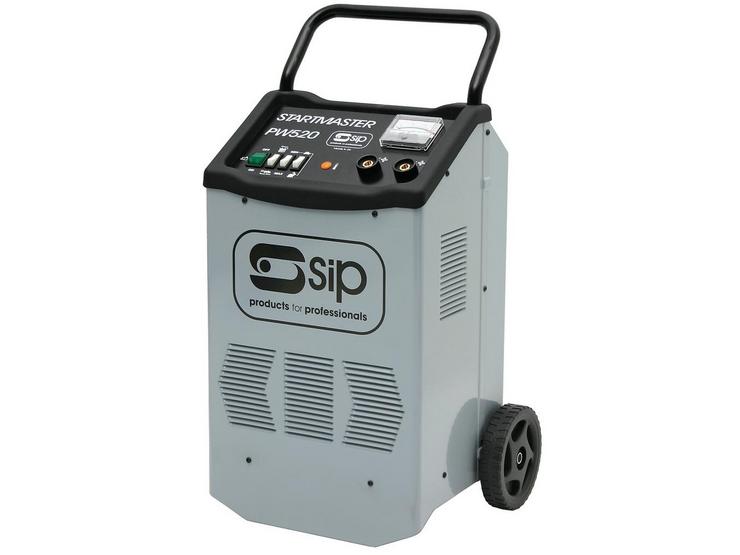 10 people are viewing now
5 purchases during last 48 hours
SIP Startmaster PW520 Starter and Charger
Charge Speed : Fast
Start Stop Compatible : Yes
Charge Rate : 25A
SIP Startmaster PW520 Starter and Charger
The SIP Startmaster PW520 Starter/Charger is a reliable, professional starter/charger - perfect for all garages and workshops. It has 3 charge rate levels for fast and slow charging and the Ammeter clearly and accurately indicates charging levels. It is a wheel-mounted charger perfect for workshops and garages. Built with 3 charging rate settings, reverse polarity protection, and integrated ammeter. Heavy-duty charge leads and crocodile clips as standard ensure long life and performance.
Features & Benefits:
3000amp (12v) / 1500amp (24v) boost peak rate
1200amp (12v) / 600amp (24v) cranking rate
Max. Rated Battery Capacity 200Ah
Rated Output 25amps
Max. Rated Output 42amps
Boost @ 1 V/C 145amps
Max. Boost 260amps
3 Charge rate settings
True 2x 22Ah battery capacity
Ammeter clearly and accurately indicates charging levels
Net weight 21kg
230v (13A) input supply
12v/24v voltage / 200Ah max. battery capacity
260A max. boost rate / 42A charging current
Short circuit / thermal overload protections
Wheel-mounted for easy maneuverability
Rugged steel casing for added durability
Heavy-duty leads and crocodile clips
Built-in reverse polarity protection
3 powerful charging rate settings
Clear and easy-to-read ammeter
Ideal for workshops and garages
Made in Italy
Tough steel casing
Warranty Information:
Additional Note:
Suitable for use on vehicles with Start/Stop batteries.
Other brands necessitate a separate battery charger for 12V charging, 16V charging, 24V charging, AGM batteries, 6V charging, cold temperatures charging, lithium-ion batteries, and battery desulfation. Your charger will not change as your demands and vehicles change with our adaptable multi-purpose battery chargers. You'll be able to switch bets with a simple push of a button.