Bestway Clearwater Spa Starter Kit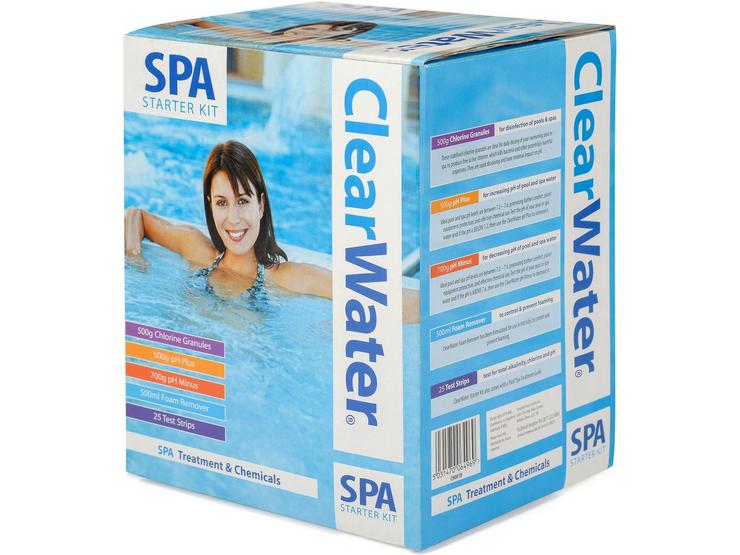 10 people are viewing now
5 purchases during last 48 hours
Bestway Clearwater Spa Starter Kit
Designed for Lay-Z-Spa hot tubs
Chemical water treatment for hot tubs is essential
Instructions and warnings should be followed
Bestway Clearwater Spa Starter Kit
The perfect chemical starter kit for new hot tub users
Includes 500g Chlorine Granules for disinfection and shock dosing
Includes 500g pH Plus & 700g pH Minus to decrease or increase pH levels
Includes 500ml Foam Remover to control and prevent foaming
Includes 25 Dip Test Strips to test the water
The award-winning
Bestway Clearwater Spa Starter Kit
is a fantastic option for new inflatable hot tub owners and is an easy-to-understand introduction to the world of water treatment.
This is an ideal set of hot tub chemicals for beginners as it comes with a guide with simple, easy-to-follow instructions, dosing guidance, safety tips and problem-solving so you can get confidently get started with hot tub water treatment and maintenance.
Clearwater® chemicals are designed for and tested on Lay-Z-Spa hot tubs but can be used on any and all home hot tubs. Chemical water treatment for hot tubs is essential regardless of how long or how often you plan to use the hot tub and this starter kit has everything you need to get started and keep up the water maintenance.
As with all chemical products, instructions and warnings should be followed and heeded very carefully.