Alcosense Single Use NF Breathalyser Twin Pack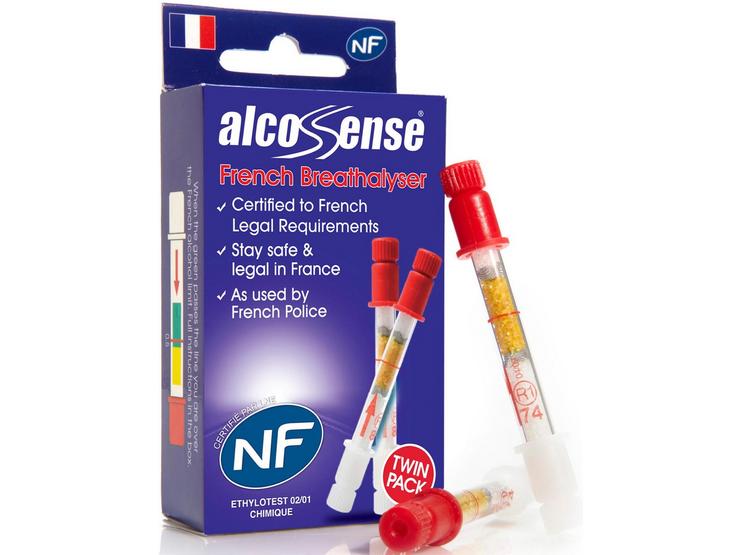 10 people are viewing now
5 purchases during last 48 hours
Alcosense Single Use NF Breathalyser Twin Pack
Alcosense Single Use NF Breathalyser Twin Pack
The Alcosense Single Use NF Breathalyser Twin Pack contains two tests that are approved for use in France (NF = French Standard, which is their equivalent to British Standard (BS)) and they'll handily advise you whether a trip in the car is possible or not. They're easy to use and show you your alcohol level within 2 minutes.
Police Level Accuracy
Many products claim this, but we can say this with 100% confidence. Why? Because derivatives of the AlcoSense Single Use Breathalysers are used by Police Forces in over 30 countries including the Police Nationale and Gendarmerie Nationale (Police) in France. They're used as a quick and effective screening device to show the Police Officer if the driver is over the limit, if the suspect fails the text they will be taken to the Police station for evidential blood or urine testing before conviction.
Clear Results Showing Your Level
AlcoSense Single Use Breathalysers are the only single use breathalyser to not just tell you that you have alcohol in your system, but to also accurately indicate how much. Clear indication of your level compared to the French drink drive limit of 0.5‰BAC.
Patented crystals inside the tube change colour from yellow to green in the presence of alcohol. The further up the graduated tube the green colour appears the greater the concentration of alcohol the user has in their system. As the green colour change touches each line, you've passed each limit. Simple!
Precise breath sample measurements
AlcoSense Single Use Breathalysers use a blow bag to make sure the right volume of deep-lung air passes through the tester. Too little air equals a falsely low reading, too much equals a falsely high reading. Having the blow bag eliminates this issue and helps to give you one of the most accurate disposable breathalyser readings in the marketplace.
Corporate testing and promotions
If you are looking to introduce AlcoSense Single Use Breathalysers to your organisation for screening or as promotional gifts please contact us for bulk pricing.
Why Delay?
Part of the responsible enjoyment of alcohol is to understand its effect on the body and to understand when you are safe to drive. AlcoSense™ helps people do exactly that and takes out the potentially fatal guess work the morning after. Don't leave it to chance, order yours now.
For any help with calibration or product usage please call the supplier on 0800 195 0088.
Features & Benefits:
Accuracy : ±0.2‰BAC
Accurate and easy to use
No larger than a cigarette
This unit is also adopted and used by the French police
Unit measures to 0.5% BAC which covers Europe
With almost 1 in 5 drink drive accidents happening the morning after, having easy access to a breathalyser helps to ensure you are safe to drive
Warranty Information:
24 Months from Manufacturer
Additional Note:
Click here for more information on driving in Europe