Back to results
Driving in Europe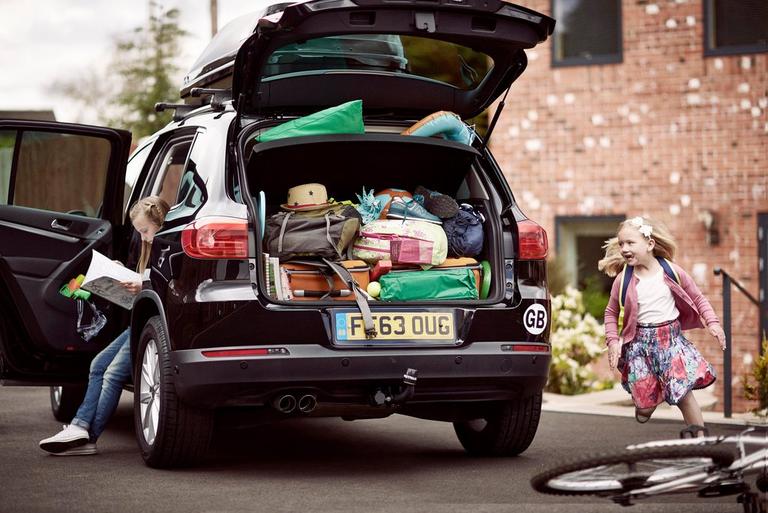 Find out all you need to know about driving in Europe with our handy guide.
Driving in Europe
If you're heading abroad with your car, you may be legally required to carry certain items with you that aren't needed in the UK. We'd hate for you to risk a heavy fine whilst you're enjoying your European adventure, so have a read of our guide to ensure you've got everything you need.
Driving in Europe After Brexit
In the event of a no-deal Brexit, drivers will need an International Driving Permit (IDP) for all EEA countries except the Republic of Ireland. IDPs can be bought at Post Offices for £5.50. You may also need to carry your UK driving licence.
There are three different types of IDP, known as the 1926, 1949 and 1968 IDPs - the numbers refer to the dates of the conventions on road traffic that established them.
The 1926 IDP will be needed for drivers wanting to visit Liechtenstein
The 1949 permit covers Spain, Iceland, Malta and Cyprus
The 1968 permit allows driving in all other EU countries, plus Norway and Switzerland
There will also be changes to the types of IDP you need to be able to drive in countries outside the EEA. For example, if you want to visit Turkey by car before 29 March, you will need a 1949 IDP - but after 29 March, you will need a 1968 IDP.
IDPs apply only for visiting other countries. The government has said that if you are a UK licence-holder living in another EU country, then you need to exchange your UK licence for a licence issued by an EU country, before the UK leaves. If you wait until after the UK leaves, then you may need to take another driving test.
EU and EEA licenses will continue to be accepted in the UK for visitors and residents.
If the UK leaves the EU without a deal, you will also need to get a Green Card from your insurer as proof of third party motor insurance cover when driving in the EU, EEA, Andorra, Serbia and Switzerland.
Motorists should speak to their insurance company if they are driving in these states from 29th March and the UK has left the EU without a deal.
Taking your car to the EEA without a Green Card will be against the law.
The government recommends that you have a GB sticker on your car, even if you also have a GB symbol on your number plate.
You'll need to carry your V5C log book with you if you own the car. If it is a car you have hired or leased then you will need to get a VE103 form to show you have permission to take it out of the UK.
Useful Information
What is a Green Card?
A Green Card is an international certificate of insurance which proves that your UK Motor insurance policy provides you with the minimum compulsory insurance cover required by the law of the country you're visiting.
I'm travelling outside the UK and returning before the 29th March:
You do not need a Green Card to drive your vehicle in the above countries between now and 29th March 2019.
I'm travelling outside the UK soon and returning after the 29th March:
You will need a Green Card to drive in the above named countries after the 29th of March. Please contact your insurance provider before you travel to request one.
I'm travelling outside the UK after the 29th March:
If you are travelling to Europe after the 29th March you will require a Green Card to start from your travel date. This can be done nearer your time of travel or when is convenient for you.
Please note some insurers may require at least 14 days' notice to process your request.
Breathalysers
In France, it's been compulsory to carry a breathalyser in your car since July 2012. French law states that one breathalyser must be produced, but we recommend you carry two in case you use or break one. It's important to note that only NF-approved breathalysers meet the legal requirement. Our Alcosense Single Use Breathalyser is NF-approved and comes as a twin pack in case you need a spare.
GB Stickers
When you're driving abroad you must display a GB sticker on your car, unless it already has number plates that include the GB symbol (known as Europlates).
High Visibility Jackets
It's law to carry a high visibility jacket with you in a number of European countries, including France, Germany, Belgium, Spain, Italy, Austria, Switzerland and Poland. If you're travelling with your family, get one for each of them and ensure they're kept in the passenger compartment, not the boot.
Warning Triangles
Warning triangles can be placed on the road to alert other drivers if you have a breakdown or emergency. They're a legal requirement in most EU nations, although the number required differs from country to country. When driving in Spain, the law states motorists should use two warning triangles.
Headlamp Converters & Spare Bulb Kits
To ensure you don't dazzle oncoming traffic, you'll need headlamp converters. This is because headlights on British cars are designed for driving on the left, not the right. Headlamp converters reposition the angle of the beam, ensuring other drivers are safe as well as improving your visibility.
Most European nations also recommend carrying a spare bulb kit so you can change your headlamps if one of them goes. Though it's not a legal requirement, it's strongly recommended to have them when in France, Spain and Poland.
'Clean Air' Stickers
France has recently introduced a new law which requires you to display a 'Clean Air' sticker (Crit'Air vignette in French) if you're driving in Paris, Lyon, or Grenoble. These stickers can be bought from the Crit'Air website and only cost a few pounds. If you don't display one, you risk an on-the-spot fine of up to €135.
These stickers have six different colours which correspond to how polluting the vehicle is, ranging from green for vehicles with the lowest emissions, up to black for the most polluting.
Cars, motorbikes and lorries all have to display these stickers. If a city with this policy in place is at risk of breaching their emissions on a particular day, heavily polluting vehicles can be refused entrance.
Driving In Europe Checklist
To help you out, we've put together a driving in Europe checklist that you can see below. It shows what's compulsory and what's recommended in each country.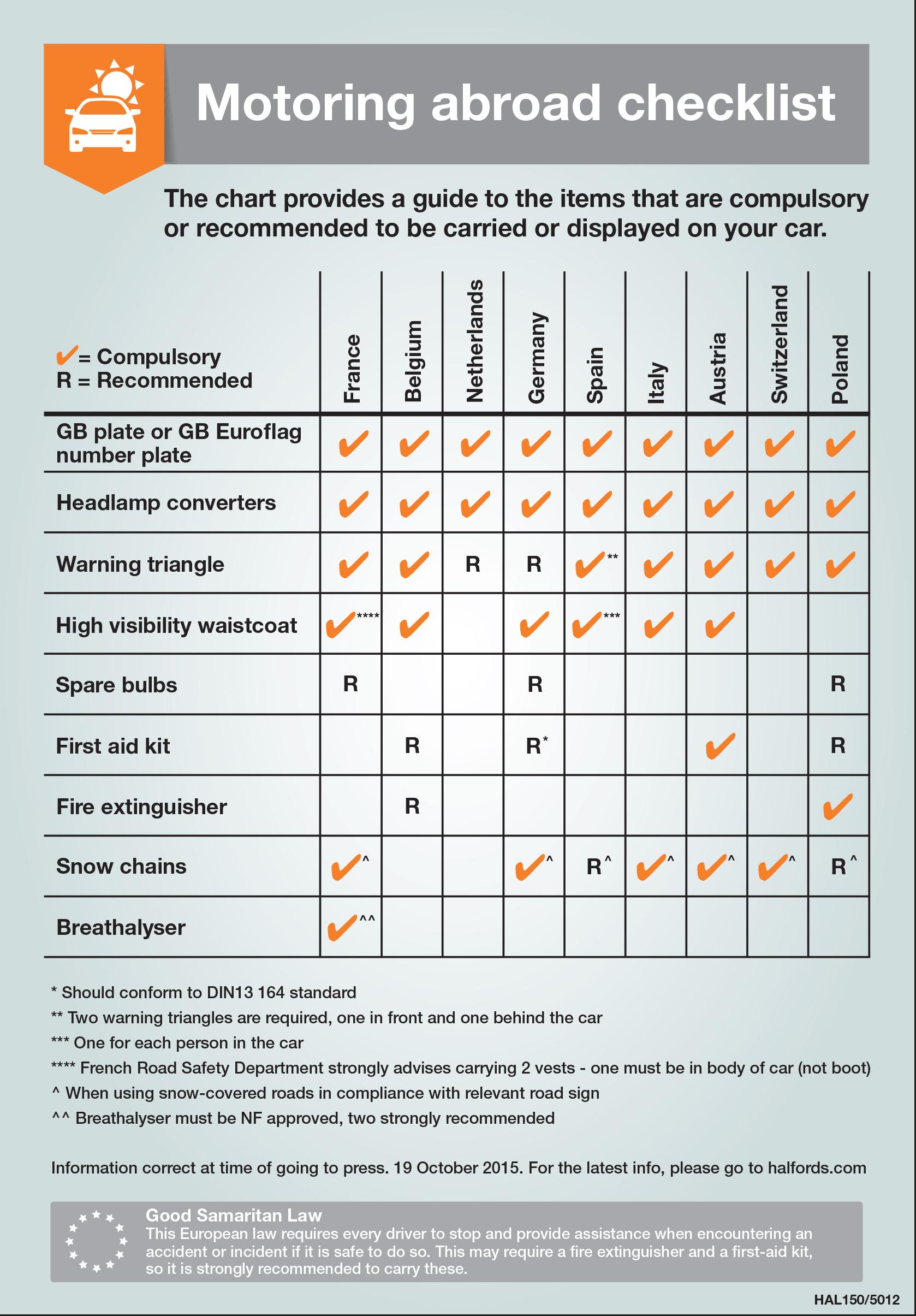 Top tip - a Halfords Motoring Abroad Kit contains most of the products you'll need, so is a handy and cost-effective way to pick up all the essentials.
Further Tips For Driving In Europe
Here's some more general advice for driving in Europe:
Check your car insurance and breakdown cover to ensure you're covered abroad.
Check which documents you're required to carry - this can include your passport, driving licence, insurance details and vehicle registration document.
Familiarise yourself with local speed limits, road signs, and driving styles.
Drive cautiously and remember to drive on the right!
Before you go, ensure you're up to date on the latest driving laws for whichever country you're visiting. Laws can change quickly and we don't want you to be caught out!