Finding the exact colour car paint to cover up a scratch on your car can be a daunting prospect. With thousands of shades available of a single colour, you want to make sure that the spray paint you buy is an exact match.
To find out what colour your car is, you need to track down your paint colour code. This can usually be found on a plate or sticker inside the driver's door or glovebox. See our diagram below for the most common places to check.
Where to find your paint code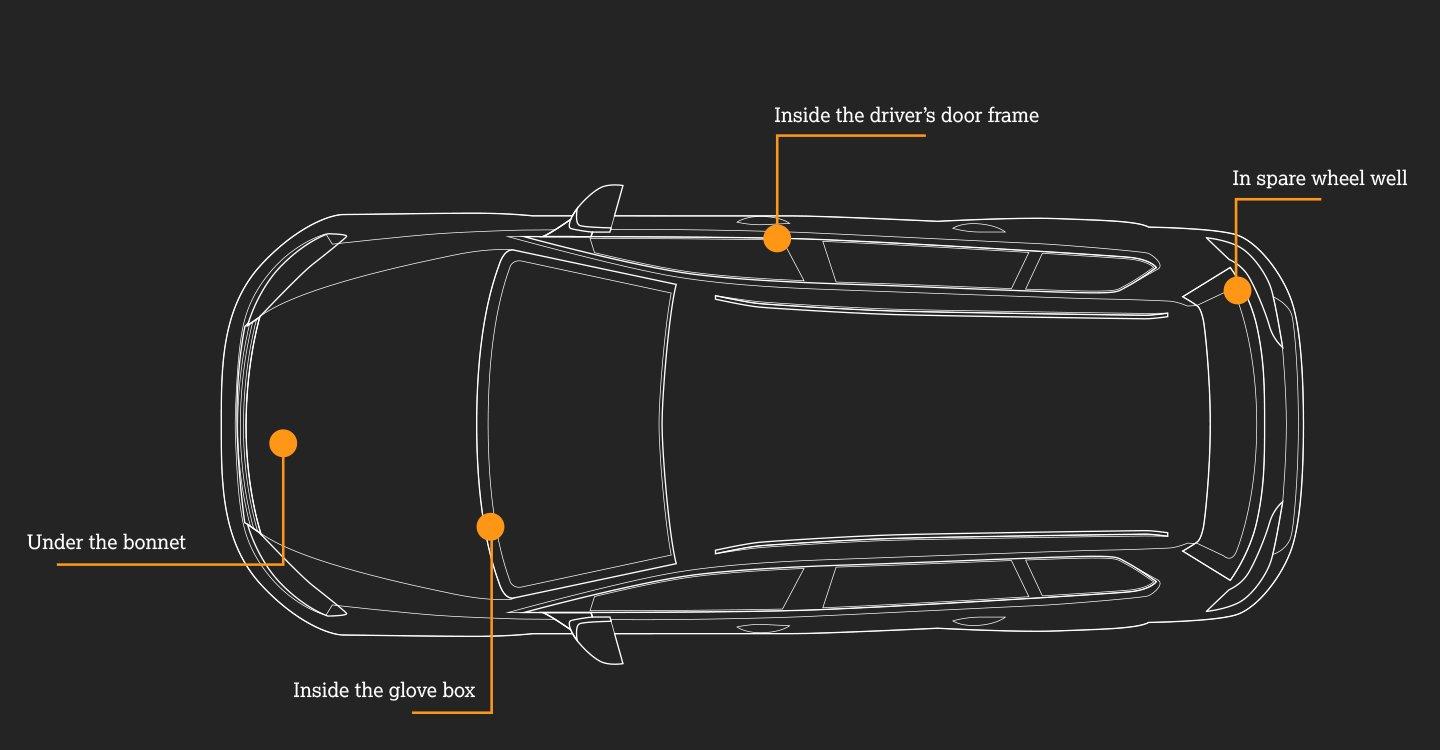 If you have no luck searching in these spots, you could look in your owner's manual or in the service history of the vehicle.
Once you have this information, you'll be able create an exact match of the paint that you require. When searching for your colour car paint, it's also important to think about the different types that are available.
Car paint types
Different types of car paint can have a massive impact on how your car looks. Not only does the colour have to match your car, but the paint's finish has to as well.
Standard / solid car paint: Most cars have a solid paint finish as standard.
Metallic car paint: This type of paint has aluminium mixed in the formula, giving your vehicle a great shine in all lights.
Pearlescent car paint: These paints give a deeper shine as ceramic crystals in the formula reflect and refract light. They may even appear different colours, depending on the light and angle.
Matt car paint: Non-shiny matt finishes are less common on vehicles and you're more likely to only see matt black vehicles.
If you need any help or advice on body repair you can follow our simple four-step process of prep, prime, paint and protect by visiting our advice article or pop into store and speak to one of our colleagues.
Buy car paint online
At Halfords, we stock a range of spray paint colours for your car, including green, blue, red, black, and more. Within these colours, you'll be able to choose between standard, metallic, pearlescent and matt finishes. You'll find spray paints specific to your vehicle, including but not limited to BMW, Audi, Ford, Renault, Peugeot, Honda, and Citroen.

Shop car paints
Back to Expert Advice
08/22