Car Body Repair Advice Guide
If you want to carry out car body repairs but can't tell your spray paint from scratch remover, then you're in the right place. In our car body repair advice guide, we provide simple, clear steps to help you get the best results whilst carrying out car bodywork repairs or restoration.
Prep.
Prime.
Paint.
Protect.
Make that dent or scratch disappear
with our simple 4 step process.
Why repair your car?
Scratches and scrapes are the scars our cars bear from a life on the road. Rust is the unfortunate reaction of metal to oxygen and moisture. While some drivers like that lived-in look, any damage to your car's finish could put off potential buyers, or see them haggle hard on the price of your vehicle when you come to sell.
If you're one of the thousands of drivers with a lease car, you could see hefty penalties from the lease car provider at the end of your term if you return it in a damaged condition.
Putting off body repairs can be a false economy. That minor scratch, scrape or dent can allow water to permeate your car's finish, which can lead to rust that can be expensive to fix. This problem is worse the older your car is, with vintage cars at major risk of costly corrosion.
Before we go into detail, most light paintwork scratches can be worked out with some polishing, check out the Halfords range of T-Cut products to see if they can help. If the damage is a little deeper, then scratch removal kits are available containing everything you need to tackle smaller jobs. For bigger jobs, read on.
Many people are put off working on their cars because they're worried about getting it wrong. But, with the right approach, the right equipment and a bit of patience, almost everyone can get great results. The key is to be methodical and follow our simple four-step process:
How to find the right abrasive?
Each step in the car body repair process requires an abrasive.
Abrasives are materials – usually a mineral – that are assembled onto different types of backing such as paper, fabric, fibre, and cloth (for example, sandpaper). They're used in various processes to prepare a surface, whether it be for further work or the final finish.
During each step of the car body repair process, you'll need to ensure you have the correct abrasive for the job, as they can't all be used for the same tasks.
To help, we've pulled together a handy guide to finding the right abrasive for any job here.
Shop all abrasives
1. Prep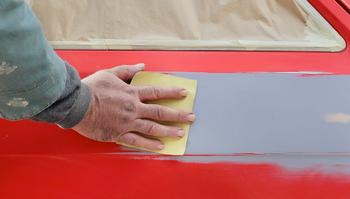 The key to a fantastic finish is in the preparation. Before starting any bodywork repairs, give your car a thorough clean to rid the area of any dirt or debris. (If you need some advice, check out our insider tips to get the best finish.)
The next stage is to arrange everything you need before you get to work. This means having all the products you need to prep, prime, paint and protect your car. If you're working with chemicals and paints, don't forget a dust mask and body protection. Lay everything out before you begin, because things are about to get messy!
You'll need to isolate the area you want to work on with tape. This provides extra protection for the rest of your car's bodywork. Consider protecting the rest of your car with sheets to avoid any unfortunate accidents.
If you've got any corrosion, then a rust-remover will eat away at the damage. Going over the corroded area with a Halfords Paint and Rust Remover Pad before applying a rust remover will provide the best start for the perfect finish.
Use a coarse abrasive paper such as a P80 grit to remove the layers of paint surrounding the scratch or damage. The key is to be gentle and methodical, taking the area back to bare metal. Use a fine-grit sanding block designed for car paintwork to preserve your bodywork detailing if your scratch is light.
You may need a filler to return the panel to its original shape if you have severe damage or denting.  If you want a simple solution, the Isopon P38 Multi-Purpose Body Repair Kit contains everything you need to get that scratch sorted. You'll need to mix the filler before you use it, and you will have a limited time to apply and shape it before it sets - so plan your approach before you begin. Before moving onto the next stage, you'll then need to smooth the filler using a suitable abrasive – starting with P120-grit and finishing with P320-grit.
2. Prime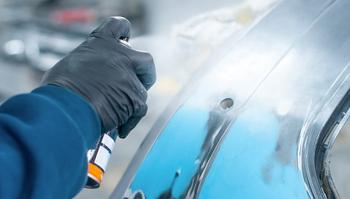 Once you've gotten rid of the scratch or shaped the filler for the perfect finish and prepped the area, you'll need to prime the area ready for painting. Primers provide an adherent surface for your colour-matched car paint as well as protecting the damaged area. Spray car paint directly on to bare metal or filler, and you're asking for trouble.
Car primers can be used on top of your car's original finish or bare metal. You'll need to lay down two or three coats of car primer before painting. Each will take around an hour to flash off between layers, so have a good book at the ready. It's crucial not to rush this process, as priming is an essential step in getting the best finish. You should also use an abrasive between layers and after applying the final layer to smooth the surface as this will help create a high-quality finish – you can use our guide here to find the best abrasive for the job.
While you're still going to apply a colour-matched top coat of paint, try and choose a primer that most closely matches your own car's finish. At Halfords, we stock grey, white, red, black, primers, as well as multi-purpose primers for all applications, plus our handy paint code lookup in-store will show you the recommendation primer for your vehicles colour.
Etch primers, like the Halfords Etch Primer 500ml or UPOL Etch Primer 450ml, are particular types of primer that cures more quickly than standard primers. Etch primers contain acid that etches onto bare metal, forming a strong chemical bond.
3. Paint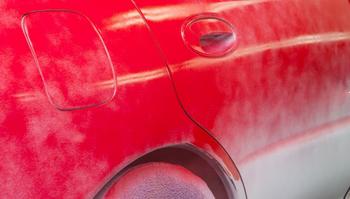 To ensure your repair blends in with the rest of your car's finish you need a car paint that matches the colour of your car.
You can usually find your car's specific paint code on the driver's side door frame, under the bonnet or in the boot on the VIN plate. At Halfords, we stock spray cans of paint for 73% of all current production cars and these are ready to collect from any of our stores.
Car spray paints come in easy-to-use cans. You've prepped and primed the area, so give yourself some space and gently layer up the paint. Ensure that the rest of your car's bodywork is protected before starting.
For the best results, we advise several light coats as opposed to one heavy one. You'll need to add at least two layers of spray paint. Leave at least 10 minutes between coats for the paint to adhere and to flash off before laying on another coat. Typically, a 300ml – 500ml can will allow you to do a small repair, correctly.
Once the topcoat is dry, sand it using a fine-grain abrasive in preparation for the next stage.
4. Protect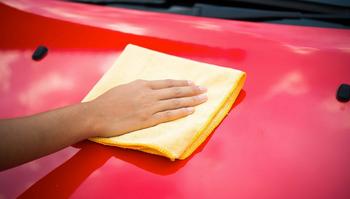 The finishing touch is a coat of lacquer. This clear coat brings out the light and lustre of your finish, as well as protecting it from future damage or deterioration. Like car spray paint, you should spray lightly. Two or three coats should give you that showroom shine.
Reviewers and enthusiasts love our Halfords Bodyshop Lacquer. It's simple to use and provides a professional finish.
Now it's time to remove the tape, clean up the area and admire at your hard work! You've come this far, it's important to ensure you've left at least 48 hours for curing and drying. Once complete why not finish the job by giving your car a complete clean?
While we can't supply the elbow grease, you'll find everything else you need for car body repairs, restoration and cleaning at Halfords. We stock the UK's largest selection of car repair and restoration supplies, including colour-matched paints for every production vehicle ever made. Every one of the car repair products we stock is tried and tested, which means you can have confidence they'll repair your car's finish, not wreck it.
Also worth noting is our windscreen chip repair service which can repair any small chips that you may have.
If you need some advice on car body repairs or just want a second opinion on how to deal with a scratch or scrape, drop in to your nearest Halfords where one of our staff will be on hand to offer some expert guidance on completing your job. Wherever you're going, we're along for the journey.
Shop Car Paints & Body Repair