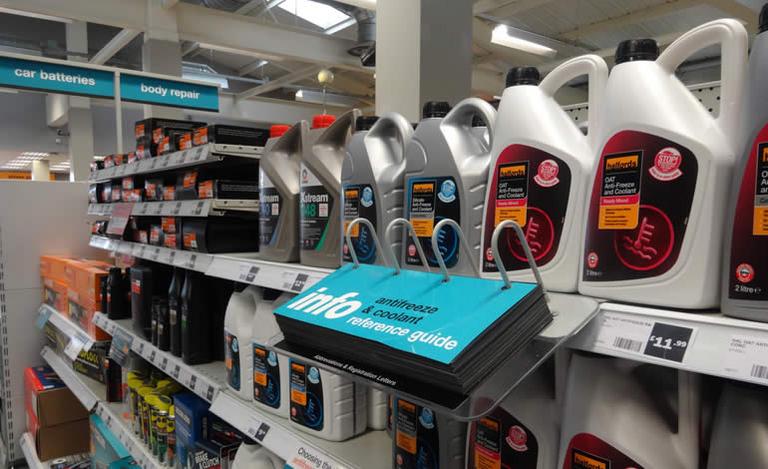 What is antifreeze?
Antifreeze is clever stuff that stops the water in your engine's cooling system from freezing. Not just that, it also does a number of other important jobs, making it a vital car fluid to keep your engine running smoothly.
Why does my car need antifreeze?
Antifreeze is a liquid that is added to the water in an engine's cooling system in order to lower the freezing point. This means that the water will not freeze under normal cold weather conditions. If that water did freeze you'd be in a spot of bother there - it'd cause some serious damage to the radiator and other components, which would cost an arm and a leg to fix.
As well as preventing water from freezing up, antifreeze raises the boiling point of engine coolant to prevent overheating. The stuff also protects your engine from corrosion, aids heat transfer, and prevents scale from building up internally.
For help with adding antifreeze to your engine, take a look at our guide to preventing overheating.
What types of antifreeze are there?
Glad you asked. If you're looking to keep that arm and leg of yours then you've got a choice of which antifreeze to go for.
There's the concentrated form, or the ready mixed with water kind. The latter version is commonly referred to as engine coolant and can normally be used straightaway for top-ups and replacements. The concentrated form needs to be diluted with water, usually at a level of around 50% antifreeze and 50% water. Always check the instructions for the right ratio to use.
Oh and here's a useful bit of info - many modern cars manufactured after 1998 require antifreeze that uses silicate-free, organic acid (OAT) technology. Older cars usually require a more traditional type of antifreeze that is not OAT based and does contain silicate.
Where can I buy antifreeze?
Why Halfords of course! We're not here to just sit and look pretty.
Halfords.com has a range of antifreeze available that can you can buy online and collect in-store or get delivered straight to your place.
If you're unsure about which antifreeze is right for your vehicle, drop by your local Halfords where we'll be jumping over one another to help you. Well maybe not quite that eager, but we do like to help a customer in need out.
Not forgetting, we also offer a free 5 point car health check in-store, where our trained professionals will check essentials such as your car battery, engine oil and screenwash and can top up products for a low cost where needed.
View all Antifreeze
Introducing the Halfords Motoring Club
Our 5-point car check is not the only thing we offer for free! Join the Halfords Motoring Club today to access a range of amazing benefits and discounts that are designed to keep you moving, keep you safe and keep you saving.
It's free to join and you'll receive money off your MOT, a free car health check and a welcome voucher that can be spent on any Halfords product or service.
Or choose our Premium membership for a small monthly fee (or a one-off payment) to unlock exclusive member pricing on all motoring products and services online and across our stores, garages and Halfords Mobile Experts, as well as a variety of other benefits that will help you to keep moving for less.
With so much to enjoy, this is too good an opportunity to miss!
Join the Halfords Motoring Club today at www.halfords.com/motoring-club.